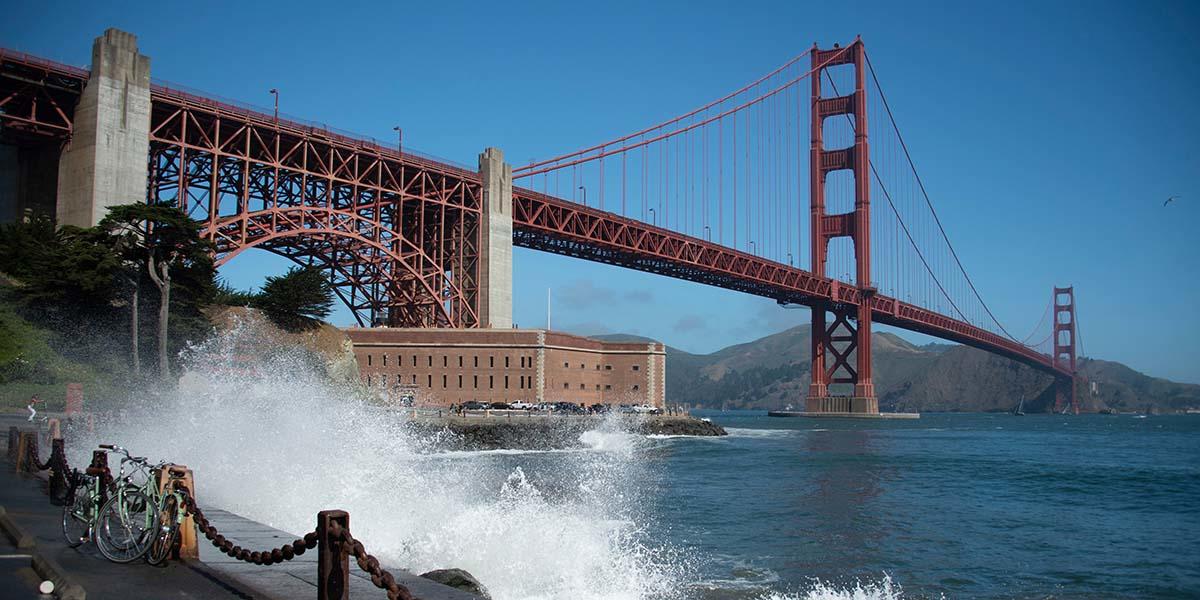 Fort Point and the Golden Gate Bridge.
Alison Taggart-Barone / Parks Conservancy
This article updated Wednesday, April 1. Please continue to check this article or visit https://www.nps.gov/goga for updates. 
The health and safety of our members, park visitors, program participants, volunteers, interns, and staff is our top priority. We want to keep you updated about impacts to our parks with the current national and local public health recommendations to reduce the spread of coronavirus (COVID-19). 
As residents of six Bay Area counties continue to follow "shelter in place" orders through at least May 3, we understand that being outdoors is more important now than ever. But please remember to stay safe while outdoors. Only by working together are we able to "flatten the curve."
How can we do that in parks? 
Yield to others to maintain a safe physical distance of 6 feet, especially if you encounter a crowd. 
Consider visiting parks during non-peak, off hours. 
Carry in and carry out anything you would previously discard in the park. 
With additional public health recommendations to stay close to home, please consider only visiting parks and trails accessible to you by bike or on foot. Many parking lots are closed, please see below for a full list. 
Our national parks can be wonderful places for inspiration. During this challenging time, we'll be sharing more digital content with you. Check back regularly to our site and our Instagram feed, as we bring you video views and virtual access to the outdoors and our favorite trails. We even have fun, downloadable kids art projects for national park experiences at home! Click here for a full list of resources to bring the parks home.
Join us in responsibly enjoying the outdoors for exercise and fresh air—and we'll save our social gatherings for after this emergency. Let's all do our part to #keepparkssafe.
PARKS CONSERVANCY PROGRAMS
All Golden Gate National Parks Conservancy events and programs are currently canceled. For a full updating list of event cancellations and program closures, click here.
PARKS
These park sites and parking areas will be closed until further notice in order to comply with local and state health authorities:
San Francisco County:
•    Alcatraz Island—cancel your reservations here.
•    Presidio Visitor Center
•    Fort Point National Historic Site
•    Golden Gate Bridge Welcome Center
•    Lands End Lookout
•    Baker Beach parking
•    Crissy Field—East Beach parking
•    West Bluff parking—Warming Hut
•    Long Avenue parking—Fort Point
•    Battery East parking—Near Golden Gate Bridge
•    Langdon Court parking—Golden Gate Overlook, Presidio
•    Navy Memorial parking—Lands End
•    Merrie Way parking—Lands End
•    Sloat Boulevard parking at Ocean Beach
•    Fort Funston parking
Marin County:
•    Muir Woods National Monument—entire park and parking are closed. Cancel reservations here.
•    Marin Headlands Visitor Center
•    Nike Missile Site
•    Point Bonita Lighthouse
•    Stinson Beach parking
•    Kirby Cove and Bicentennial campgrounds
•    Muir Beach Overlook parking
•    Muir Beach parking
•    Rodeo Beach parking
•    Upper Conzelman Road (scenic overlook road from Golden Gate Bridge views to Point Bonita area)
•    Tennessee Valley parking
•    Areas managed by Marin County Parks and California State Parks, including portions of Mt. Tamalpais, are closed. Click here for the full list of Marin County Parks closures, and here for California State Parks info.
All park trails and open spaces not listed above will remain open and accessible. Please use caution and maintain a safe distance from others in all areas of the park.
As always, your support of our parks has ensured they are here when we need them most. Please take good care and be well.
Sincerely,
Your friends at the Golden Gate National Parks Conservancy
Please help spread the word on how to stay safe in the parks at this time. Download and share the graphics below: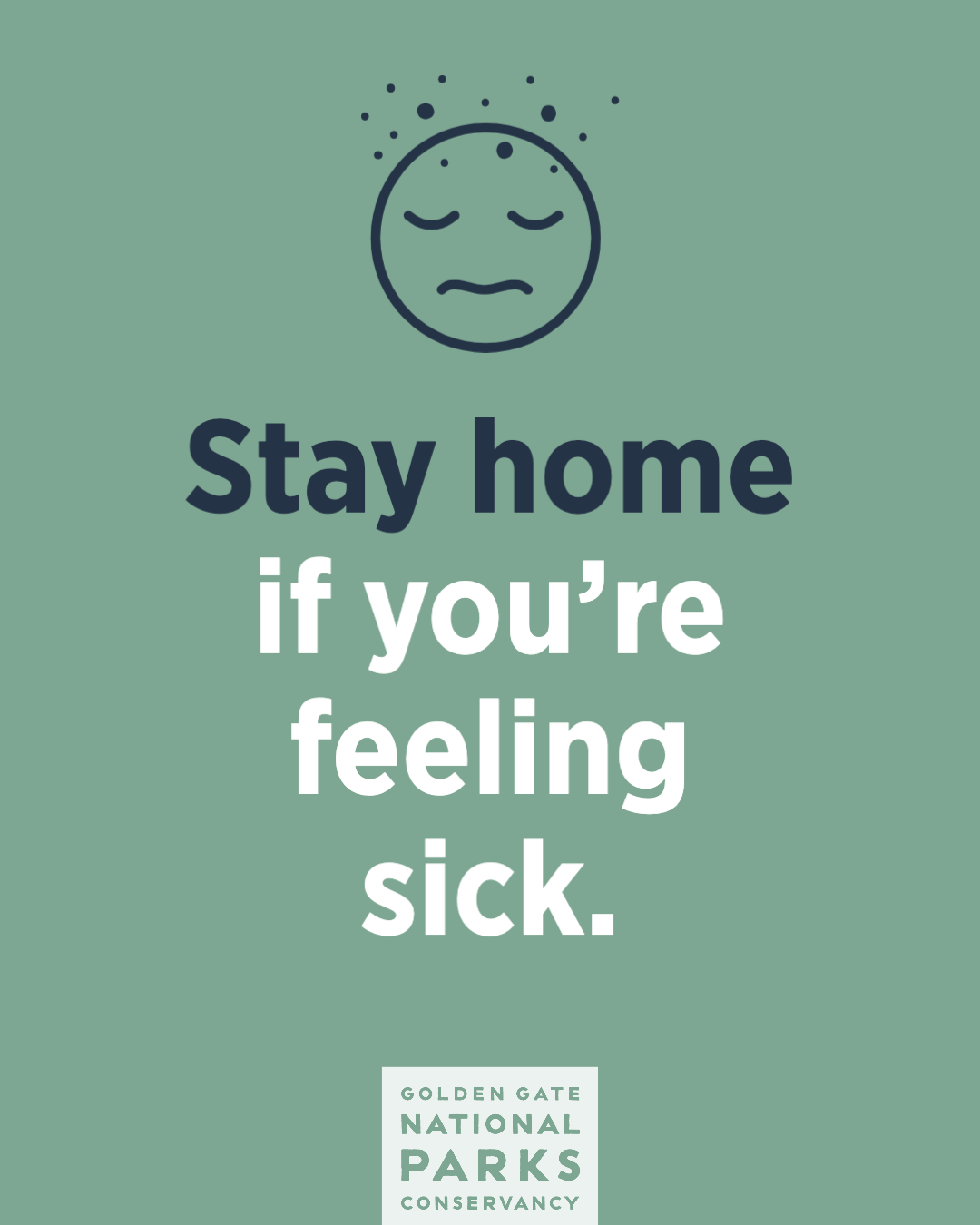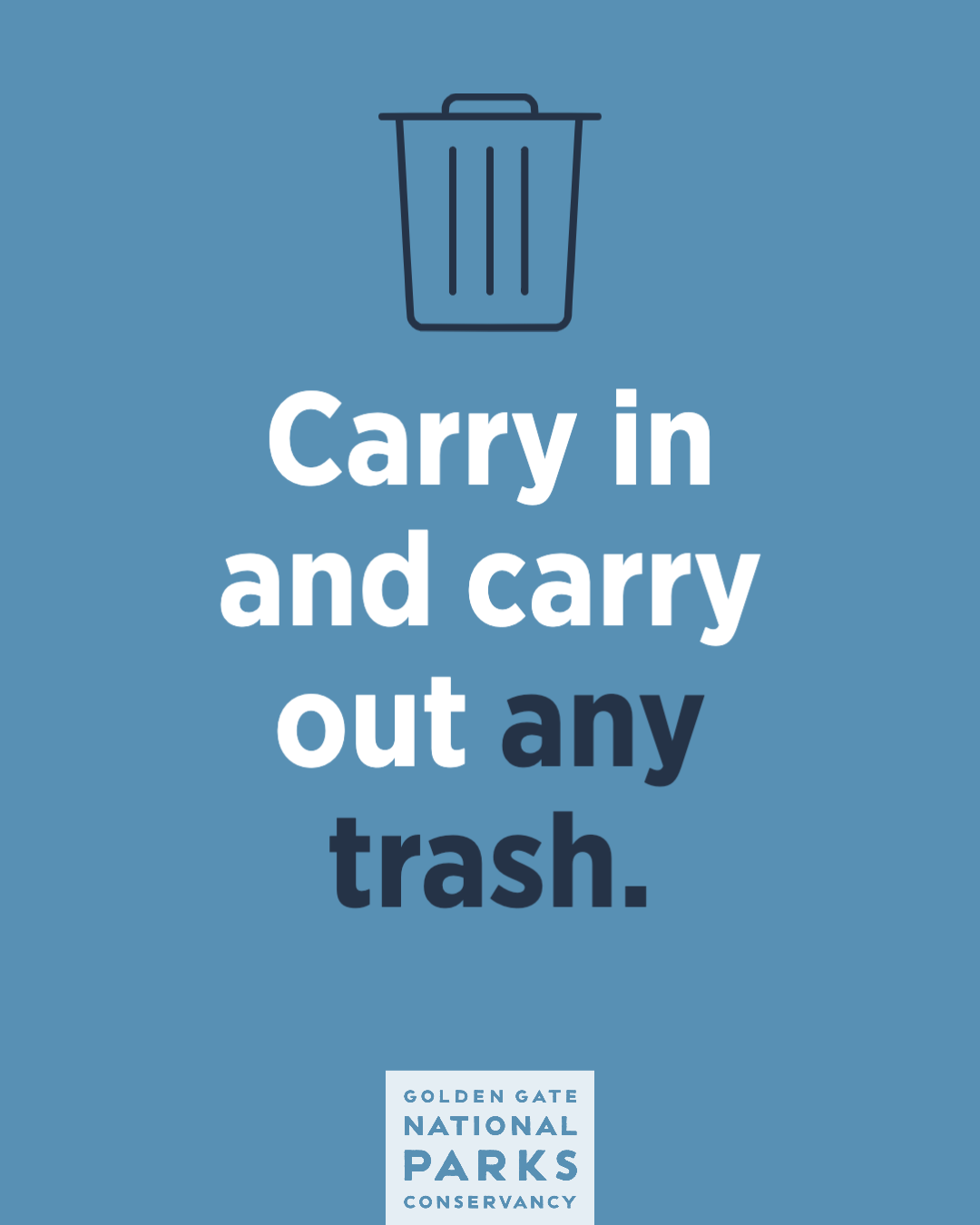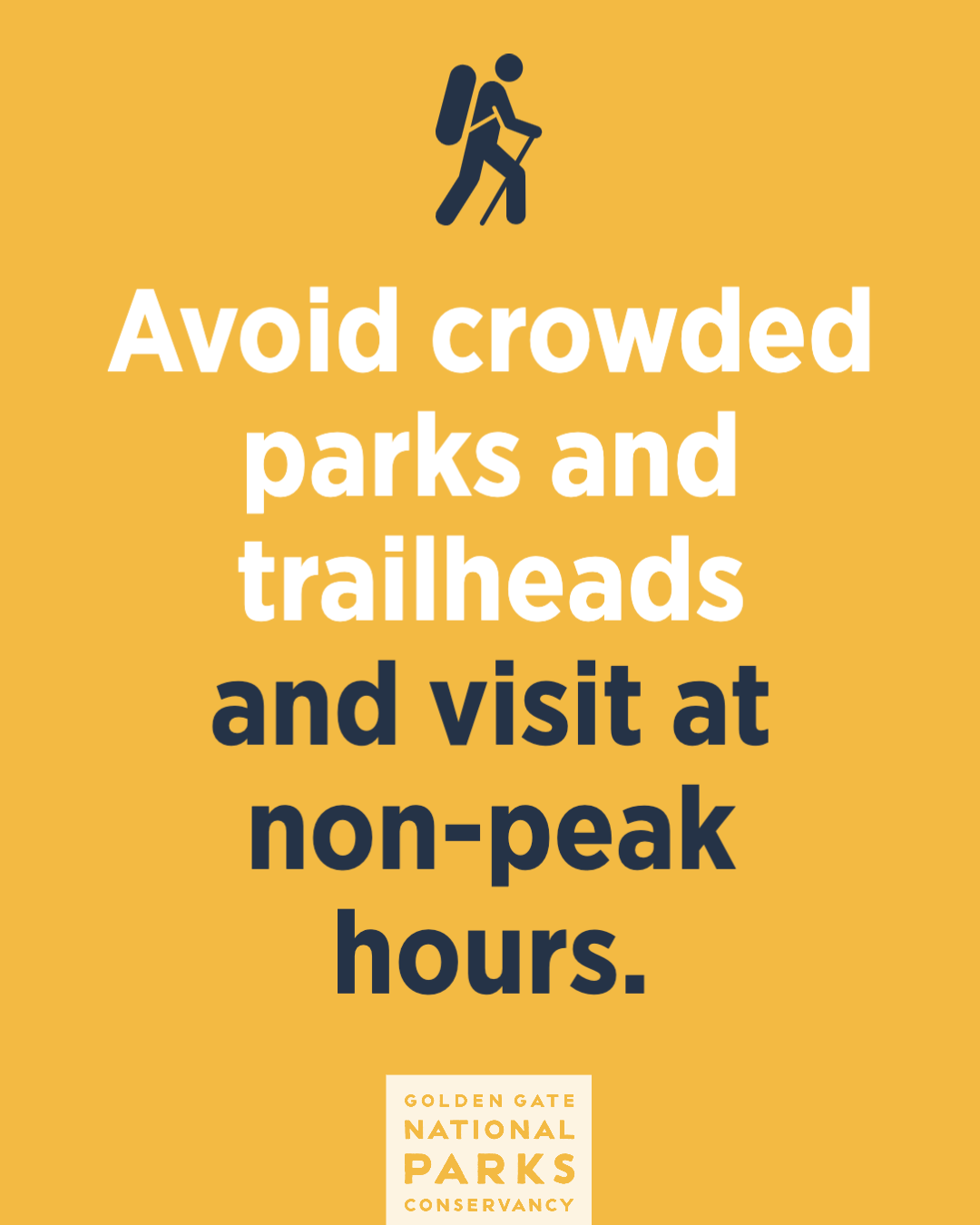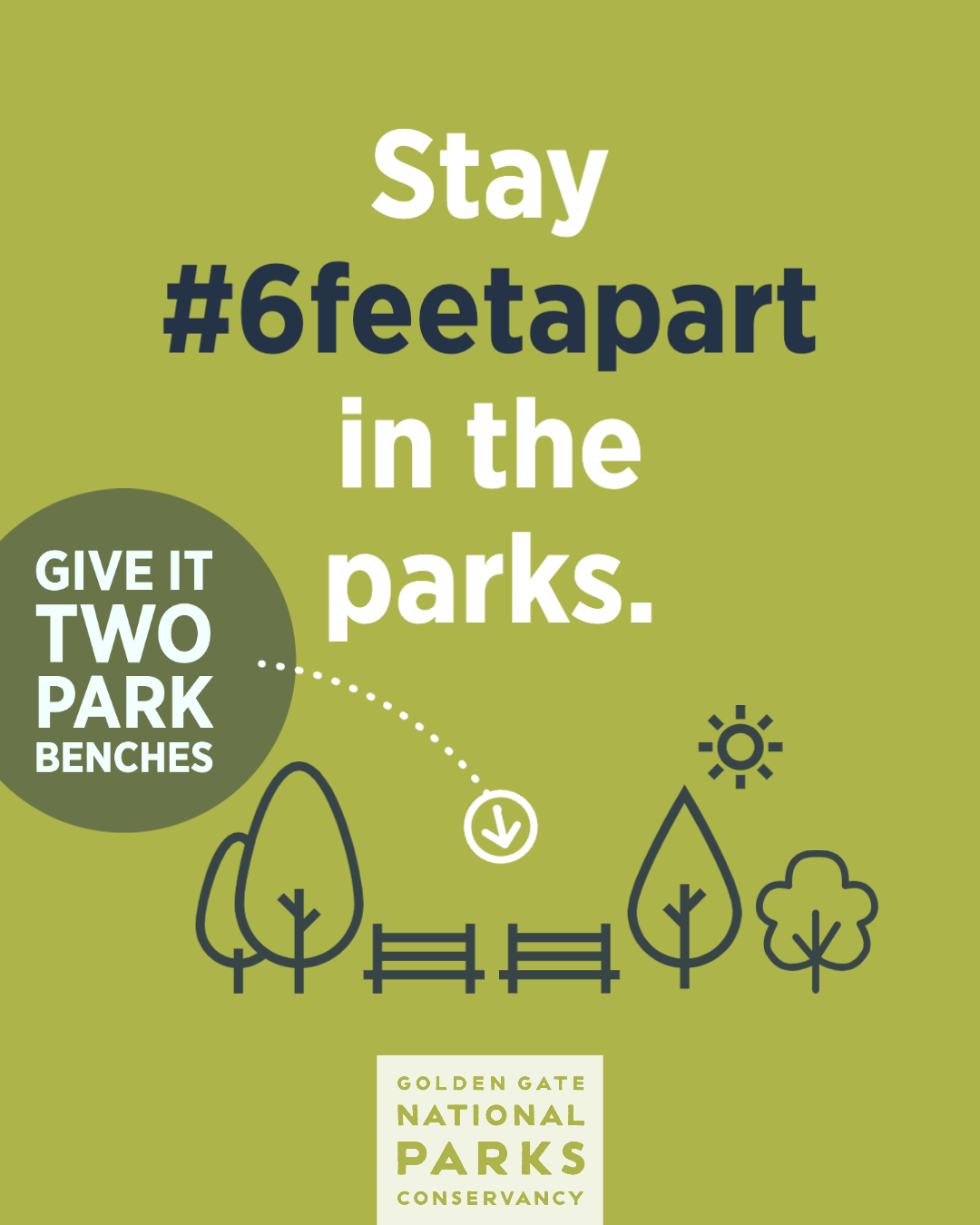 March 15, 2020