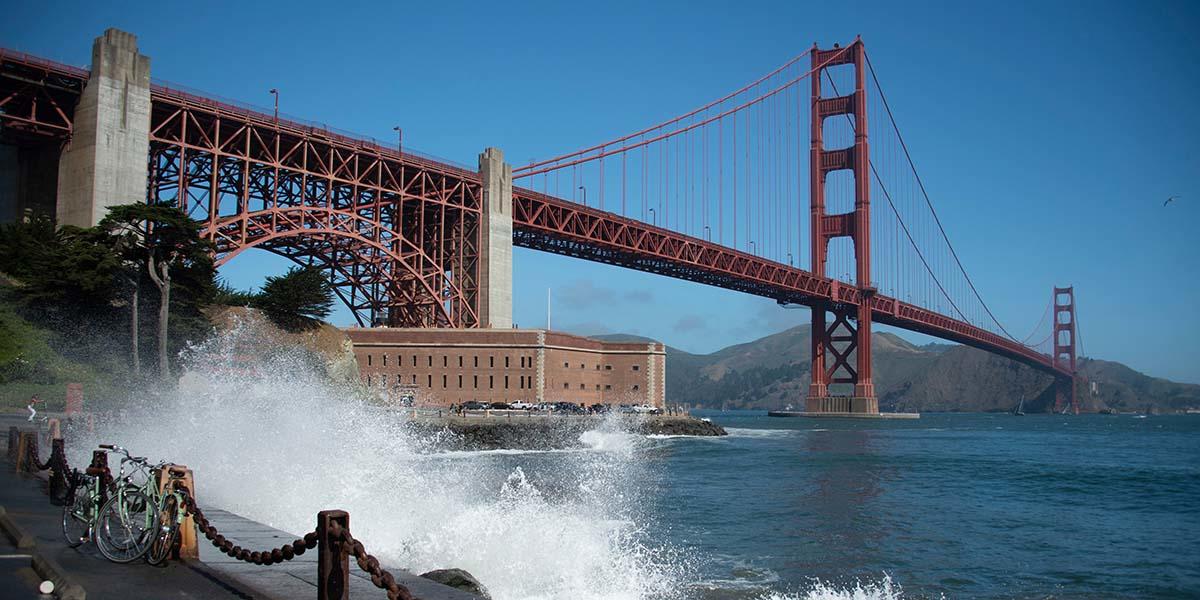 Fort Point and the Golden Gate Bridge.
Alison Taggart-Barone / Parks Conservancy
This article updated Friday, Aug. 28. Please continue to check this article or visit https://www.nps.gov/goga for updates. 
The health and safety of our members, park visitors, program participants, volunteers, interns, and staff is our top priority. We want to keep you updated about impacts to our parks with the current national and local public health recommendations to reduce the spread of coronavirus (COVID-19). 
Even as some parking areas and park sites remain open, please remember to stay safe while outdoors. How can we do that in parks? 
Yield to others to maintain a safe physical distance of 6 feet, especially if you encounter a crowd. 
Consider visiting parks during non-peak, off hours. 
Carry in and carry out anything you would previously discard in the park. 
Bring a face covering for when you can't maintain 6 feet of distance.
Visitors should read their local health orders and review the appropriate health order for the county they intend to visit (if different) before planning to come to the park. Join us in responsibly enjoying the outdoors for exercise and fresh air—and we'll save our social gatherings for after this emergency. Let's all do our part to #keepparkssafe.
VISIT THE PARKS FROM HOME
Our national parks can be wonderful places for inspiration. During this challenging time, we'll be sharing more digital content with you. Here's a look:
PARKS CONSERVANCY PROGRAMS
All Golden Gate National Parks Conservancy events and programs are currently canceled. For a full updating list of event cancellations and program closures, click here.
PARKS
Update from NPS: The park will offer very limited services outside those that support visitor or resource protection. Park rangers remain on duty protecting the parks and normal rules and regulations continue to apply. To protect NPS and contractor employees, very limited trash and restroom services exist. The NPS urges visitors to continue to practice social distancing and Leave No Trace principles, including pack-in and pack-out, to keep outdoor spaces safe. While some listed areas are accessible for visitors to enjoy, a return to full operations will continue to be phased, and services may be limited. You can follow the park's advisory Twitter account @GGNRANPSAlerts for the latest updates.
San Francisco County OPEN:
Alcatraz Island has reopened for outdoor experiences, however interiors of facilities will remain closed. Visit the Alcatraz Cruises site for details.
Upper Fort Mason parking
Lower Fort Mason (near Fort Mason Center for the Arts)
Crissy Field - East Beach parking
Crissy Field - West Bluff parking
Fort Point National Historic Site
Long Avenue and Fort Point parking
Battery East parking
Langdon Court parking
Baker Beach parking
China Beach parking
Navy Memorial parking
Merrie Way parking (Sutro Baths area)
Sutro Heights parking
Ocean Beach parking (City and County of San Francisco owned lots)
Sloat Boulevard parking at Ocean Beach
Fort Funston parking
Marin County OPEN:
All picnic areas
Restroom facilities
Muir Woods National Monument: Visitors strongly encouraged to prepay entrance fee online and make REQUIRED parking reservations here. Visit the Know Before You Go page for more details.
Stinson Beach parking
Muir Beach parking
Muir Beach Overlook parking
Tennessee Valley parking
Rodeo Beach parking
Conzelman and McCullough roads and Golden Gate Bridge overlook parking corridors in the Marin Headlands
Northwest Commuter parking
Fort Baker and Horseshoe Cove parking areas  
Kirby Cove Campground—visit Recreation.gov to make reservations: https://www.recreation.gov/camping/campgrounds/232491
Bicentennial Campground scheduled to open August 1, 2020
Marin County CLOSED sites and facilities:
Kirby Cove Day Use Area
Haypress Campground and Hawk Camp
Muir Beach fire pits (Fires are not permitted outside fire pits.)
Marin Headlands Visitor Center
Nike Missile Site
Point Bonita Lighthouse
Battery Townsley interior is closed and no ranger/volunteer led tours are occurring. Visit virtually via tour or photo gallery.
Click here for the full list of Marin County Parks openings and closures, and here for California State Parks info. The partners of One Tam have also created a map that shows the latest info on which parks are open and closed.
San Francisco County CLOSED sites and facilities:
All picnic areas
Ocean Beach fire pits. (Fires are not permitted outside fire pits.)
Presidio Visitor Center
Golden Gate Bridge Welcome Center
Lands End Lookout
Cliff House and Lands End Lookout Café are temporily closed, effective July 20, 2020.
San Mateo County CLOSED Sites and Facilities:
No vehicle parking in community areas
All other outdoor spaces and trails at Golden Gate National Recreation Area not listed above remain accessible to the public and open for use. Please use caution and maintain a safe distance from others in all areas of the park.
As always, your support of our parks has ensured they are here when we need them most. Please take good care and be well.
Sincerely,
Your friends at the Golden Gate National Parks Conservancy
Please help spread the word on how to stay safe in the parks at this time. Download and share the graphics below. Right-click and save or click the "Download" link:
March 15, 2020