Winter is here...oops, we mean summer. Summer is here. That season when San Francisco gets shrouded in a soggy, foggy chill while the rest of the country bakes under unrelenting heat. But just because it'll (probably) be gloomy out until September, it doesn't mean your parks are hibernating. In fact, they are teeming with activities that'll be sure to make your season one to remember.
See what events and happenings are on the horizon for June through August:
Share your feedback at Crissy Field Next Open House on Saturday, June 1
The National Park Service, the Golden Gate National Parks Conservancy, and the Presidio Trust are embarking upon the next chapter of Crissy Field's revitalization—and we're eager for your input and participation!
Swing by the FREE, family-friendly Open House to look over initial design concepts, discover untold stories about Crissy Field, relax with games and snacks, and share your feedback and ideas.
RSVP today to enter the Open House raffle.
Volunteer for National Trails Day on Saturday, June 1
Flowers are blooming, the sun is shining, and people are out and about enjoying park trails. Best of all, National Trails Day is here! Mark your calendars and join us on Saturday, June 1.
Paw-ty at our dog-friendly happy hour on Thursday, July 18
Cheers to the parks!
Alexandro Paz/Parks Conservancy
Enjoy our dog-friendly Trail Mixer happy hour event in your national park with outdoor yoga, a trail mix bar of dog treats, a DIY dog toy station, and more. Your ticket includes complimentary small bites and libations from Sufferfest Beer Company and Boochcraft. Dogs are not required, we welcome anyone 21+ with ID.
Reserve your tickets to Future IDs at Alcatraz Release Party on Saturday, July 20
Join us on Saturday, July 20th for the Future IDs at Alcatraz Release Party for the art exhibit on Alcatraz Island. This exhibition features artwork created by and with individuals who have conviction histories as they conceive and develop a vision for a future self—depicting a future identity in contrast to a prison-issued ID.
From 10 a.m.-5 p.m. you can join programs and community activities. The Future IDs at Alcatraz Release Party will weave the personal narratives of the exhibition's artists with the many stories of human resilience encapsulated on Alcatraz over time, in the face of the most challenging obstacles. Read more about Future IDs at Alcatraz here.
Reserve your spot at the event by buying your ferry tickets today.
Stroll and read books at the StoryWalk library in the Presidio of San Francisco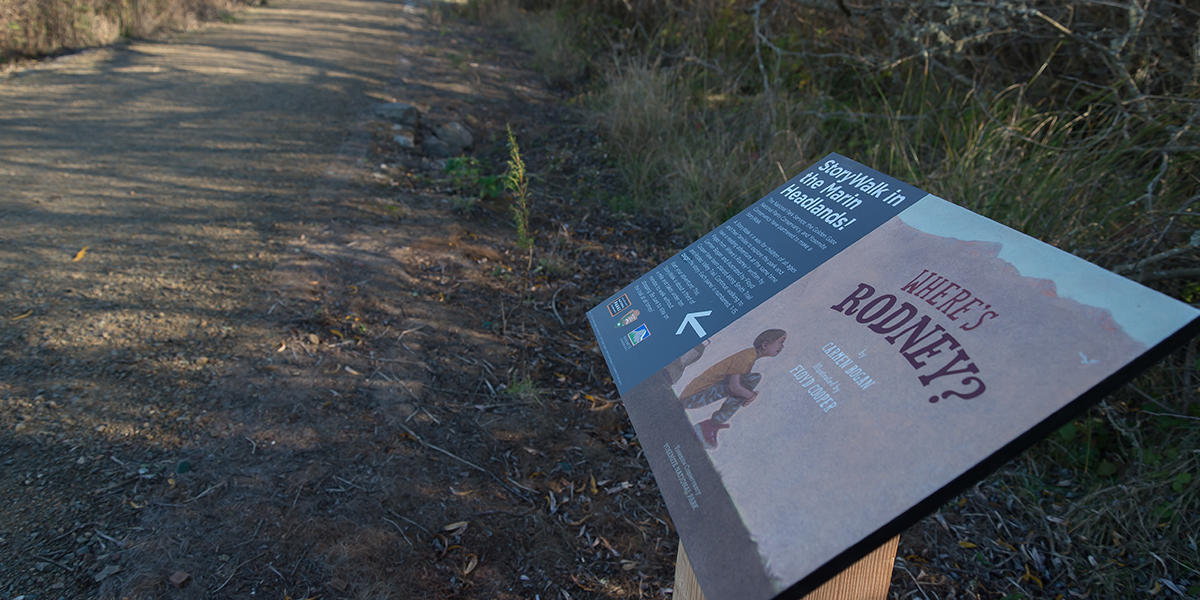 Alison Taggart-Barone/Parks Conservancy
The National Park Service, San Francisco Public Library, Parks Conservancy, and Presidio Trust invite you to look for this summer's StoryWalks in the Presidio! Pages from children's books will be put on signs and sprinkled along a trail. Walk the trails and read a book at the same time. You'll find "Bikes For Sale" written by Carter Higgins and illustrated by Zachariah OHora, "I Wrote You a Note" written and illustrated by Lizi Boyd, and "Where's Rodney?" by Carmen Bogan.
Read more about the StoryWalks or stop by the Presidio Visitor Center (open daily 10 a.m.-5 p.m.) for a map.
Enjoy Ocean Beach, but not by swimming
While the temperatures might not touch 70 degrees in the summer, there might be a day (or two, if we're lucky) when heat graces our fair city. When that happens, don't let the inviting surf of Ocean Beach fool you. This shoreline is 2.8 miles of treacherous rip currents and swimming hazards. Ocean Beach is not a swimming beach nor a safe place to learn how to surf.
See a full list of beaches where you can safely cool off in the Golden Gate National Parks.
Party in style and support your local national parks at NightHowl on Friday, September 28
Once summer is over, break out your trail chic outfits and experience one "howl" of a night under the stars! Lead your pack to an all-inclusive night out in your national park with:
A live DJ set by Bay Area DJ Miles Medina.
All-you-can-eat bites.
S'mores by the campfire.
Hosted bar of specialty cocktails, wine, and beer.
Entertainment, surprises, and more!
May 20, 2019