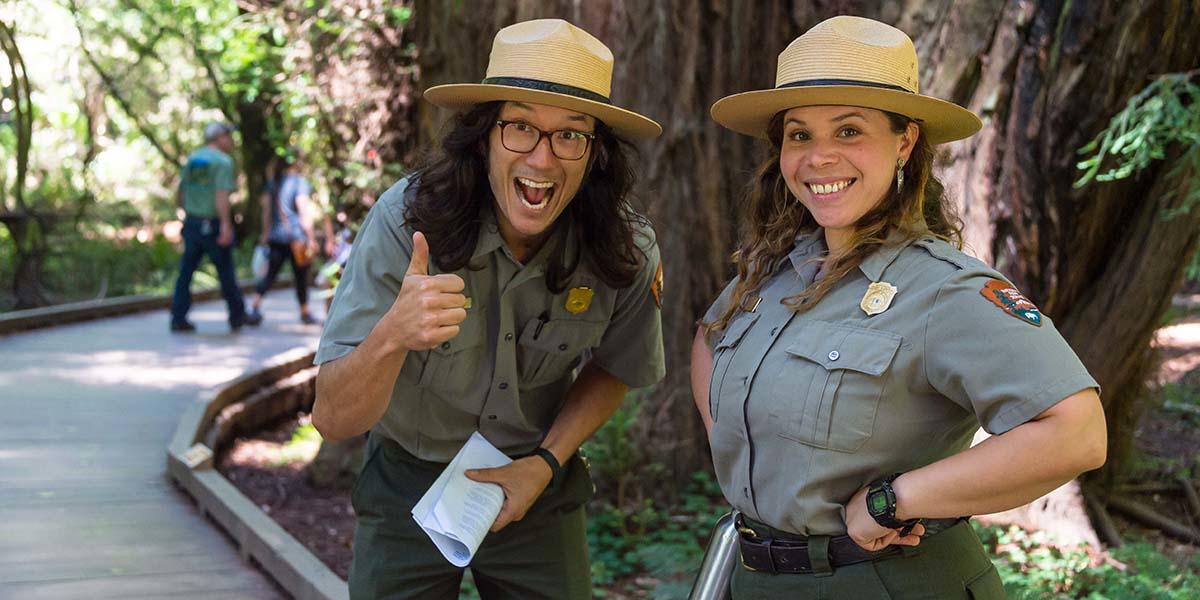 Park Rangers Takeo Kishi, left, and Jasmine Reinhardt at Muir Woods.
Alison Taggart-Barone / Parks Conservancy
Looking for trail suggestions and orientation? Saw something curious in the forest that you want to ask about? Need a junior ranger book? We are here to help! Rather than stuck behind a desk inside, Muir Woods rangers are where you want to be: outside, in the forest. Our station has local information, props, and a wealth of resources to support you during your visit - so don't hesitate to ask. 
The ranger station's core hours are 11:00 AM - 3:00 PM, though we are often open both earlier and later. 
Event Type
For More Information
Past Event Dates
Sun, 12/03/2023

10:00AM

-

2:00PM
Sat, 12/02/2023

10:00AM

-

2:00PM
Fri, 12/01/2023

10:00AM

-

2:00PM
Thu, 11/30/2023

10:00AM

-

2:00PM
Wed, 11/29/2023

10:00AM

-

2:00PM
Tue, 11/28/2023

10:00AM

-

2:00PM
Mon, 11/27/2023

10:00AM

-

2:00PM
Sun, 11/26/2023

10:00AM

-

2:00PM
Sat, 11/25/2023

10:00AM

-

2:00PM
Fri, 11/24/2023

10:00AM

-

2:00PM