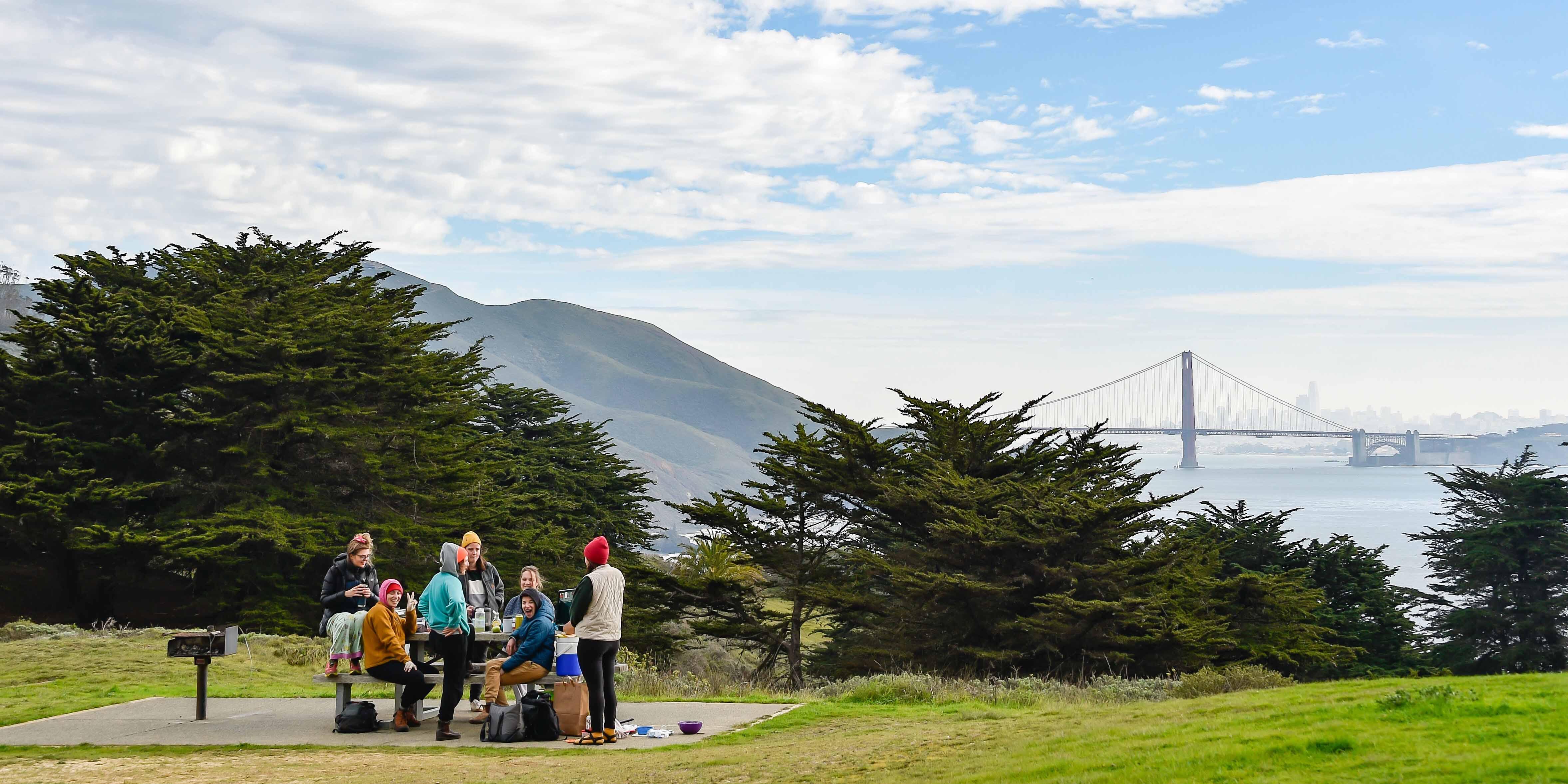 People picnic at Battery Wallace in Marin with Golden Gate Bridge views.
Alison Taggart-Barone / NPS
Summer is here, so our mouths are watering for some BBQ and fruit salad! Even amid the famous fog, nothing says summer like a picnic. Soon we'll welcome a great new picnic spot to the GGNRA—Picnic Place at Presidio Tunnel Tops. Picnic Place will include reservable tables and grills, and nearby food options.
There are plenty of places in the GGNRA to go right now. Here are our picks for picnics, including great out-of-the way destinations for those crowded holiday weekends.
Picnic spots with grills
Wow spot: Sandwiched between the Golden Gate Bridge and Alcatraz Island, West Bluff at Crissy Field has to be one of the most picturesque BBQ locations in the entire world. Plus you can swing by the Warming Hut Park Store for a quick snack or warm beverage, or walk along Crissy Field Promenade. Grills are first come, first served.
Hidden gem: Battery Wallace in the Marin Headlands offers the same Golden Gate Bridge views, without the crowds. Nestled among historic batteries that can be fun to explore, this spot along Conzelman Road has picnic tables, grills, and restrooms.
Other spots with grills 
San Francisco: Baker Beach, China Beach, El Polín Spring, Crissy Field East Beach.
Marin County: Kirby Cove, Rodeo Beach, Muir Beach.
Picnic spots without grills
Wow spot: Bring your parasol! Feel like a Victorian-era picknicker when you spread out your blanket on one of several shady lawns at Sutro Heights Park. The Pacific Ocean views and historic statues are just a bonus.
Hidden gem: Mt. Tamalpais is dotted with great, accessible picnic areas. For a challenging side dish, hike to the West Point Inn. The porch has picnic tables with great views, so sit down and stay awhile, you'll need it!
Other spots without grills
San Francisco: Letterman campus lawns, Fort Scott, Main Parade Lawn in the Presidio.
Marin County: Fort Baker, Black Sands Beach, Tennessee Valley, Muir Beach + Overlook, Stinson Beach.
Important tips from NPS
LEAVE NO TRACE. Trash must be removed from all picnic areas.
BURN CLEAN. Do not use accelerants such as lighter fluid, as they leave pollution and poisons in the air. Paper and kindling are preferred fire starter material. Fire coals must be extinguished and disposed of in receptacles provided by the park.
Find more tips and regulations at https://www.nps.gov/goga/learn/management/fire_beachfireregs.htm
June 29, 2022