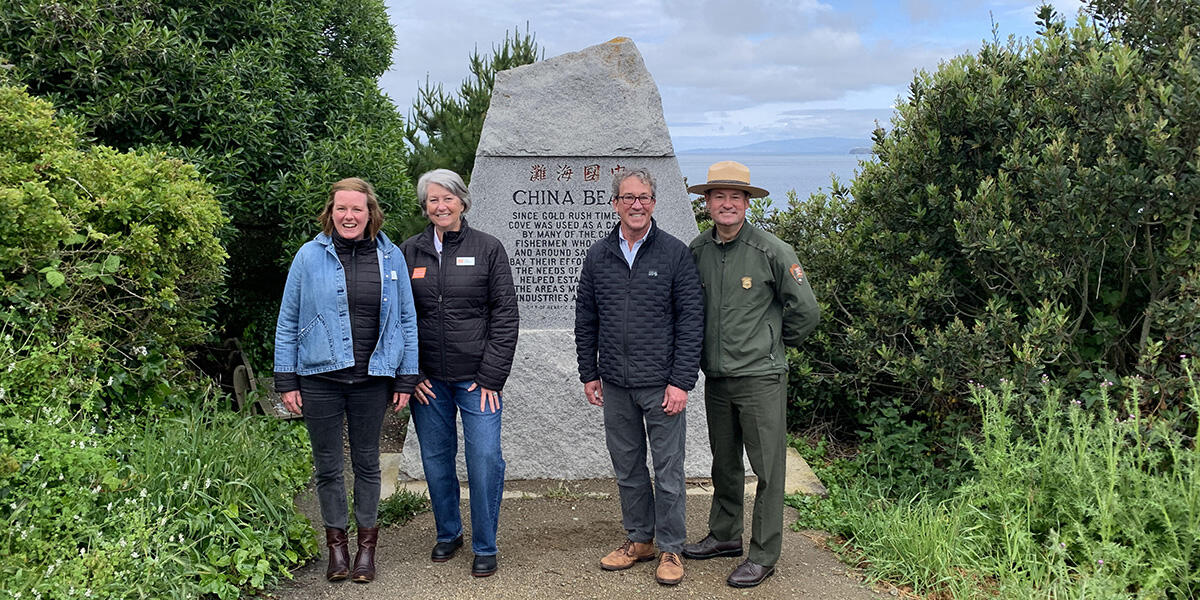 From left, Claire Mooney and Christine Lehnertz of the Golden Gate National Parks Conservancy stand with Thomas Odgers and David Smith of the National Park Service at the kickoff ceremony for China Beach's rehabilitation on May 4, 2023.
Beatrice Kilat / Parks Conservancy
David Smith, a 31-year veteran of the National Park Service, became the new Superintendent of the Golden Gate National Recreation Area (GGNRA) in January 2023. We sat down with David to get to know him better, and talk about his priorities for the GGNRA and how they overlap with the Parks Conservancy's work: 
You studied forestry at UC Berkeley and once went on a 100-day parks road trip. How did that shape your future work in the NPS? 
When John and I took our trip around the country I recognized the national parks mission, this idea, it was really different from what I learned in forestry school. In forestry school you learn about multiple use, you learn about conserving resources, so you're looking at timber harvest, you're looking at protecting archaeology. In the Park Service the mission is really twofold, conserving these things forever, but also providing for their enjoyment today. And it made it a lot easier as far as a mission goes. 
When I got my first job we told the story of the creation of the very first national park and during interpretive training we all sat outside around a fire trying to have the same conversation that John Muir had with Theodore Roosevelt back at Yosemite back in the turn of the century. It's like, wow, this idea has been going on for a century now, this is really cool, and we're part of this. 
You've had many roles at NPS, how did those prepare you to be superintendent at Joshua Tree National Park and now at GGNRA? 
Having spent a lot of time cleaning toilets, and studying frogs, and working with children, and crafting legislation, and fighting fires, and going on rescues, all those things you put together and they give you little snippets of what your coworkers are doing. 
I spent this morning with our roads foreman, and I've never worked a roads crew in my life, but I've had to do road repairs at parks in the backcountry when no one else is there, and I have an appreciation for what it means to lay down a culvert from previous experience. Given the rain that we've had this year, building culverts and water bars and dealing with floods is job one at Golden Gate, that's probably the most important thing. I encourage any employee, take whatever job that's offered. Everything you learn in the Park Service, you will use again sometime in your career.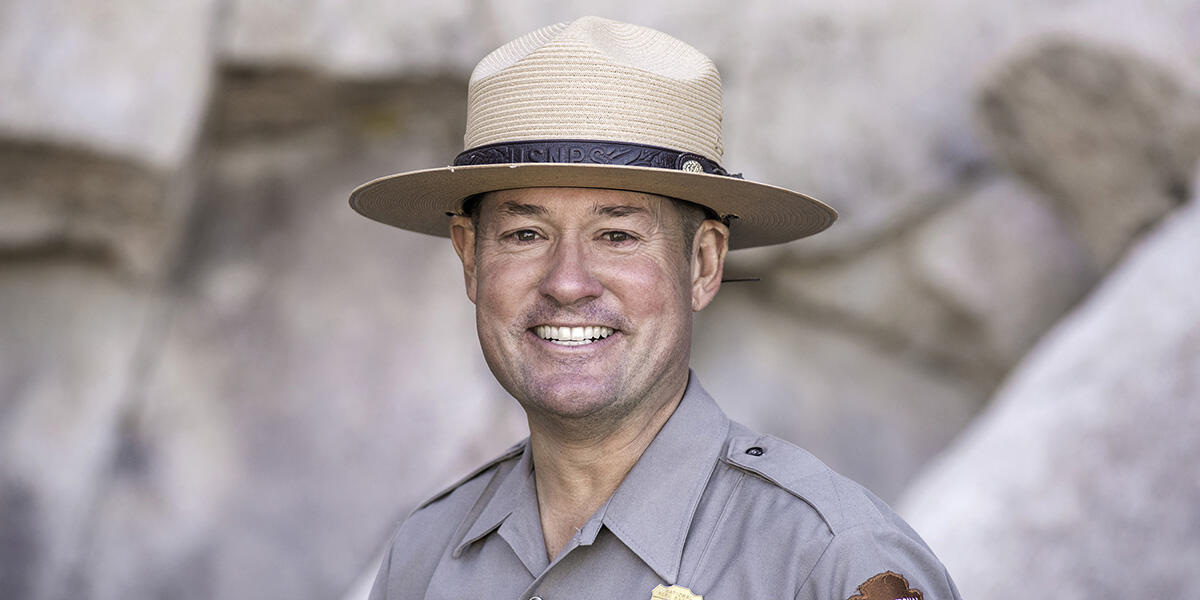 David Smith was named superintendent of the GGNRA in January 2023.
NPS

What do you see as your priorities for the GGNRA? 
I'm really concerned about the current housing situation and how that's impacting our staff and our ability to hire really good people. I'm concerned about some of the crimes that I'm seeing take place inside the park right now. These parks, they belong to everybody, and if someone can't come here because they're frightened to come here, then we need to take action. 
Looking at our historic structures, we're governed by certain laws. We're at a crisis point for this planet right now, and these are hard decisions that land managers are going to need to make about how we interpret those laws, because the other choice is to continue to go down the road of more and more fires, eroding shorelines, disappearance of our water that we need for human life. We've got to change the way we do business. 
How can parkgoers help? 
Sometimes it's overwhelming, being faced with decomposing buildings and climate change and fires. At the most basic level, take responsibility for wherever you're at. We can be proactive, and most importantly in our own lives, limit our impact as much as possible. How can you strive to be carbon neutral at home? You are part of the solution. We're a staff of maybe 400 people that are serving 15 million visitors a year, we cannot do it. I need you to be out there helping out. 
You once gave a TED talk about civic engagement and national parks, how do you see the role of community in the GGNRA? 
Look at this park, on any given day there's a race going on somewhere, there are people riding on horseback, there are people riding on mountain bikes and electric bikes, there are people running, there are people walking their dogs on leash and off leash, people are looking at birds. Everything is going on inside this park every single day, and we've got to figure out how we can continue to support all these different folks enjoying their park, and the only way we can do that is by listening to what they have to say. I want to hear from everyone.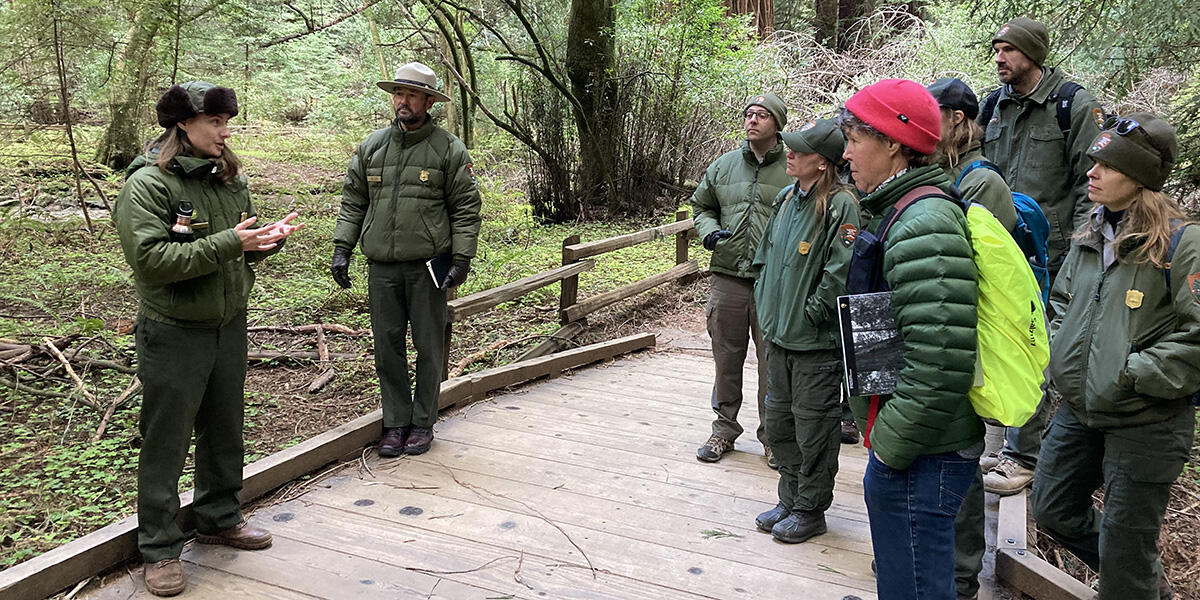 David Smith, second from left, tours Muir Woods with NPS Park Rangers and staff.
Courtesy David Smith

How do you envision working with the Parks Conservancy to connect people and parks? 
We have the same mission between the two organizations. We cannot survive without a friends group like the Parks Conservancy, and the Parks Conservancy is here to support the park, so we go hand in hand on how we do it. I would encourage folks who are Parks Conservancy members to think of themselves as being part of the National Park Service. The Presidio Trust and the Park Service never would have been able to garner the support for a project like Presidio Tunnel Tops, but today because of the support the Parks Conservancy was able to put forward, we have this amazing resource. I just drove by it today, I saw hundreds of people there just enjoying themselves on a beautiful spring day.   
How are you feeling about your new role at the GGNRA? 
I'm overjoyed. I loved working at Joshua Tree, I also loved working at Brown v. Board, they're just amazing park sites. For me, the best part of being at Golden Gate right now is truly the staff. I'm working with some of the smartest people I've ever met in my life, and they're all working to protect this park and to allow the public to enjoy it, and it gives me just total joy to be here. And that's especially true with both the Parks Conservancy and the Presidio Trust: I've never worked in a situation where you've had two other partners with the skill set and the resources to be able to do the stuff that I see happening from both the Parks Conservancy and the Trust.  
It's really exciting. If you want a totally urbane experience, hang out at the Warming Hut and you're at this incredibly beautiful setting looking at Fort Point. You can do that or you can do backcountry hiking in the Marin Headlands or you can be on a trail and not see a single person when you're down in southern San Mateo County. You can find whatever you want at Golden Gate. 
May 16, 2023