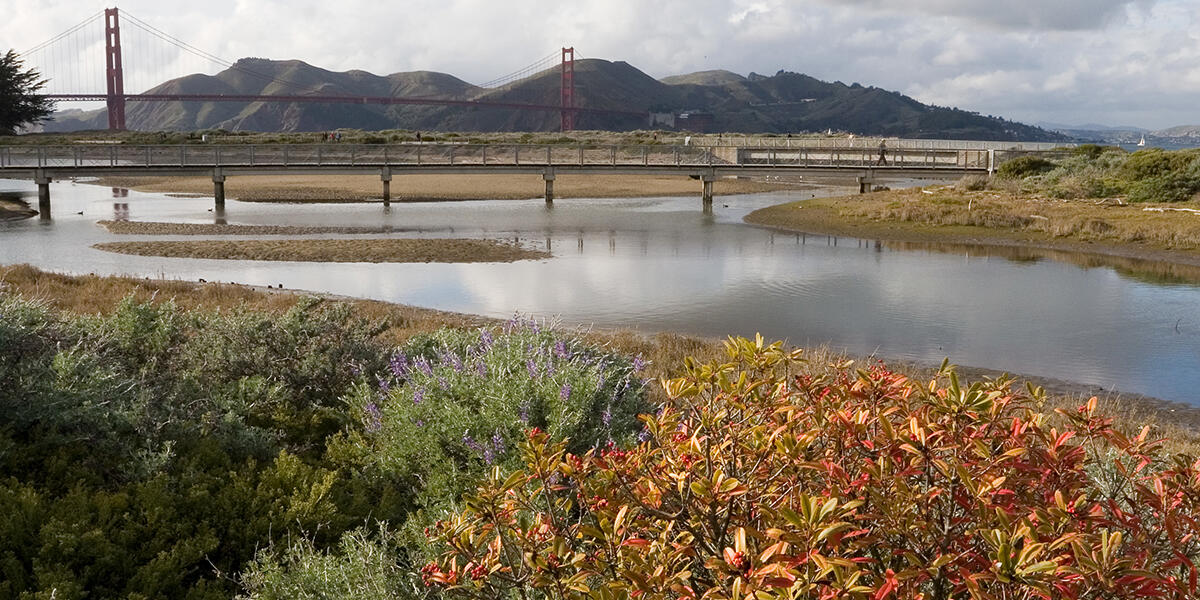 Today's marsh at Crissy Field, a landmark restoration project in the parks.
Will Elder/NPS
Every year, millions of visitors pass through the Golden Gate National Recreation Area (GGNRA), interacting with seen and unseen species, trees, animals, plants, and people. With our partners at the National Park Service (NPS), Presidio Trust, and within the One Tam partnership, we're on a mission to reduce emissions, adapt for a changing climate, and encourage visitors to join and move in the most sustainable ways possible in the outdoors.
You can see these efforts throughout the park, from solar power at Fort Mason to water catchments on Alcatraz Island. Much of this work is informed by the GGNRA's recently updated Climate Change Action Plan, a list of goals and actions outlining the way the park is working to be a part of positive change and orienting itself toward solutions.
One part of the Climate Change Action Plan is to achieve a carbon-neutral park. The GGNRA is moving towards zero-emission buildings, vehicles, and ferries, and has improved the efficiency of the park fleet by adding 20 electric and hybrid vehicles. Through community choice programs in San Francisco and Marin, the parks purchase 100% renewable electricity.
At Muir Woods, the reservation system, along with the Muir Woods Shuttle and other public transportation options to the site, have helped reduce the park's carbon footprint by reducing traffic congestion in the parking lots and on the road. The Presidio Go shuttle and ferries to Alcatraz Island, operated by Alcatraz City Cruises, have also gone electric. The two primary vessels delivering people to Alcatraz have been retrofitted to operate as plug-in electric ferries.
In the GGNRA, scientists protect our critical resources through projects like expanding marsh areas at Crissy Field to mitigate sea level rise. The One Tam partnership monitors the health of Mt. Tamalpais and surveys for sensitive plants and wildlife species, using the best available science to shape management approaches and protect biodiversity. At Bothin Marsh in Marin County, we're working on the Evolving Shorelines Project, developing nature-based approaches to adapt marsh habitat and the Mill Valley-Sausalito Pathway (Bay Trail) to a changing climate.
Actions make a difference. You have options to support these efforts and influence big changes, too. Choose public transit, biking, or an electric vehicle (chargers are available at Crissy Field, Muir Woods, Fort Mason and Stinson Beach). When you're in the parks, pack out your trash to minimize waste, recycle, and compost.
Your support of the Parks Conservancy helps protect these critical natural resources, so thank you. Everyone is needed to create a future where both people and parks thrive. Be a positive part of change!
February 27, 2023