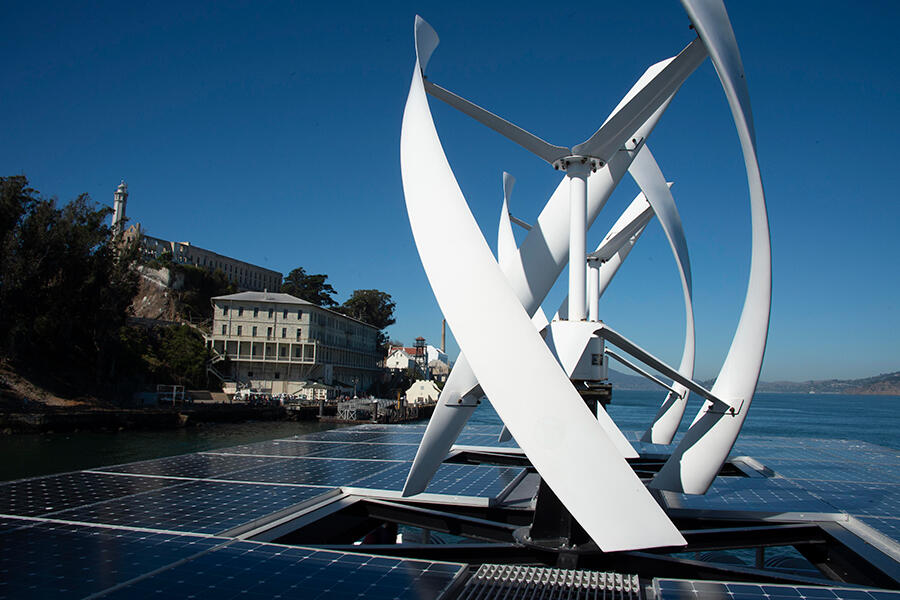 Solar and wind power on Alcatraz are just one of several key shifts the park has made towards renewable energy. Alcatraz Cruises ferries, one of which is pictured here, are also solar-powered.
Parks Conservancy / Alison Taggart-Barone
Here at the Golden Gate National Parks, we have an eye out for the big-picture challenges that threaten our public lands. By proactively tackling in-house energy use, transportation, and waste, our National Park Service (NPS) partners at the Golden Gate National Recreation Area have achieved carbon-neutral park operations, arriving at a major milestone set forth in the park's Climate Change Action Plan a full year ahead of schedule! 
As of 2019, the park is using 100% renewable electricity and offsetting additional emissions by purchasing carbon offsets. Thus, the park currently contributes no net release of heat-trapping gases into the atmosphere.
But offsets aren't the final destination. So how does this milestone fit in to the long game of sustainability in the Golden Gate National Parks?
When the park's sustainability team first calculated the carbon footprint for park operations in 2008, a few things jumped out as primary contributors. Based on that report, the NPS installed a solar microgrid to power Alcatraz, shifted to Community Choice Aggregation power utility options (namely, CleanPowerSF and MCE) to achieve 100% renewable electricity, and improved the efficiency of the park fleet with electric and hybrid vehicles. These transitions towards renewable energy proved instrumental in reducing the park's carbon footprint. 
Making sense of the GGNRA's carbon footprint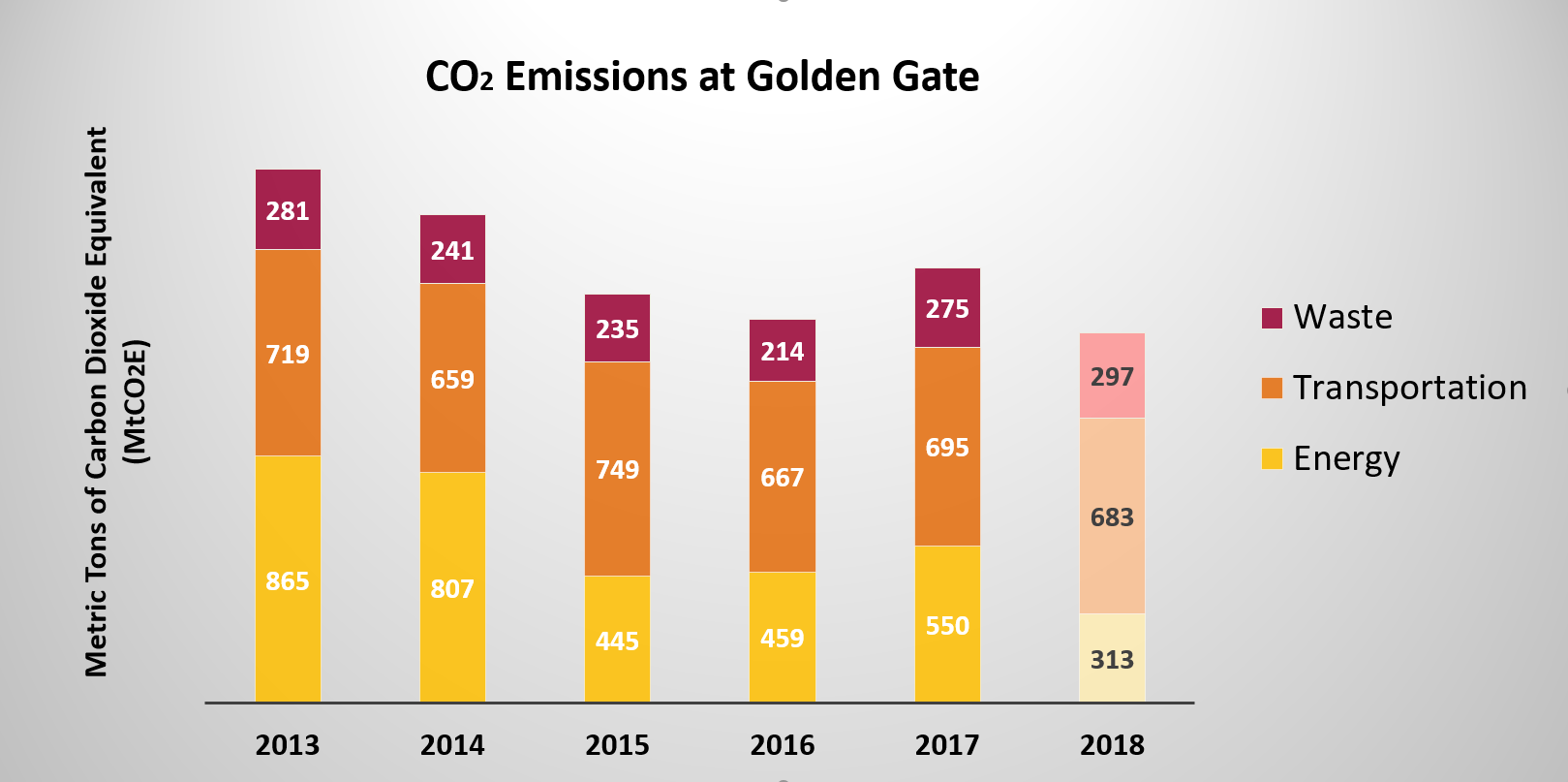 Golden Gate has been working to reduce its carbon footprint, mostly through generating and purchasing renewable electricity. Starting with 2018 emissions, the park has offset the remainder though the purchase of carbon offsets.
NPS

Still, the park relies on natural gas, propane, and diesel for powering heavy equipment, some heaters, and backup generators. 
Waste also presents a problem: organic waste sent to landfills and water treatment facilities generates methane, a potent heat-trapping gas, as it decomposes. Fortunately, the carbon footprint of waste sent to landfills in the Bay Area is reduced because San Francisco's Recology uses methane flaring. That process lowers heat-trapping gas emissions by converting some of the methane to carbon dioxide before it's released. Despite this, park operations continue to generate some solid and water waste. The carbon footprint calculation also includes waste generated from the park's roughly 16 million annual visitors. 
The park's carbon footprint currently does not account for employee and visitor transportation to and from the park. If it did, visitation transportation would represent the bulk of the park's carbon footprint. 
Facing these ongoing challenges, the NPS used a Parks Conservancy grant to purchase carbon offsets, which fund activities elsewhere that reduce emissions to "offset" the remaining carbon emissions created by park operations.  Learn more about the purchased offsets in the park's Sustainability Newsletter.
But for the sustainability team, carbon offsets are not the ultimate solution. They are an interim measure as the park continues to strategize and seek out novel ways to fully neutralize its carbon footprint. 
What will it take for the park to be fully carbon neutral without offsets?
There's a push to electrify the entire fleet of government vehicles, many of which are already electric or hybrid. 
But perhaps the biggest challenge is waste: the park can't control or enforce members of the public sorting waste into compost and recycling, so public waste bins typically all go to landfill, where they produce methane.
"There needs to be a cultural shift in terms of solid waste," says Vicky Stewart Usher of the NPS, who supports the sustainability team by collecting and analyzing data to calculate the carbon footprint. "And we need to do a better job in-house before we put that on the public. The public is expecting this from us. They look at us as the ultimate model for sustainability."
Laura Castellini, the park's Sustainability Coordinator (and major driving force in this effort), thinks we can get there.
"Everyone plays a part in helping make our park more sustainable. A lot of actions may seem small on an individual scale, but when they add up to everyone in the park, it's a real contribution one way or another. Where we are in the Bay Area and California, we're at the forefront of this stuff. That's made it easier for us to engage with progressive innovation to achieve our goals. It's challenging and exciting to be in this area where a lot's going on."
December 13, 2019