Project WISE (Watersheds Inspiring Student Education)
Engaging high school students in place-based, student-centered programming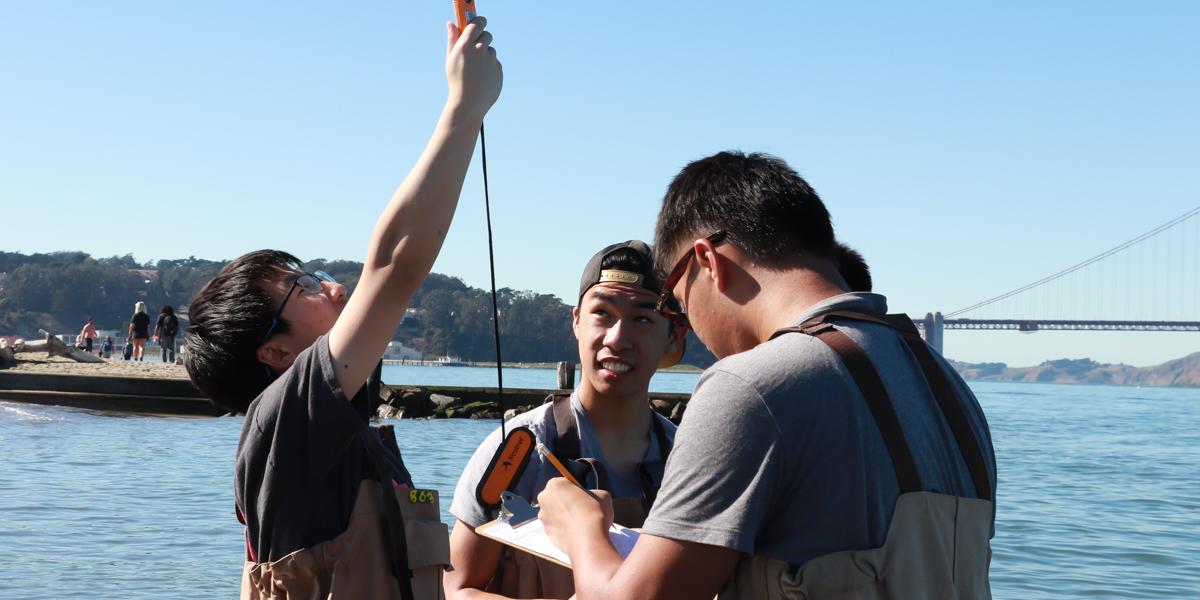 Project WISE Students Take Measurements
Francis Taroc/Parks Conservancy
Now in its 17th year, Project WISE engages students from Advanced Placement (AP) Environmental Science classes at Galileo Academy of Science and Technology, a public high school in San Francisco. In this year-long, place-based, student-centered program, participants not only learn environmental science concepts but also get a chance to utilize scientific practice to better understand their parks and communities.
Much of the learning during Project WISE is done outside, as classroom concepts are applied to sites in the national park and San Francisco communities. Water quality lessons are reinforced by an intensive study of Lobos Creek in the Presidio. The Crissy Field Marsh is used as a case study of wetlands. Air quality is investigated by comparing pollution levels in different communities across San Francisco.
During the spring semester, Project WISE students conduct their own scientific explorations and present their findings at an annual symposium to peers, park officials, school district administrators, and members of the community.
Project WISE helps students in their future academic and career paths by developing skills such as public speaking, critical thinking, conducting scientific investigations, and producing digital media. Project WISE curriculum explores environmental justice, how poor communities and communities of color have higher exposure to environmental health risk factors like pollution, and less access to the benefits provided by the environment such as clean air and open space.
Get Involved
Crissy Field Center 
Front Desk: 415-561-7752
603 Mason St, Presidio
San Francisco, CA 94129
San Francisco,
CA
94129
,