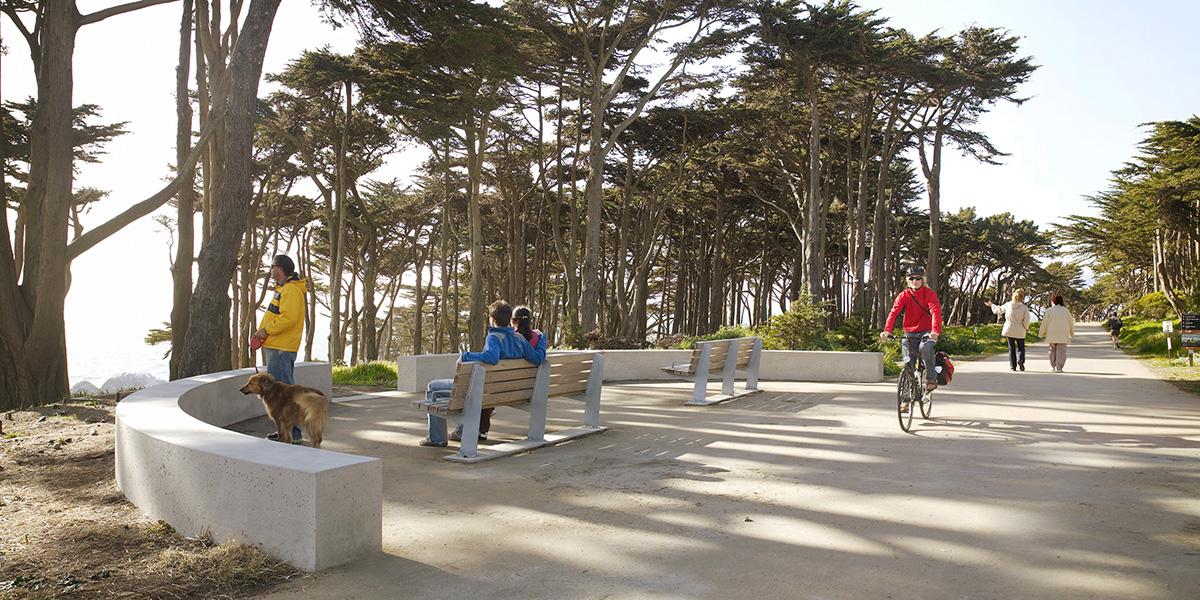 Lands End's numerous trails and overlooks are enjoyed by thousands of visitors each year
Michal Venera/Parks Conservancy
The 4,150-square-foot Lands End Lookout, which opened in 2012, is a major milestone achievement in the ongoing revitalization of Lands End. The building includes informational exhibits, park-related retail, a café, and restrooms. Visitors can enjoy an interpretive experience that complements already completed historic and ecological restoration.
Return to featured projects list
Overlooking the Sutro Baths ruins, the Merrie Way Lookout provides a place for visitors to rest on custom-designed benches and seat walls, amid areas planted with native plants. The overlook's design conforms to universal accessibility design standards along its entire length. It's supported by deep concrete piers topped with a beam that acts as a seat wall, but that will also secure the edge of the site in a seismic event. Custom-designed metal and wood benches use redwood recycled from a demolished brewery building in northern California.
Return to featured projects list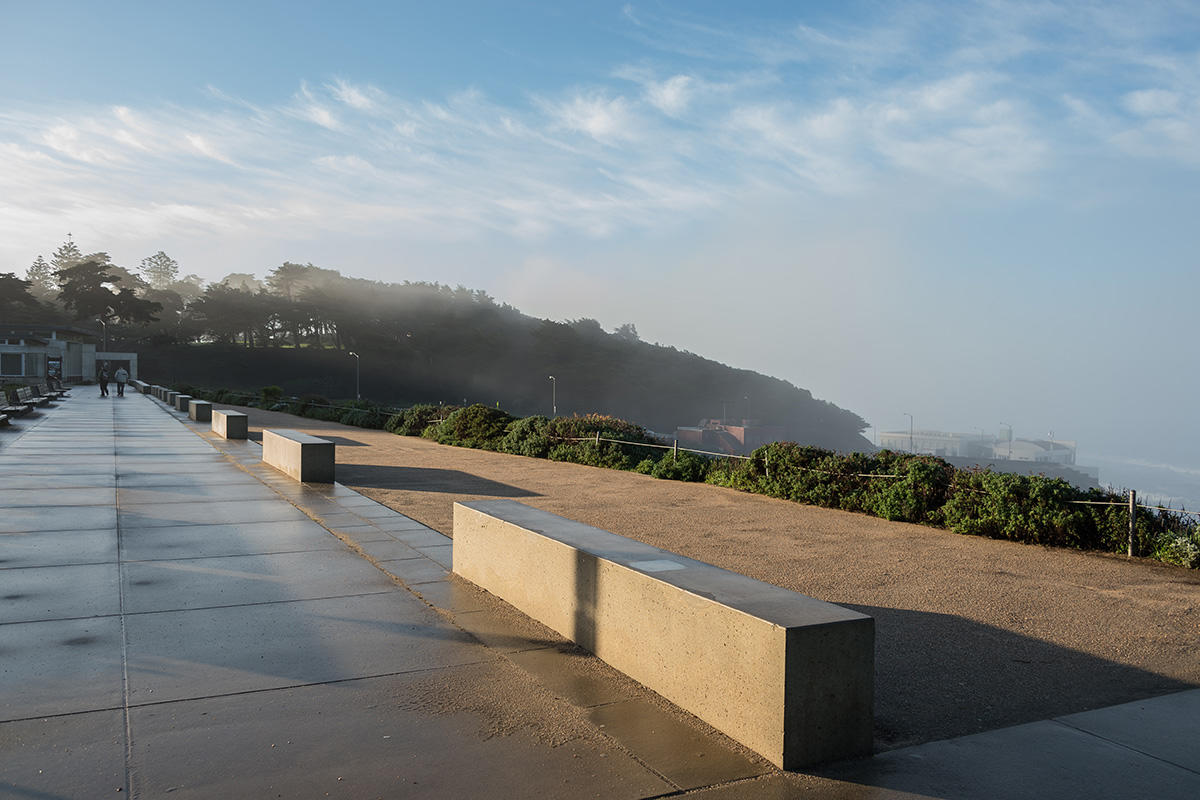 The seat wall at the Merrie Way Lookout is specially constructed for seismic safety
Alison Taggart-Barone/Parks Conservancy
The Ocean Terrace Overlook provides magnificent views and a resting area on El Camino Del Mar at Seal Rock Drive with seating, trash receptacles, and native vegetation plantings. The design standards used here provide a second accessible trailhead for the Coastal Trail.
Return to featured projects list
Situated just above the Coastal Trail, this unique spot offers expansive views of the Golden Gate and Marin Headlands. Completed in 2010, upgrades to the parking area and overlook include improved visitor accessibility, re-paving and configuration of the parking lot, and the addition of permeable surfaces with native plantings for improved drainage and water recycling.
Return to featured projects list
Heading north along the Coastal Trail, away from the Lands End Lookout visitor center, the trail passes two new overlooks, the Lifesaving Station Overlook and Mile Rock Overlook, with views of the Marin Headlands, Golden Gate Bridge, Mile Rock and Point Bonita lighthouses and, on clear days, the Farallon Islands and Point Reyes. Each overlook includes seat walls, benches, and interpretive signage.
Return to featured projects list
In 2014, the existing overlook at Eagles Point was replaced with a more subtle and setback viewpoint along the trail. Diseased trees were removed and the area was replanted with native vegetation.
Return to featured projects list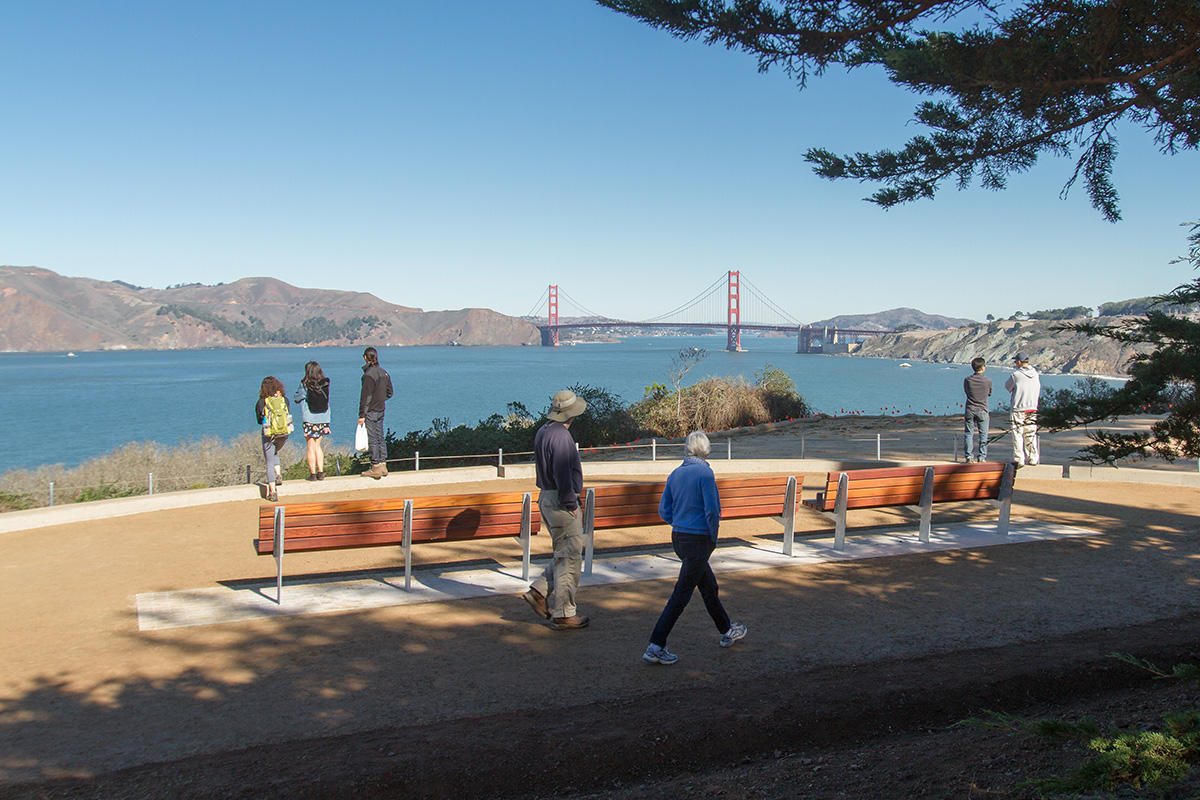 Eagles Point Overlook offers spectacular views of the Golden Gate
Kirke Wrench/National Park Service
Thanks
Our thanks to the Richard and Rhoda Goldman Fund; the Horace W. Goldsmith Foundation; the Lisa and Douglas Goldman Fund; Jason, Jennifer, and Matthew Goldman; and the California State Coastal Conservancy for the restoration of Lands End and the Lands End Lookout Visitor Center.