One of the things that makes California so "California" is being able to spend time with the mountains and the ocean on the same day. In our parks, there are two mountain peaks within five aerial miles of the closest GGNRA beach. In just a few hours, you can take in 360-degree mountain-top views of the Bay Area and walk barefoot through the sand at sea level.  
Montara Mountain and Mori Point 
Rancho Corral de Tierra is the largest park site in the GGNRA, with 3,858 acres of rolling grasslands and sparkling watersheds. The best way to see the most of this expansive site is from the top of Montara Mountain. A particularly motivated hiker could travel 7.5 miles from Mori Point to Montara Mountain. A ride along scenic Highway 1 also connects the sites. 
Accessible destination at Mori Point: There's accessible parking, a restroom, and trail at Old Mori Road. The trail connects to an accessible boardwalk with benches and is a short distance to Sharp Park Beach. 
Shorter hike at Mori Point: Park at the Old Mori Road trailhead for a flat, 0.6-mile-long scenic pathway. At the end of the path, check out the beach straight ahead or go left up Bootlegger's Steps. At the top of the steps, take a right along Mori Headlands Trail to check out the dramatic point. If you'd like to make it a loop hike, check out the Mori Point Peak Loop. 
Medium hike at Sweeney Ridge: There are a few ways to get up to Sweeney Ridge but one of our favorites is up the scenic Mori Ridge Trail. Park at the Shelldance Nursery by the Sweeney Ridge GGNRA sign, and head up the trail from there. Take a right and follow the Sweeney Ridge Trail, and you'll find great views of the ocean, the former Nike Missile Site, and the Portola Discovery Site. Turn around and head back down Mori Ridge Trail when you're ready. 
Long hike from Mori Point to Montara Mountain: This hike is for the GGNRA completionists! Take in a whopping three park sites in one (very long) day. Park at Mori Point and find the Fairway Drive Pedestrian Tunnel to walk underneath Highway 1. Take a right at Lundy Way, follow the path up to Mori Ridge Road and up to Shelldance Nursery. From there, follow Mori Ridge Trail to Sweeney Ridge Trail as described above. Take a right at the Baquiano Trail, and make sure to follow the left down to the Baquiano trailhead at Fassler Ave. From Fassler, take a left at Terra Nova Blvd, a right at Oddstad Blvd., then a left at Trout Farm Road to head up to San Pedro Valley County Park. Find the Montara Mountain Trail and follow it up to Montara Mountain Road to Middle Peak. Head back the way you came or make it a long loop route by heading over to Pacifica State Beach and going up and over Mori Point from Rockaway Beach. 
Check it out: Springtime is one of the best times to visit Mori Point—you might see the bluffs here carpeted in colorful flowers. Remember to stay on-trail when taking photos and taking in the views. You can find some of our wildflower viewing tips here.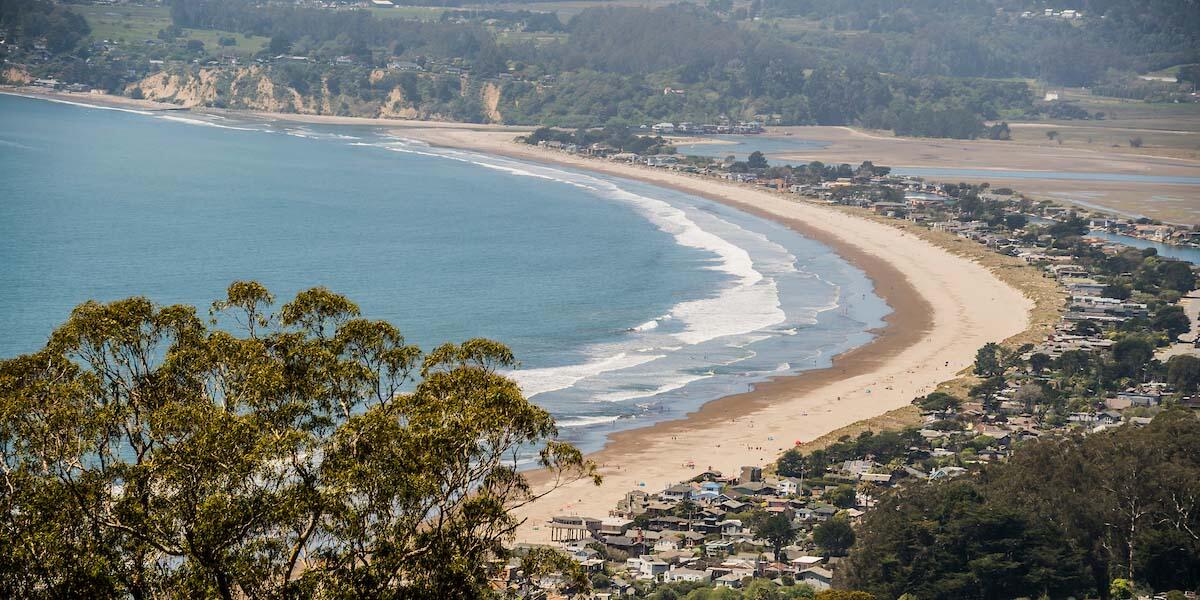 Stinson Beach from Mount Tam
Alison Taggart-Barone / NPS

Mt. Tamalpais and Stinson Beach 
People love Mt. Tam's East Peak for its overlooks that tower above Bay Area landmarks. However, other quiet overlooks are scattered around Mt. Tam on all sides. You can find many of them by doing an ambitious day-long hike from Stinson Beach all the way up to East Peak. Scenic mountain roads also connect the peak to the beach. 
Accessible destination on Mt. Tam: The 0.75-mile-long, paved Verna Dunshee Trail at East Peak has fantastic views. Accessible tables, restrooms and drinking fountains are nearby. 
Accessible destination at Stinson Beach: Accessible parking, restrooms, and picnic areas are available at the North and Central parking lots. At the Central Parking Lot there's a wooden boardwalk leading to the beach and beach wheelchairs are available upon request. 
Shorter hike: The Willow Camp Fire Road hike will take you from ocean level near Stinson Beach up to an overlook, where you'll get a birds eye view of the shoreline from Mount Tam's base. Although the hike is short, it is steep at the beginning. 
Medium hike: Explore the heart of the mountain by heading up to the Mountain Theatre on the Old Mine Trail from the Pantoll parking lot. Head back down via the Bootjack Trail or Easy Grade Trail to make it a loop.  
Longer hike: Get ambitious and hike all the way from beach to peak, with some fun sights along the way! Park at Stinson Beach and find the Dipsea Trail crossing Panoramic Highway. Take a left at the Steep Ravine Trail and you'll soon come across the famed Steep Ravine Ladder. At Pantoll, cross Panoramic Highway and pick up Old Stage Road, which you can follow to the historic West Point Inn. Head around the back of the Inn and take Old Railroad Grade Fire Road all the way up to East Peak, with a small piece at the end along East Ridgecrest Blvd. Retrace your steps back to Stinson Beach, or try different trails like the Matt Davis Trail on the way back. 
Check it out: Over 184 species of birds can be found on Mt. Tam. Bring some binoculars if you want to get an up-close look! Remember to observe all wildlife on the mountain from a distance.