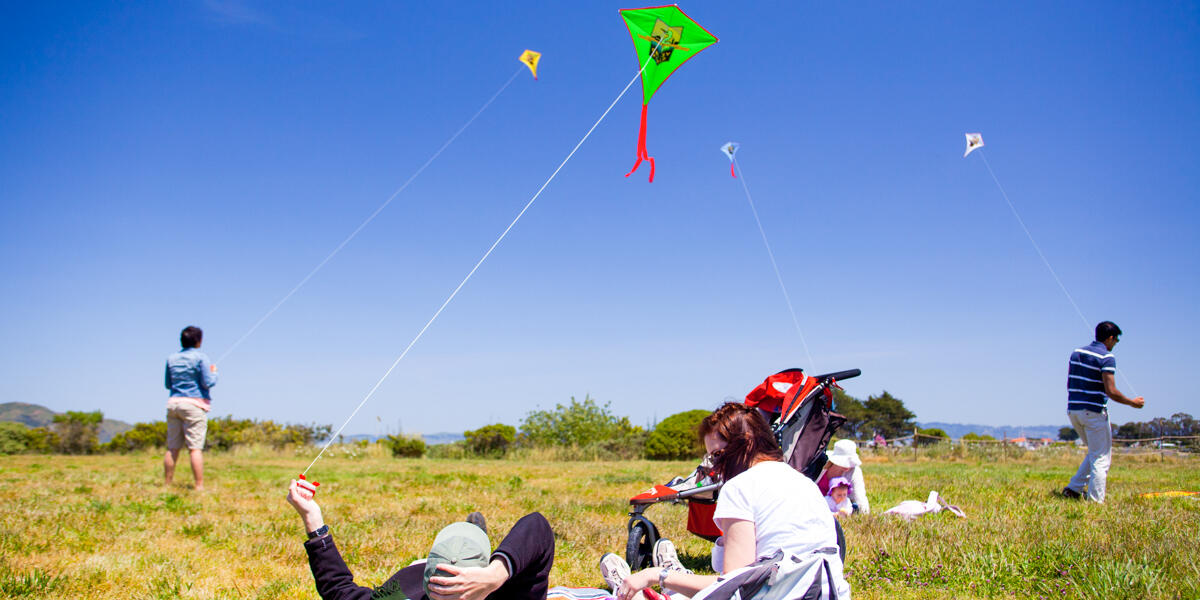 Flying kites at Crissy Field.
Parks Conservancy
Let's fly a kite together! Join us in celebrating 20 years of Crissy Field on May 7 from 1-3 p.m.  
The first 1,500 people to meet us on Crissy Airfield will receive a FREE, beautifully designed kite to commemorate 20 years of Crissy Field. Kites will be distributed from the Golden Gate National Parks Conservancy's Roving Ranger, which will be parked in the middle of the historic airfield space, between Mason St. and the Bay on Crissy Field. 
The kites were manufactured by Chinatown Kites, a historic San Francisco business. Meet Albert Chang, proprietor of Chinatown Kites, and join us for kite-flying fun on May 7, between 1-3 p.m.! 
Twenty years ago, on May 6, 2001, the National Park Service and Parks Conservancy unveiled the revitalized Crissy Field, reshaping San Francisco's northern waterfront. Our thanks to thousands of community volunteers, donors, and the vision and generosity of the Evelyn and Walter Haas, Jr. Fund for the restoration of our place to recreate by the Bay. 
The easiest way to get to the event will be via the Muni 30 line, which takes you to the Sports Basement parking lot. Head west along Mason St. toward the Airfield and you should see the Roving Ranger in the center of the space. Parking is available at the East Beach parking area, West Bluff parking area, or the Sports Basement parking lot.
Past Event Dates
Sat, 05/07/2022

1:00PM

-

3:00PM