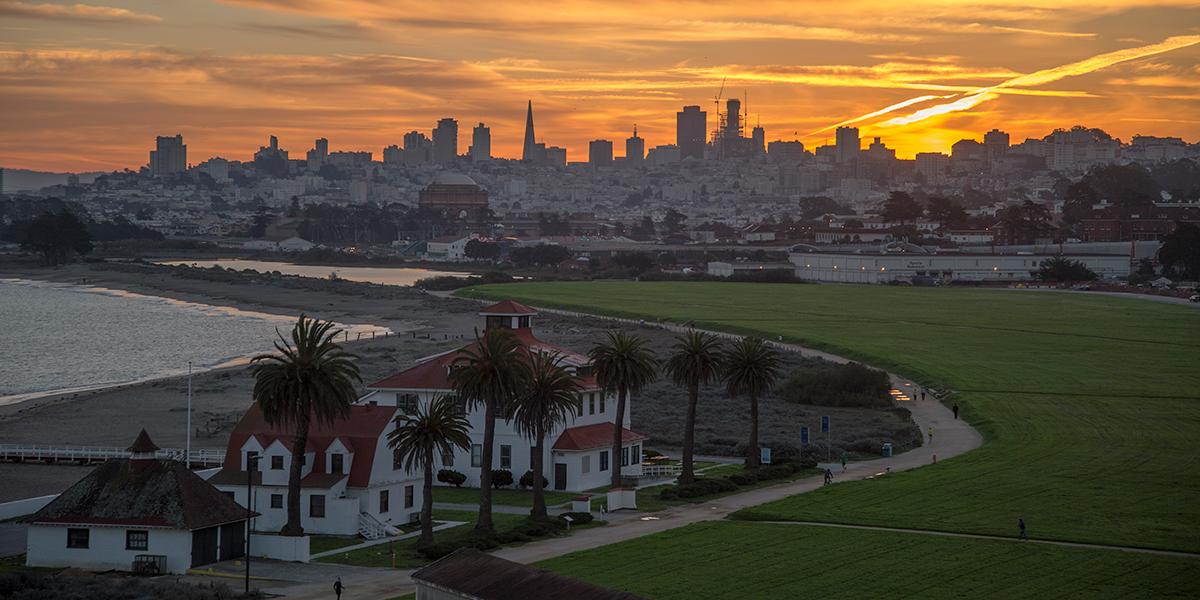 Thanks to this project, visitors from all over the world can enjoy the beauty of San Francisco's northern shoreline
Alison Taggart-Barone/Parks Conservancy
Once a tidal marsh and seasonal home of Ohlone Indians, Crissy Field's colorful history has included a Grand Prix raceway, an historic army airfield, and a U.S. Coast Guard station. However, by the time it came to the National Park Service from the U.S. Army in 1994, the site had fallen into neglect.
Thanks to the incredible generosity of the Evelyn and Walter Haas, Jr. Fund and Colleen and Robert Haas, as well as thousands of community volunteers and donors, the site has been transformed into the 100-acre tidal marshland and waterfront park we enjoy today.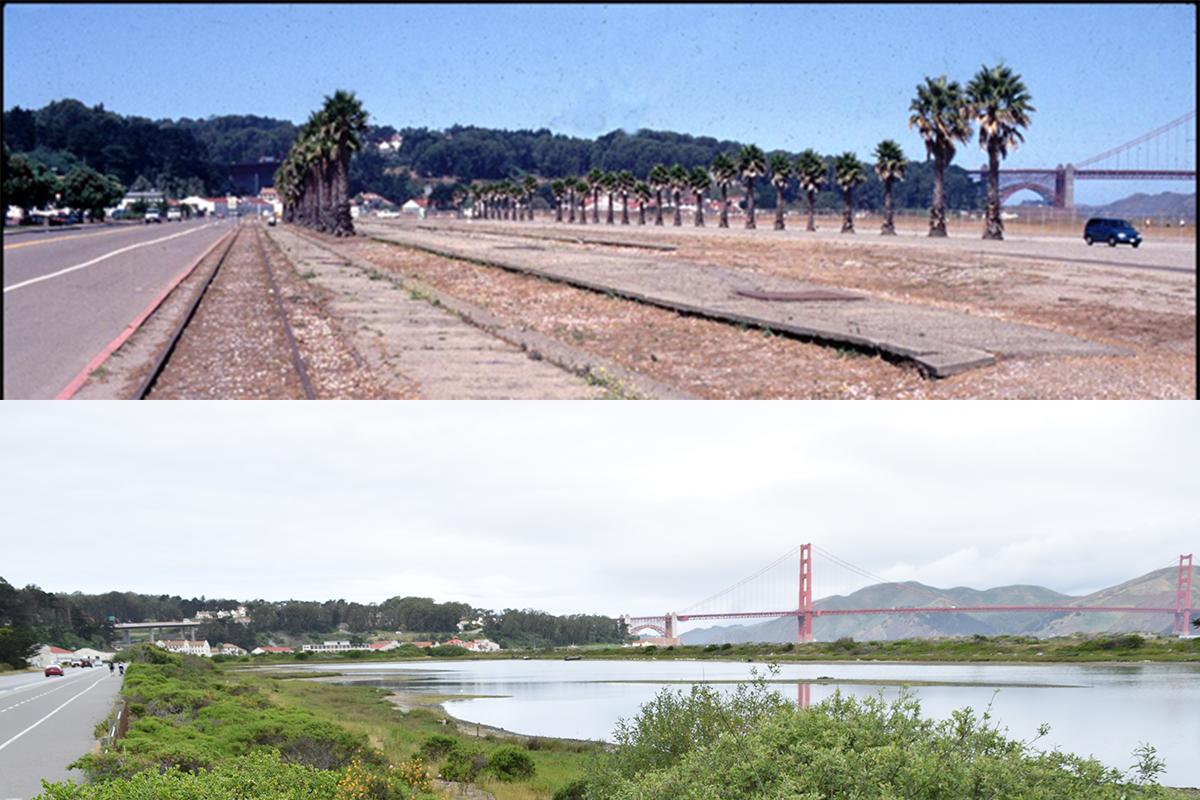 Before and after the transformation of Crissy Field from Army airfield to public parklands
Before: (unknown), After: Michael Chasse/National Park Service
Project Highlights
The first major project of its kind for the Parks Conservancy, the conversion of this military airfield to parkland opened this stunning stretch of shoreline to the public and connected open spaces along San Francisco's northern shoreline in a whole new way.
It created the Crissy Promenade, which offers visitors spectacular views of the Golden Gate and San Francisco Bay as they stroll, jog, or bike along this gentle path. It restored a part of the old Army airfield, and it added world-class educational programs and visitor services by reusing two historic structures for the Crissy Field Center and the Warming Hut, and building restrooms at East Beach, among other amenities.
It also recreated a portion of the tidal marsh that once existed at the site but had since been drained. Over 100,000 native plants of 110 different species were planted or seeded and have continued to flourish. Wildlife, especially fish and birds, are also thriving here now. Biologists have identified over 17 fish species and 135 bird species in the tidal marsh, including herons, egrets, ducks, and gulls.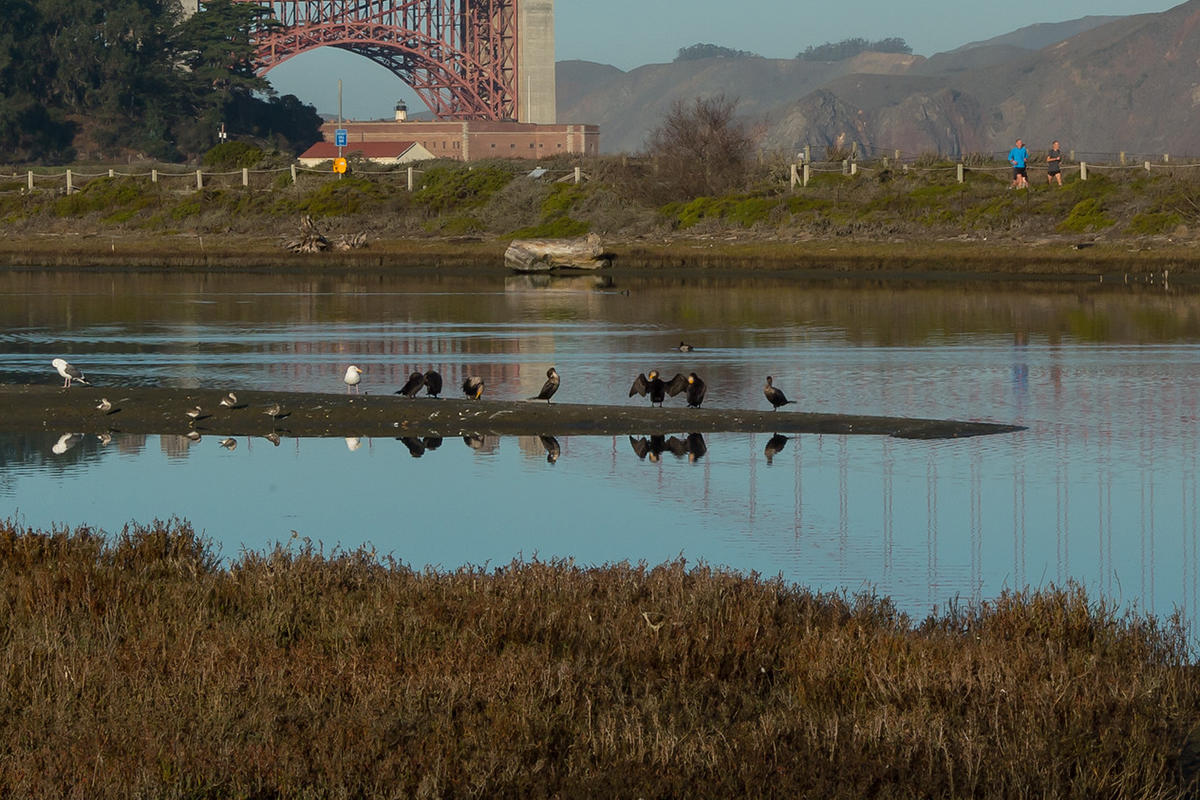 Many species of birds can be spotted in the restored Crissy marsh
Alison Taggart-Barone/Parks Conservancy
Park Partnerships at Work
The Parks Conservancy led project planning, fundraising, and implementation under the guidance of the National Park Service (NPS), and managed the planning, design, and construction of this project, as well as ongoing community engagement and volunteer coordination for habitat restoration.
Parks Conservancy architects and designers led the reuse of historic structures, the development of public information signage and site amenities, and supported the ongoing overall project design development. NPS and Conservancy staff also addressed significant archeological finds during construction, including Ohlone shell middens (heaps).
Continued Care
Opening week celebrations in May 2001 were attended by at least 75,000 people. Today, the site sees an over one million visitors per year. The Parks Conservancy and NPS continue to work closely together to support ongoing operations, maintenance, and additional projects at Crissy Field.
In 2010, the Parks Conservancy opened a LEED Platinum certified interim structure at East Beach to house the relocated Crissy Field Center environmental education facility.
As the capstone to the Presidio's "post-to-park" transformation, the Presidio Tunnel Tops project is creating a world-class public space that connects Crissy Field and the Main Post, welcomes people of all backgrounds, and confirms the Presidio as a definitive 21st century national park.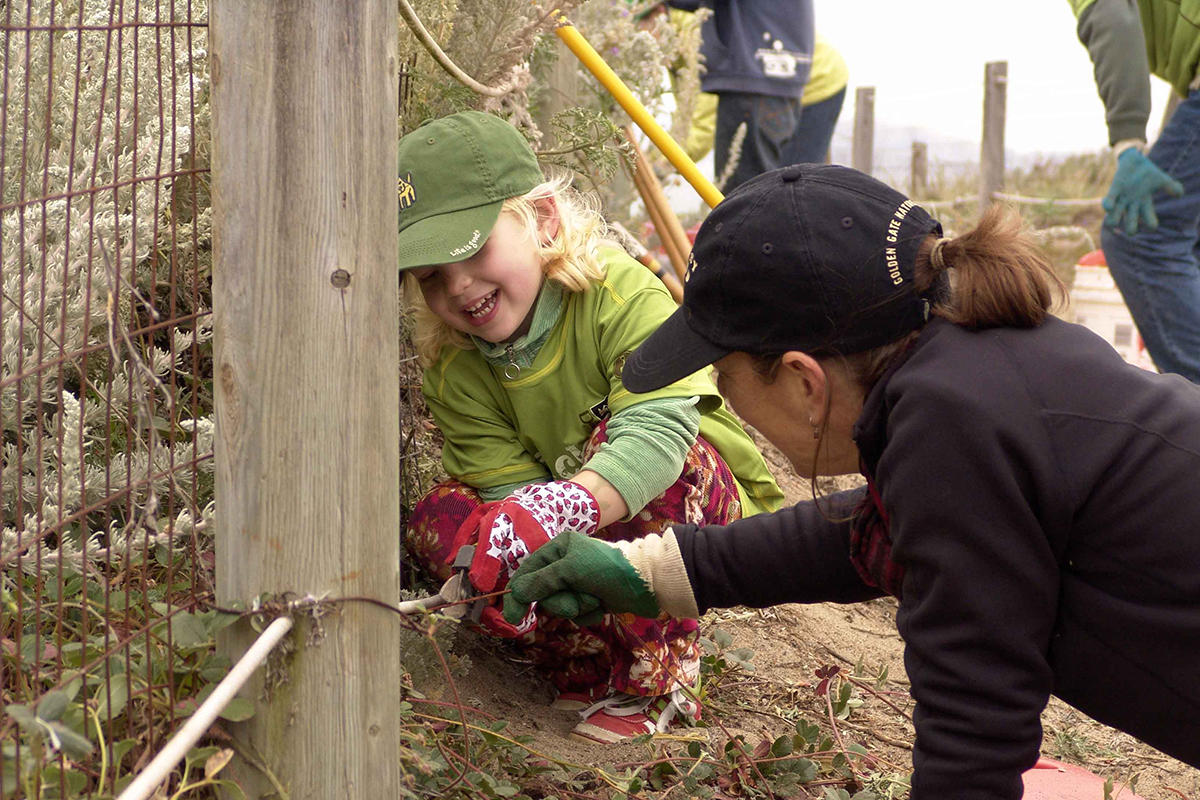 Thanks
The transformation of Crissy Field was made possible through the visionary support of the Evelyn and Walter Haas, Jr. Fund and Colleen and Robert Haas, as well as donations from thousands of individual community members.