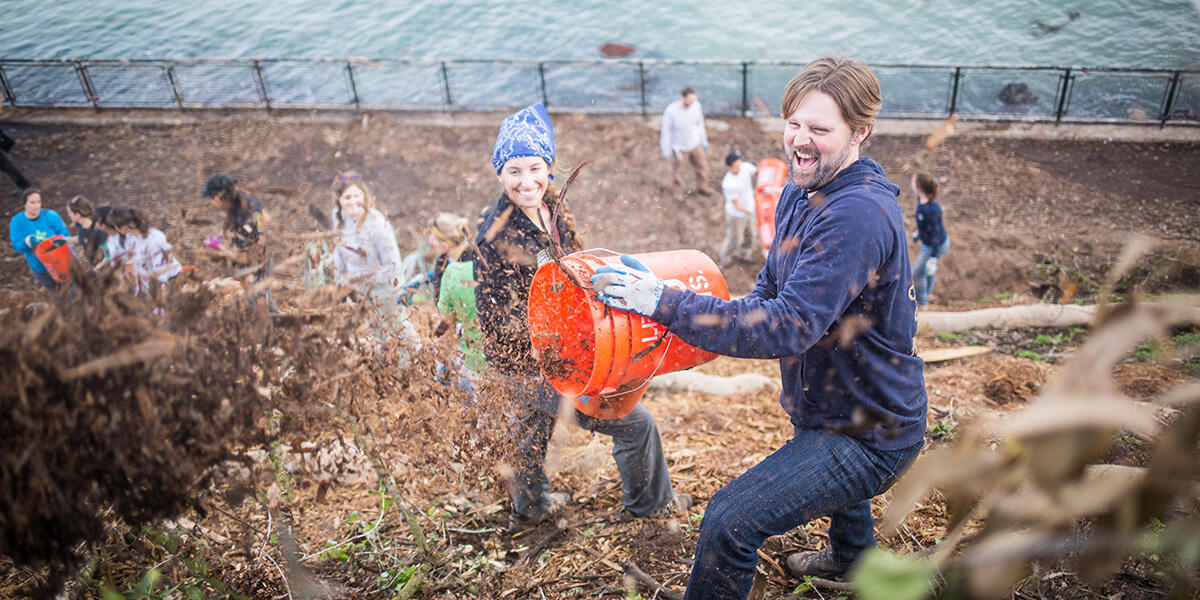 Volunteers mulch a hillside on Alcatraz Island
Maria Durana
Join us in celebrating Earth Day the whole month of April! We will not be hosting in-person service projects but hope you can join us virtually at one of the events below. 
Make a Monarch Butterfly Kite for Earth Day!
April 22nd, 11 am-Noon
Using paper, string, and tape you can make a Monarch Butterfly Kite. Join National Park Service Ranger Rebecca Au and Price Sheppy from the Parks Conservancy as they take you step by step through building your own kite to fly on Earth Day! As you construct your kite you will hear stories about the Monarch butterfly and what you can do to help these beautiful animals. 
More Info and Register Here
Eggs, Tadpoles, to Frogs: Monitoring Frogs in the Golden Gate National Recreation Area
April 23rd, Noon - 1:30pm
Learn about the common and uncommon frogs you will see in the Golden Gate National Recreation Area. Join the conversation to hear the story about the California Red-Legged Frog and work being done to reintroduce and monitor this threatened frog population in the park.
More Info and Register Here
City Nature Challenge Launch with One Tam
April 29th, Noon - 1pm
If you are curious about the world around you and want to connect with others, consider joining the fun on iNaturalist in preparation for City Nature Challenge 2021 (April 30- May 9).
More Info and Register Here
Ongoing Opportunities
Storywalks
A StoryWalk is a creative way for children and their families to enjoy the park on a family-friendly, accessible trail while reading an adventure at the same time. Pages of a children's book are put on signs and placed along the trail. Walk along the trail and read the story, step-by-step and page-by-page! More information here >>
Virtual Activities & Tours
Bookmark this page to find the latest online resources to keep you engaged with the parks from the comfort of your home! We know you love your parks, and now you can explore all 80,000 acres of them online at any time. More information here >>
Golden Gate National Recreation Area Trails Information
For many of us, the sprawling and spectacular trail system at Golden Gate is how we experience the parks and encounter their many wonders. More than just a line through the woods or a swath across a bluff, the trail is where we can marvel at nature, learn about culture, and understand history. Trails are as unique and complex as the ecosystems they help protect and the extraordinary people who help care for them. Introduce yourself to one of the trails in the Golden Gate National Parks and get ready to meet magic. More information here >>
Golden Gate National Parks Trivia
Who is the person in your household or friend group who knows the most about the Golden Gate National Parks? It's time to find out! The following six rounds of park-themed trivia will test your knowledge of everything from movies filmed in the parks to rare animal species that call the parks their home. Grab some snacks, think of a one-of-a-kind team name, decide on a prize (maybe that last roll of frozen cookie dough?), and turn your house or video chat into the week's most competitive trivia night. More information here >>
Park Postcards Podcasts
Check out the Golden Gate National Recreation Area's new series of digital audio stories featuring the voices, memories and park experiences of rangers, partners and visitors! 
Event Type
For More Information
Past Event Dates
Thu, 04/22/2021

12:00AM

-

11:45PM