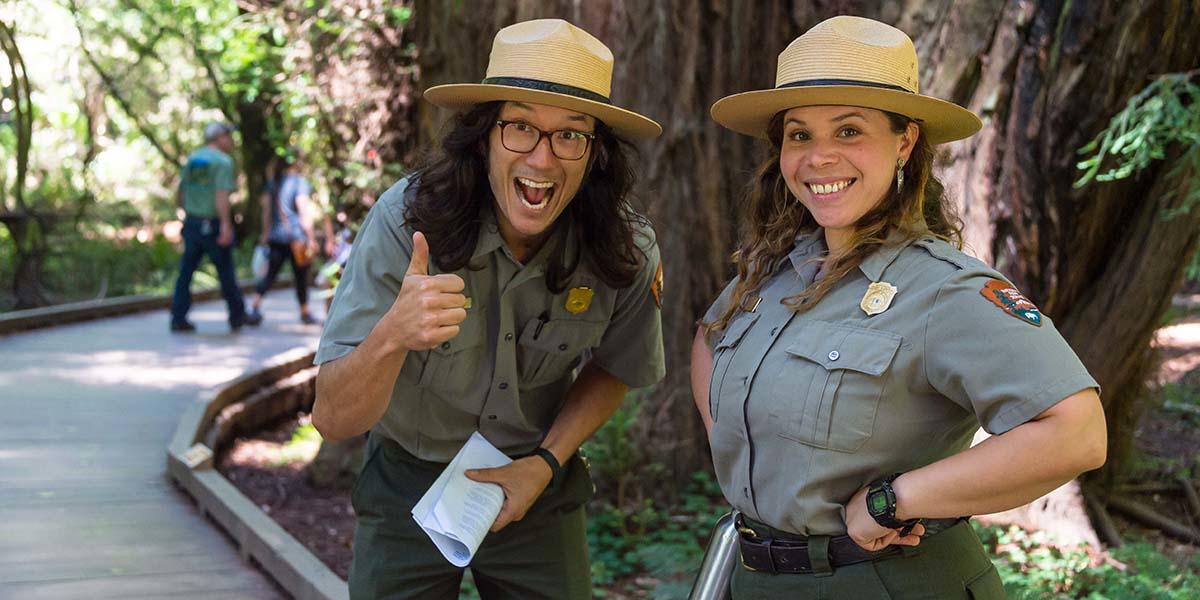 Park Rangers Takeo Kishi, left, and Jasmine Reinhardt at Muir Woods.
Alison Taggart-Barone / Parks Conservancy
So you're running San Francisco's legendary Bay to Breakers race and you still don't have a costume idea? How about paying homage to the parklands you love in and around the city?
The Golden Gate National Parks are full of inspiration for Bay to Breakers. Every year you'll find salmon swimming upstream in the race, just like the coho salmon at Redwood Creek! And of course Golden Gate Bridge costumes are a staple.
But what can you do beyond those classics? Read on for some easy and quick costume ideas that will signal to everybody that right after this run, you're ready for a hike.
Park Ranger
Nothing says "national park" like the iconic ranger hat and uniform. The hat itself has a fascinating history, which Parks Conservancy members learned first through Gateways, our beautiful quarterly newsletter. Become a Parks Conservancy member today and show others how much you love our local national parks!
This costume has a bonus musical component: People may think you're dressing as Outside Lands mascot Ranger Dave. Just add a moustache if you truly do want to dress as Ranger Dave. Add a big smile and some historical knowledge of our national parks if you're aiming for the park ranger experience.
A Snowy Plover or other park animal
Speaking of animal costumes, if you can fashion some wings, feathers and a rotund white belly, you'll become a federally threatened snowy plover. It would be fitting considering the Bay to Breakers race ends at Ocean Beach, one of the few places the plover can still be spotted.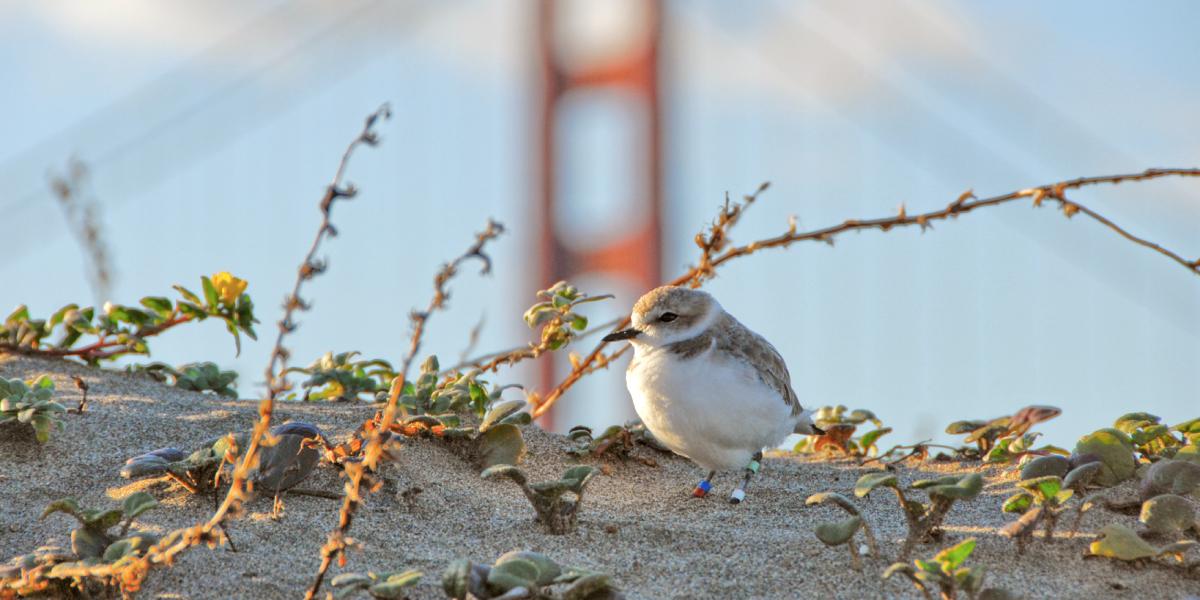 A Western snowy plover
Jessica Weinberg McClosky/Parks Conservancy

Animal inspiration abounds in these parks. You could wear some blue butterfly wings to become an endangered Mission blue butterfly, or dress as a hawk, heron, San Francisco garter snake, a red-legged frog, crab, coyote, or even a cow. You never know what you'll find in the parks, as these wildlife camera photos prove!
The Big Blue Whale
For several months in 2018 and 2019, the Monterey Bay Aquarium's blue whale art installation graced Crissy Field before moving on to other locales. The life-sized whale sculpture was made of recycled plastic panels.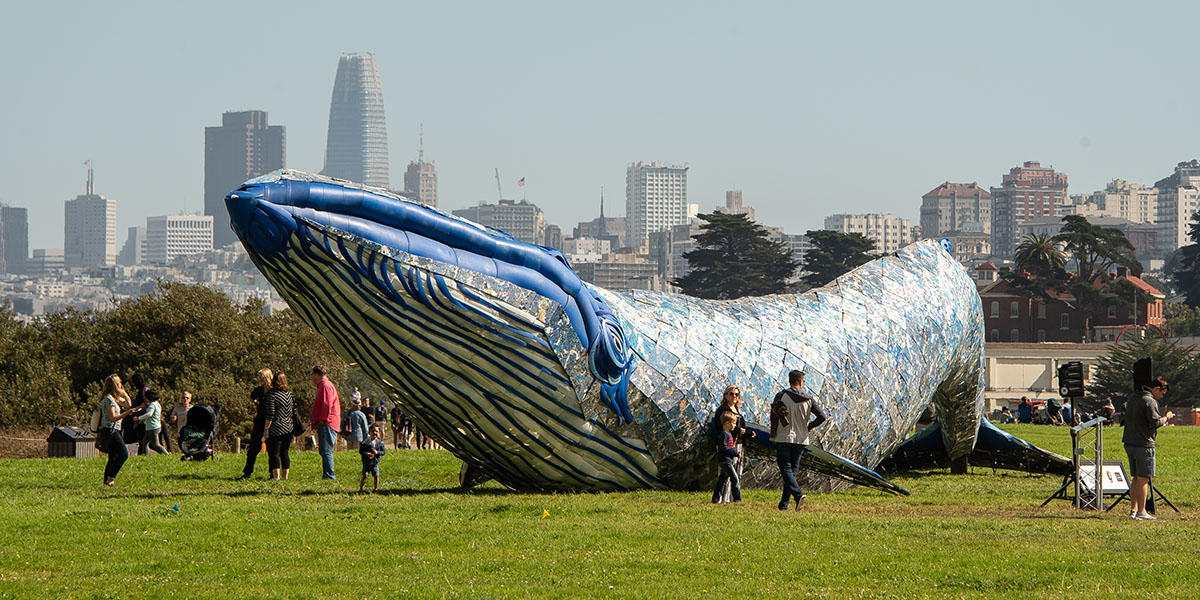 Monterey Bay Aquarium's blue whale art installation at Crissy Field
Alison Taggart-Barone/Parks Conservancy

Maybe you can't recreate the custom recycling process engineered by lead blue whale artists Joel Dean Stockdill and Yustina Salnikova to make the panels, but surely you have some old milk jugs and shampoo bottles lying around. What better way to show your love for the planet than by fashioning them into a recycled costume, whether it be a whale, fish, or other animal? 
Tell anybody who asks that plastic ocean pollution is still a major problem: Every nine minutes, 300,000 pounds (the approximate weight of a full-grown blue whale) of plastic and trash end up in the ocean.
A Redwood Tree
As far as iconic California costumes, the redwood tree is the biggest. Good luck figuring out how to run inside the trunk of a 300-foot coast redwood. But hey, those large inflatable dinosaur costumes are all the rage, so maybe an inflatable redwood could be the next BIG thing.
And if you need some stress relief after the madness of Bay to Breakers, head to Muir Woods or other redwood locales for some good "aaaahh." 
Good luck finishing Bay to Breakers in your park costume and have fun out there!
May 17, 2019