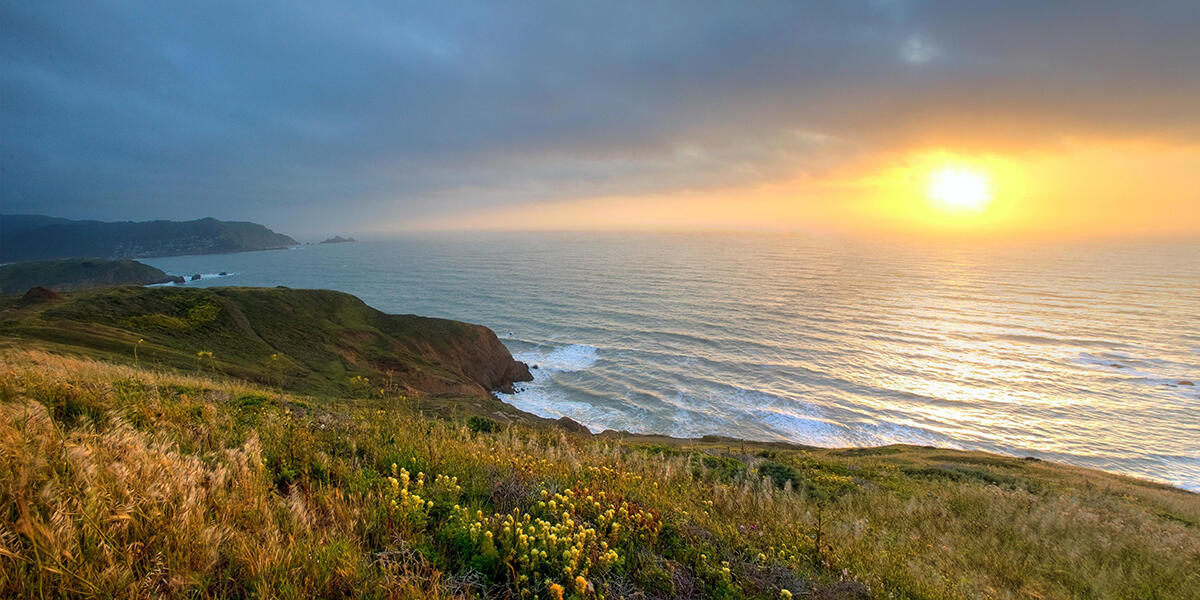 Sunset at Mori Point
Mason Cummings
One of the benefits of living in the San Francisco Bay Area is having access to world-renowned places that many people only get to see once in a lifetime. We know that being in green spaces can improve your mood, cognition, and health in a variety of ways. And yet the times when you most need the healing energy of the outdoors can be the hardest times to get there. Use this quick guide to experience the benefits of the outdoors with whatever time you have, whenever you have the time.
---
When you have 5 minutes:

Researchers have found evidence that just looking at photos of nature can be enough to increase relaxation and lower stress levels.
FOLLOW the Parks Conservancy on Instagram @ParksConservancy for regular photo and video updates from in the parks.
WATCH the fog roll in at Crissy Field from the Parks Conservancy's live webcams.
VISIT the Parks Conservancy's YouTube page for a tour of different park sites around the Bay.
 
15 Minutes:
Park and go for a jaunt when you have a few extra minutes to spare.
GO up, down, and around the small terraced hillside of Black Point historic gardens in Fort Mason.
TAKE a brisk walk on the Battery East Trail and enjoy a view of the Golden Gate Bridge. At just under a mile, the accessible trail features an overlook and seating area for you to pause and take in the view.
MAKE a quick loop around Milagra Ridge in San Mateo County. Keep your eyes out for Mission blue butterflies!
 
30 minutes:
VENTURE along the Presidio Promenade, stopping to read the historical markers on the way. Grab a selfie at the Yoda fountain at 1 Letterman Plaza in the Presidio. Find some peace, you will.
WIND your way around Rodeo Lagoon in the Marin Headlands or Crissy Marsh, and count how many birds you can spot in a half hour.
CLIMB halfway up the bluffs at Mori Point on the Upper Mori Trail or down the Bootlegger's Steps at the end of Old Mori Trail Road.
 
60 minutes or longer:

CONNECT the parks by making your way over the Golden Gate Bridge, taking in the opposite vistas from Fort Point and Fort Baker.
FIND your park. Adventures great and small are available anywhere you look. We're here to help you find them!
---
Being in green spaces is good for your mind and body. Holiday stress and end-of-year busyness don't have to put a cramp in your style. Adventure awaits!
December 16, 2021