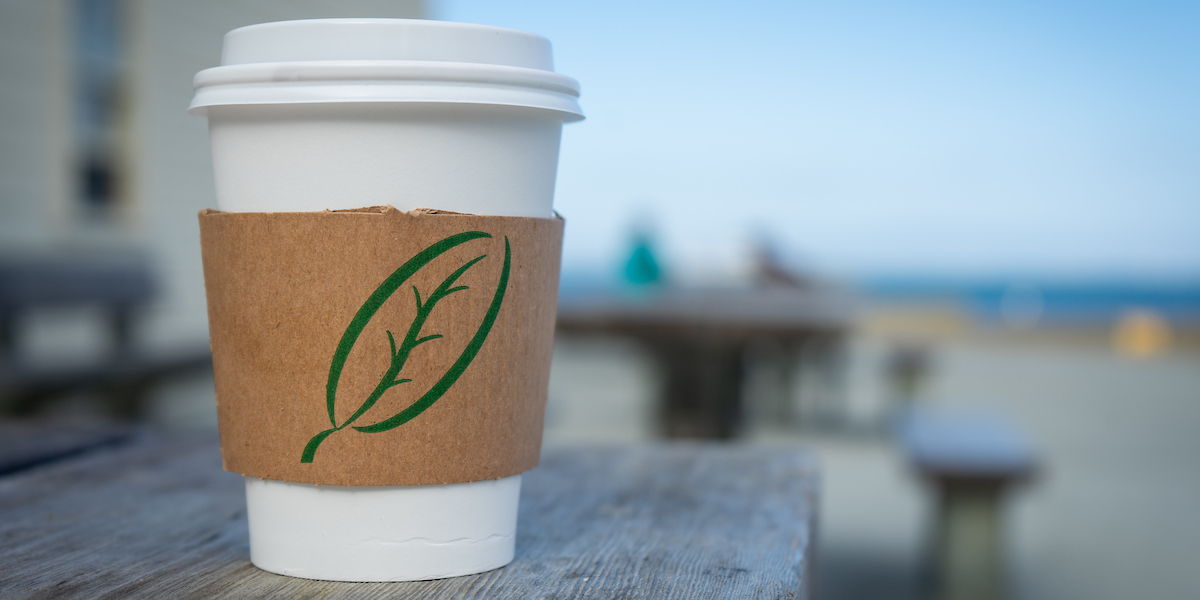 Coffee at the Warming Hut
Ryan Curran White / Parks Conservancy
You can basically smell the coffee being brewed at nearby cafes from many Golden Gate National Recreation Area (GGNRA) park sites, which neighbor some of the best coffee shops in the Bay Area. You can take their coffee anywhere, but we think it tastes best while roaming through the parks. 
San Francisco: Walk along the Golden Gate Bridge with an Equator Latte 
Watching the fog wrap its way around the Golden Gate Bridge got exponentially cozier when Equator Coffees moved into the Round House Café next to the Golden Gate Bridge. 
Plan: Take a solo trip or meet a friend at the Round House to grab a hot latte or cup of coffee, and admire the views from the huge wraparound windows. Take your coffee to one of the nearby overlooks, or stroll and sip as you make your way across the bridge. Make sure to check out the Golden Gate Bridge Welcome Center for fascinating bridge history and locally-designed gifts the whole family will love. 
San Francisco: Count the birds at Crissy Field with a Crissy Mocha
The morning is a great time to try and spot egrets wading through the waters of Crissy Field Marsh, or California Brown Pelicans flying by. Warm up while you watch with a Crissy Mocha from the Warming Hut.
Plan: The Warming Hut opens at 9 a.m. Thursday-Monday, so start here to order a warming beverage from the drink area. Be sure to check out the store's mugs, scarves, and beanies if you want to get extra cozy. From here, head down the promenade to Crissy Marsh. As you make your way, keep an eye on the beach and sky for birds. The Golden Gate Audubon Society calls Crissy Marsh a "birding hotspot...Great Egrets, Snowy Egrets, Great Blue Herons and Black-Crowned Night Herons are almost always present." We're celebrating 20 years since the Parks Conservancy and our partners helped transform Crissy Field from a concrete airfield into a beloved local park.
Coffee shops near San Francisco GGNRA sites:   
Marin: Breakfast picnic on Mount Tam 
What constitutes a picnic? Coffee and a pastry will do, and enjoying them on the slopes of Mt. Tam is a pretty fine way to start any day.  
Plan: This morning adventure is a good one for a day off, when you have time to wander and relax. Bring a bag with a blanket and warm layers and make your way to Stinson Beach. Pop into Breakers Café and order some coffee and pastries to-go. From here, you could hang at Stinson for a bit or head straight up Panoramic Highway to Trojan Point to set up your picnic relaxation station among the evergreens. 
Coffee shops near Marin GGNRA sites: 
Southern Parklands: Morning waves and café faves at Mori Point 
We think the coffee tastes better and the morning air feels crisper when you combine the two, and Mori Point is the perfect place to do so. 
Plan: First things first: pick up your favorite café creation from P-town Coffee and Tea between Mori Point and Sweeney Ridge. This local café is housed in an old train car and besides all their great drink and food options for humans, they have a whole "Dishes for Doggies" section of their menu. From Mori Point Rd., you can stroll along Old Mori Trail for about a half mile until you get to the edge of the bluffs, where you can watch the waves roll in, warm coffee in hand. 
Coffee shops near southern GGNRA sites: 
Here Comes the Sun Coffee House near Rancho Corral de Tierra 
November 5, 2021