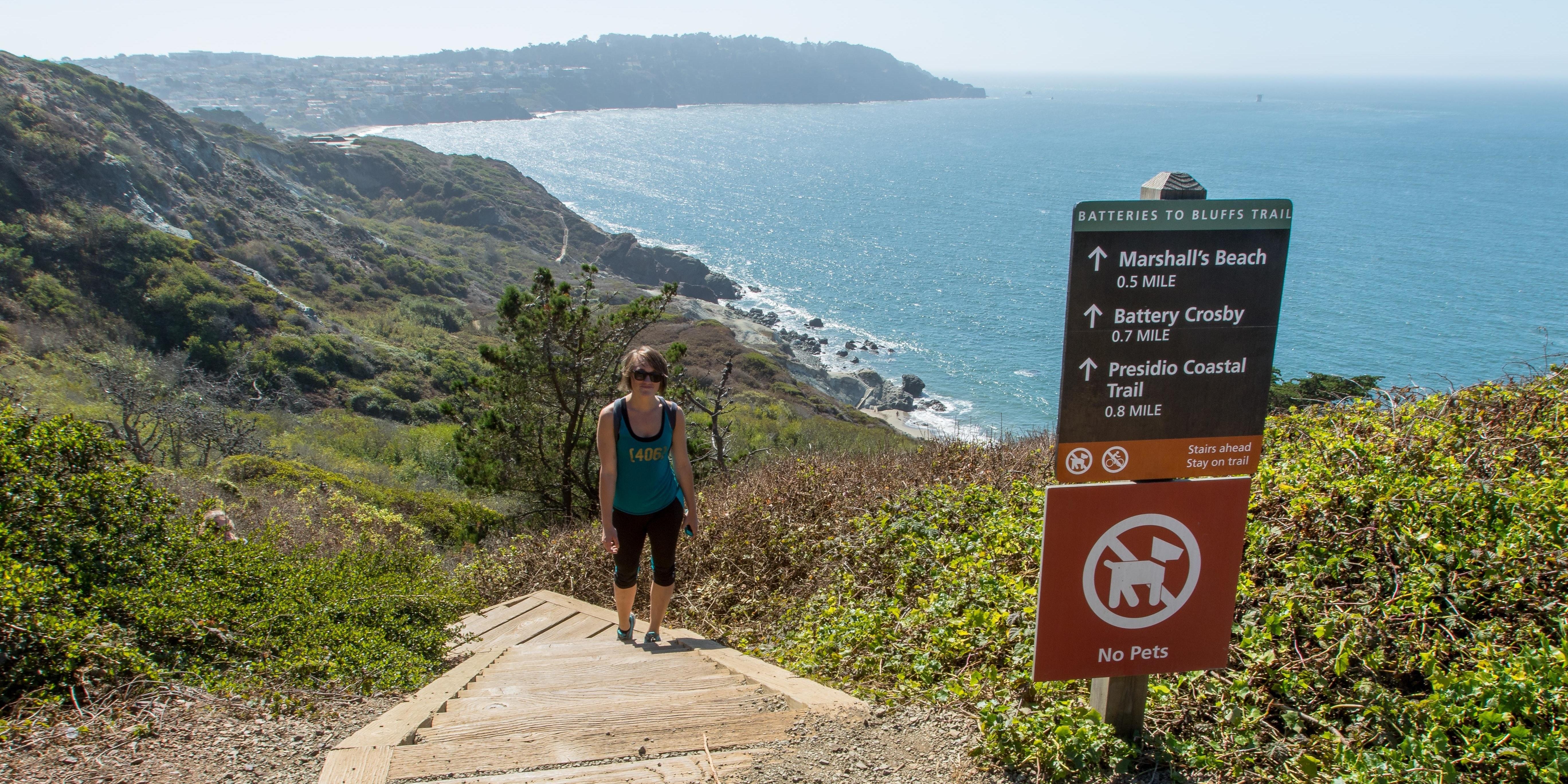 Box steps challenge hikers along the Batteries to Bluffs Trail
Kirke Wrench/National Park Service
Welcome to our new Hit the Trail feature! We'll go in-depth on one of our park sites and get you ready to explore. 
First up: The western edge of the Presidio. We know summer in San Francisco provides few glimpses of true beach weather, but maybe you can break out your shorts on a beautiful restored trail instead. For more tips, interactive maps, and trail data, go to the Find Your Park page. 
Find this trail
The Batteries to Bluffs-California Coastal Trail combo includes spectacular ocean views, hidden gems, and a strenuous final push to the Golden Gate Bridge. Pick up the California Coastal Trail along Lincoln Blvd. near Baker Beach and connect to Batteries to Bluffs, which takes you down to Battery Crosby and secluded Marshall's Beach. Hike back up the stairs and check out the Golden Gate Overlook for a new view of the world's prettiest spot. If you haven't yet caught a sunset from these trails, you're missing out.
Keep an eye out for...
The occasional dolphin or whale can be spotted in the bay. And amid the coastal dunes you might be among the first in a generation to spot a silver digger bee.
Meet the Ranger
Parks Conservancy members and volunteers have attended "dune ecology" hikes with National Park Service biologist Michael Chasse to learn more about the fascinating ecosystems of the Presidio dunes. For more upcoming Park Academy classes in the Presidio and beyond, check out our Park Academy page.
Volunteer
Join Park Stewardship San Francisco at the Presidio Coastal Bluffs every Thursday from 1-4 p.m. to help keep these trails and habitats in top shape. Meet in the parking lot at Langdon Court and Lincoln Blvd. Check our San Francisco stewardship page for updates.
Stewardship success story
The Batteries to Bluffs Trail is a part of a major restoration of the Presidio Bluffs, kicked off in 2006 by the Parks Conservancy, NPS, and Presidio Trust. More than 500 box steps were installed via unique construction methods, including some materials delivered by helicopter, to help protect the sensitive habitat. Work throughout the area has helped return the wild historic glory of the bluffs, where approximately 25 percent of the plant diversity of the Golden Gate National Parks can be found. It's all thanks to the support of members like you.
May 23, 2019