Music at Sutro Baths, art on Alcatraz, late-night parties and raptor releases: It's a combination you'll only find in the Golden Gate National Parks this fall. 
As the chilly summer fog peels off the San Francisco Bay Area, grab your layers and get outside with the Parks Conservancy for these can't-miss happenings from September through December:
Party in the parks at NightHowl 2019 on Friday, September 27 
Skip the bars, lace up your trail shoes and get ready for a hoot-of-a-party like you can only experience in the national parks. Spend a night under-the-stars with NightHowl, an all-inclusive bash with booze, bites, beats from local  DJ Miles Medina, and a series of interactive and educational experiences. Leave your reusable water bottle at home: Specialty drinks and craft brews will be provided by Boochcraft, Sufferfest Beer Company, Sierra Nevada Brewing Co. and Deep Eddy Vodka. 
Nighthowl 2019 is for adults 21+ with ID only. Buy your ticket online before they sell out.
Give back to the parks on California Coastal Clean-Up Day on Saturday, September 21
What do we love more than our local beaches? Healthy beaches. Show your local coastline some love on Saturday, September 21, and join in the annual California Coastal Clean-Up Day. Dozens of parks throughout the parks  are participating, from Marin County to San Mateo County. 
Volunteers of all ages are welcome. Don't forget your closed-toe shoes, hat, sunscreen, and layers! If possible, limit waste by bringing your own reusable bag, bucket, gloves, and water bottle. 
You can learn more about the California Coastal Clean-Up Day and register to volunteer here. 
Meet a hawk at the Golden Gate Raptor Observatory in September and October 
Did you know that the Marin Headlands is home to the largest (and most splendid, in our opinion) raptor migrations in the western U.S.? Learn about the spectacular traveling birds in-person at a Hawk Talk and Raptor Release, hosted by the Golden Gate Raptor Observatory (GGRO) at Hawk Hill. 
A GGRO volunteer will chat about hawk migration and identification, and if conditions allow it, a banding volunteer will display a newly banded hawk that will be released in front of the crowd. It's a great way to get to know your raptor neighbors up-close and personal.
Hawk Talks take place every Saturday and Sunday at noon throughout September and October (except October 12 and 13). No need to RSVP, simply show up on Hawk Hill in the Marin Headlands and look for a big banner west of the main Hawkwatching platform. GGRO recommends you arrive by 11 a.m. to find parking and enjoy the scenery. 
Learn more about the GGRO.
It's your last chance to view Future IDs at Alcatraz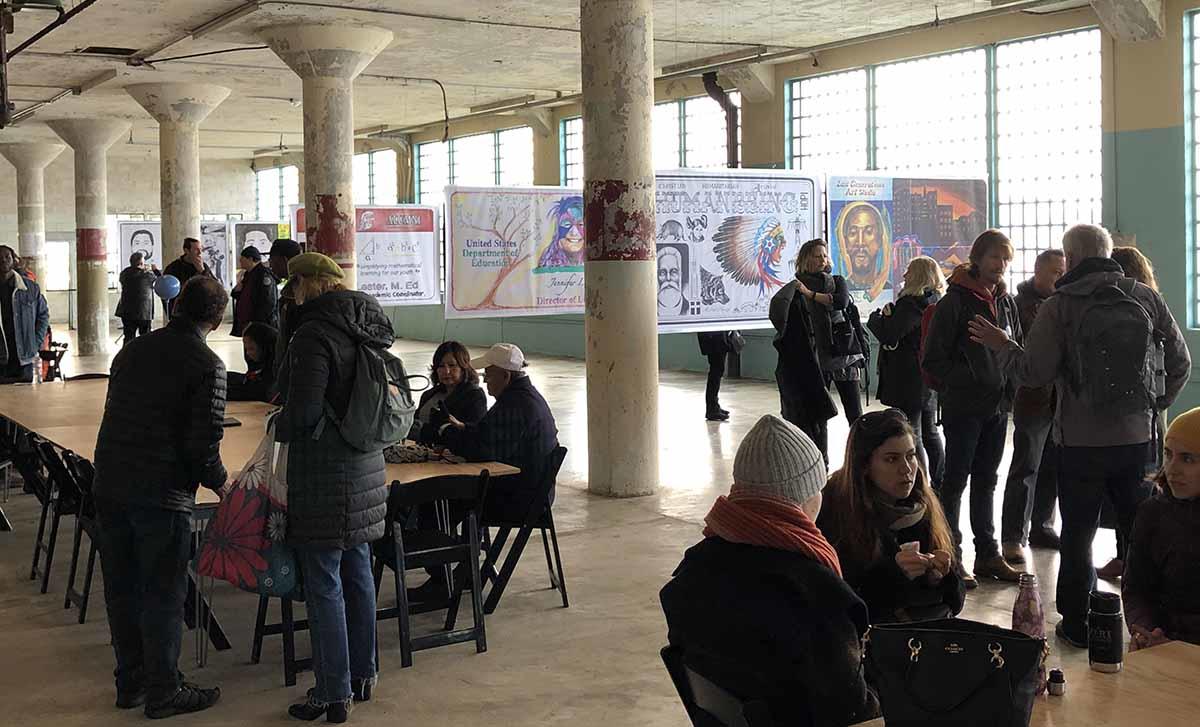 Participants at the Future IDs at Alcatraz 'Day of Public Programs' on Feb. 16, 2019, at the New Industries Building on Alcatraz Island.
Peter Hockaday / Parks Conservancy
Future IDs at Alcatraz ends its run on Alcatraz Island in October--catch the yearlong project, exhibition and public program series before it leaves the island for good. 
The installation--presented in partnership with the Art in the Parks program of the Parks Conservancy, National Park Service, and Headlands Center for the Arts--features ID-inspired artworks created by those with conviction histories. The works explore transformation and the development of selfhood and personal narratives, while simultaneously investigating Alcatraz's multivalent history as a federal prison, a site of social justice movements and a beloved national park. 
Read more about Future IDs at Alcatraz here. Reserve your spot by purchasing ferry tickets today via Alcatraz Cruises. 
Listen, watch, and learn at the inaugural performance of Tremble Staves on Saturday, October 19
Composer and visual artist Raven Chacon presents the inaugural performance of Tremble Staves, a mixed-media installation, wordless opera and theatrical performance, at the flooded ruins of Sutro Baths on Saturday, October 19. 
Presented in partnership with The Living Earth Show, the Parks Conservancy and the National Park Service, Tremble Staves presents a manipulation of natural and artificial light and sound to depict the urgent water shortage crisis burdening the Western U.S.
Chacon's immersive work connects narratives of the Bay Area's relationship with water to Navajo creation stories, in which water is a prominent figure. This visual-auditory-tactile piece asks audience members to actively participate, and to probe their own relationships with water, the Pacific Ocean and the Bay Area.
You can learn more about the concert on October 19 here, get to know the artist at spiderwebsinthesky.com, and read about The Living Earth Show at the livingearthshow.com. 
August 26, 2019