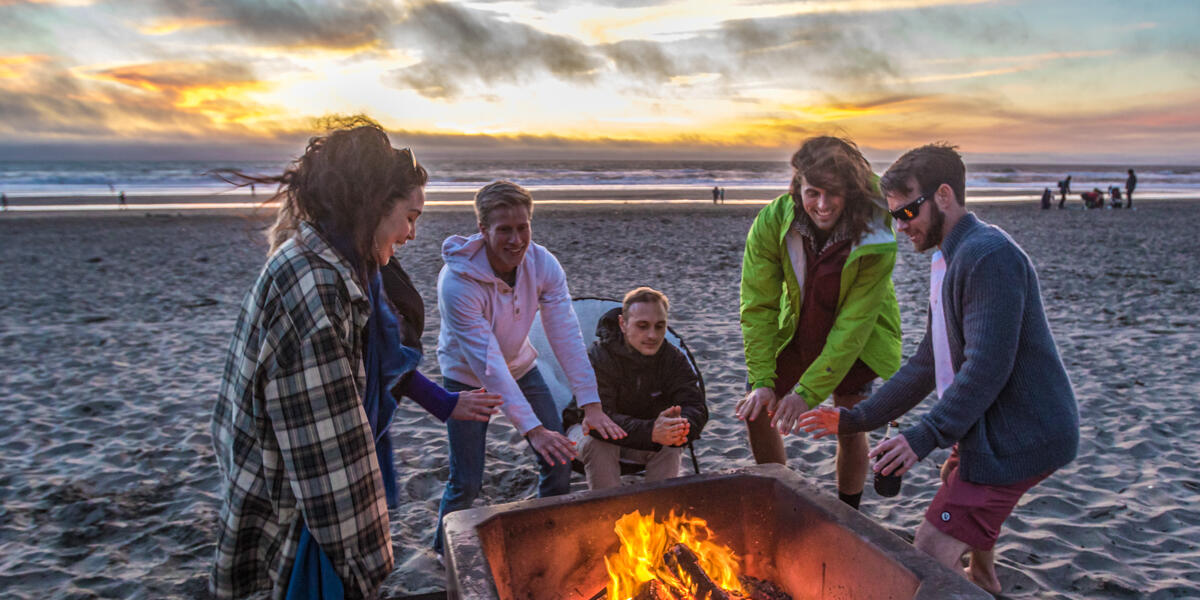 Ocean Beach visitors keep warm around a bonfire at one of the provided fire pits.
Kirke Wrench / National Park Service
Have you ever built a beach fire in a national park? It's another unique experience that makes the Golden Gate National Recreation Area (GGNRA) such a special place in the national park system. Where else can you roast s'mores while watching the sun set over the Pacific Ocean? So bundle up and head out to these beaches for a memorable time out: 
Ocean Beach 
The ultimate beach fire spot, get here early to secure your fire ring and settle in for a magical evening. Fire rings are located at the north end of Ocean Beach next to stairwells 15-20. There's parking at the City of San Francisco lots across the street from Beach Chalet.  
NEED TO KNOW 
Fires permitted from 6 a.m.-9:30 p.m. 
No glass or alcohol allowed on the beach. 
Fires permitted from March 1-Oct. 31. 
NEARBY
It doesn't get much closer than Beach Chalet, and Park Chalet behind it is a good place to warm up when needed. If you take the SFMTA N Judah train to the beach, stop by the beloved Celia's by the Beach before your beach adventure. 
Muir Beach 
The less-crowded alternative to Ocean Beach, Muir Beach can be a good spot for convivial community. Say hi to your fire-pit neighbors! 
NEED TO KNOW 
Fires permitted from 9 a.m. until one hour after sunset, when fires must be out and all groups must vacate the beach. 
Fires permitted year-round. Six fire rings are available May-Nov., three available Dec.-April. 
NEARBY
It doesn't get more cozy than the Pelican Inn, just off Pacific Way on your way into Muir Beach. The best place in the Bay Area for when you need an indoor fire! 
At all fire spots: 
Fire rings are first come, first served, no reservations available.
Pack it in, pack it out: Take all your trash with you and leave no trace. 
Only build fires in provided fire rings. 
Bring your own firewood. No scavenging of firewood is allowed in the GGNRA. 
No fires allowed on Spare the Air Days. 
Always extinguish fires with water, not sand. 
An adult must tend to the fire at all times. 
Permits required for groups of 50 or more. 
Bring layers and blankets and get ready to bundle, that's part of the fun! 
Learn more at nps.gov/goga/learn/management/fire_beachfireregs.htm