Transit to Trails: How to take public transportation to GGNRA parks
A guide to taking the bus, train, and ferry to Ocean Beach, Marin Headlands, Mori Point, and more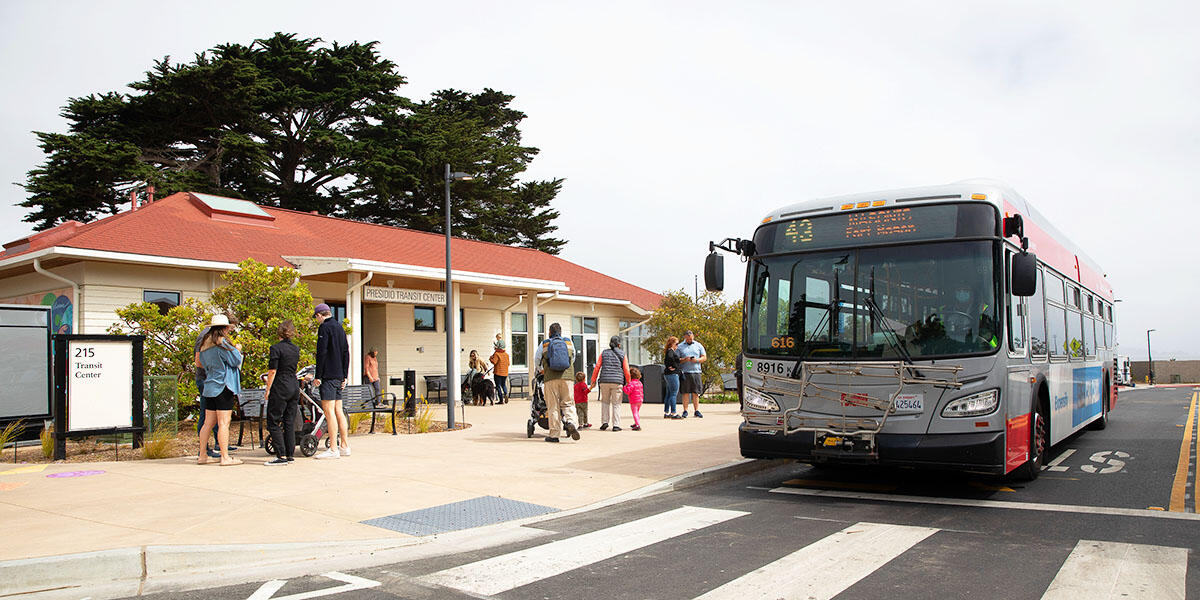 Take San Francisco Muni to Presidio Tunnel Tops
Myleen Hollero / Partnership for the Presidio
Buses, light rail, and ferries get us where we need to go in the Bay Area—including parks! The Golden Gate National Recreation Area (GGNRA) is unique in the national park system for its proximity to an urban area, which means public transit can be a viable option for getting here.
Sometimes it can be tricky navigating from point A to point B, so we've outlined our favorite routes that offer ease of access and stunning park adventures. Before departing for a trip, always confirm schedules and fares with transit agencies. And find even more accessible transportation options on our Park Visitor Services and Shuttle Services pages.
The SFMTA N Judah line originates near Oracle Park at the Caltrain station, where you can connect from the South Bay. It loops through downtown, where passengers arriving via ferry or BART from the East Bay can connect at Embarcadero Station. Finally, the N passes through the Inner and Outer Sunset, dropping passengers at the sandy shores of Ocean Beach.   
Look out for: At Ocean Beach, the Greater Moon Jelly occasionally wash ashore. According to the Monterey Bay Aquarium, "The moon jelly is very plentiful. However, plastic bags that end up in the ocean often look like jellies to animals that depend on these drifting creatures for food. You can help by eliminating single-use plastics in your daily routine."
BART to the Embarcadero, ferry to Alcatraz Island 
From the Embarcadero BART station, passengers can venture one mile down the Embarcadero to Alcatraz Landing at Pier 33 to catch a scenic ferry to Alcatraz Island. A ferry ticket must be purchased separately through Alcatraz City Cruises.  
Look out for: The Alcatraz Historic Gardens, tended by Parks Conservancy staff and volunteers, is home to the rare Bardou Job Rose. According to this KQED article, the rose was spotted here in 1990 by a group of visiting Bay Area heritage rose enthusiasts.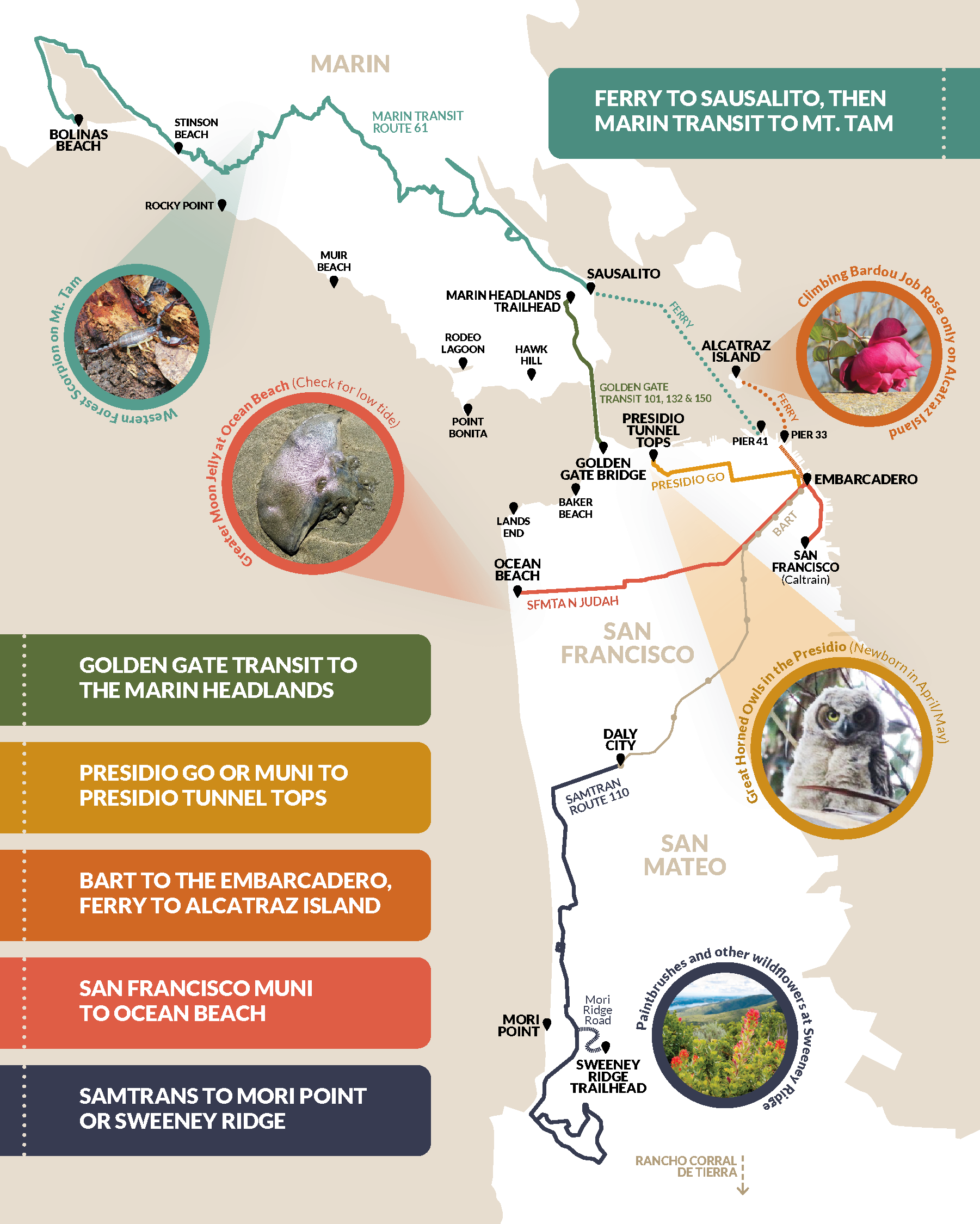 Transit to Trails GGNRA Map
Linzy Lim / Parks Conservancy

Presidio Go OR Muni to Presidio Tunnel Tops 
Presidio Go is a free shuttle that picks up at the Transbay Terminal, Embarcadero BART, and Van Ness & Union and takes riders to multiple stops throughout the Presidio. To get to Presidio Tunnel Tops, take Presidio Go to the Presidio Transit Center and make sure to visit the nearby Presidio Visitor Center. It's also possible to take the San Francisco Muni 43 to the Presidio Transit Center. Check here for more on how to get to the Presidio Tunnel Tops.
Look out for: The Great Horned Owl is "found throughout the Presidio, particularly in forested areas, and uses the Presidio for breeding," according to the National Park Service.
A trailhead to the Marin Headlands starts right at the Spencer Ave. Bus Pad in Sausalito. The Golden Gate Transit lines 101, 132, and 150 can transport passengers from San Francisco, Novato, San Rafael, and Santa Rosa to this stop.   
Marin Transit Route 61 picks up at the Sausalito Ferry Terminal, winds through Mill Valley, traverses Mt. Tam, and ends at Bolinas Beach. Get off at the Pantoll Ranger Station stop for access to some of the best trails on Tam.   
Look out for: The Western Forest Scorpion that lives on Mount Tamalpais can grow to up to 2 inches long and live for up to 10 years, according to Lauren Esposito of the California Academy of Sciences in this Bay Nature article.
SamTrans to Mori Point or Sweeney Ridge 
From the SamTrans Hwy. 1 & Westport Dr. stop, served by Route 110, riders can make their way west to coastal bluff trails in Mori Point or east to the Sweeney Ridge Trailhead for elevated views of the ocean. Avoid walking on Highway 1 by dipping under it—a pedestrian tunnel connects Bradford Way to Lundy Drive. At the end of Lundy Drive, there's a trail that connects to Mori Ridge Road which takes you to the Sweeney Ridge Trailhead. 
Look out for: Paintbrushes and other wildflowers! Check here for tips on viewing wildflowers in the Golden Gate National Parks.