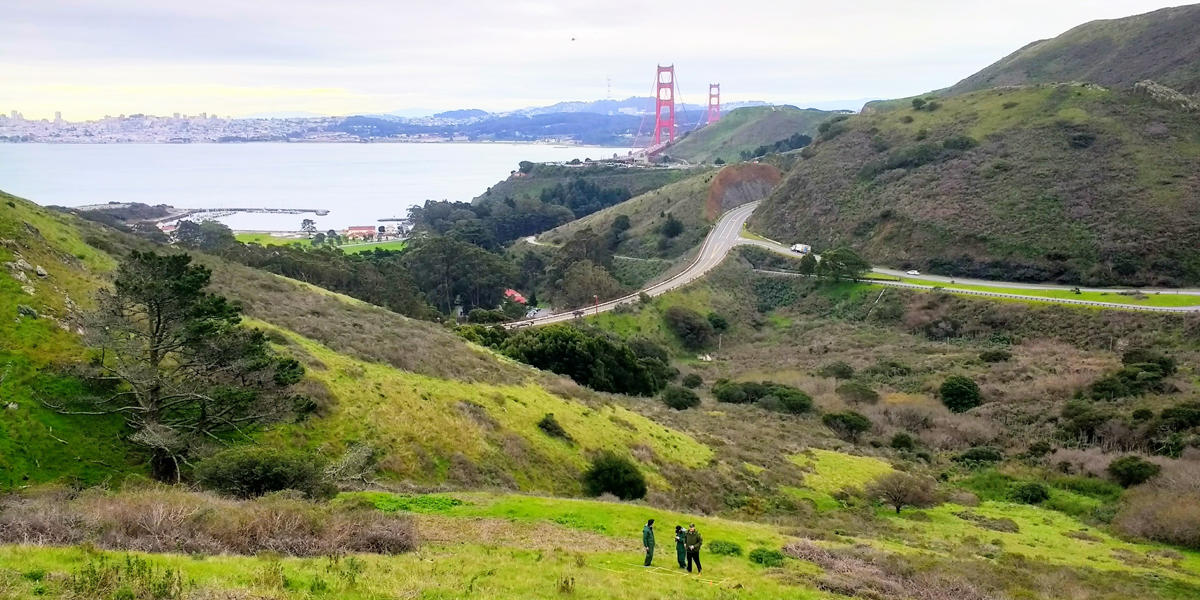 The Golden Gate Bridge from Fort Cronkhite
Elizabeth Aldenderfer/Parks Conservancy
By Alex Makowicki
National Park Service Habitat Restoration Team Intern
My time here has been defined by the opportunities provided through the work. I am here for this, all of this—the job, the housing, the worksites—it all screamed at me when I read the job description, and I had to visit. It got me out here and enabled me to do what I love, which is working with plants on an ecosystem level and mountain biking and rock climbing. I know, you decide on taking jobs so objectively, thinking they will be that—just a job—but then getting immersed with the motivations and philosophies of the people working alongside you. It creates this entirely other reason for being there. Caring doesn't happen everywhere; some jobs are a means to an end, or summer flings. They must have meaningfulness to create a sense of care in the worker. And this job working with the Habitat Restoration Team (HRT) does all that; It stimulates me in a way that makes me wake up stoked to learn.
Granted, there are days we flat-out lug straw or tug on grasses while navigating steep terrain all day, but the backbone provided by my fellow employees, who taught me to care, makes it mean something even when it's not fun. It's the big picture, it has meaning in the work we do and without it one can become hopeless, especially when it comes to weeding. That's how Maria, Chrissy, and John of the HRT taught me to care. They stress the importance of understanding the work as a whole, which can mean incorporating everything from cultural significance to geological formations and unexploded ordinances. After that, it's easy to make light of a day of endless Ehrharta spp. pulling.
This job isn't exactly my field and I didn't know how it would help my career, but then I met the crew and they made it something important. As they taught me more and more and that meaning developed, we began to understand each other on a deeper level, like relating plants to those in the places I've lived previously. And preserving certain invasives for cultural significance—Maria painted this picture of what Fort Cronkhite was like during the military days and how certain trees play a role in how the land is viewed and vice versa. I was introduced to the park's philosophy on invasives and why it differed from other establishments.
The crew at HRT gave me a new perspective in which to view my own field and career path. That was something I couldn't have inquired about in the interview or known prior to being here. And that's what makes my time here so special.
 
May 1, 2019