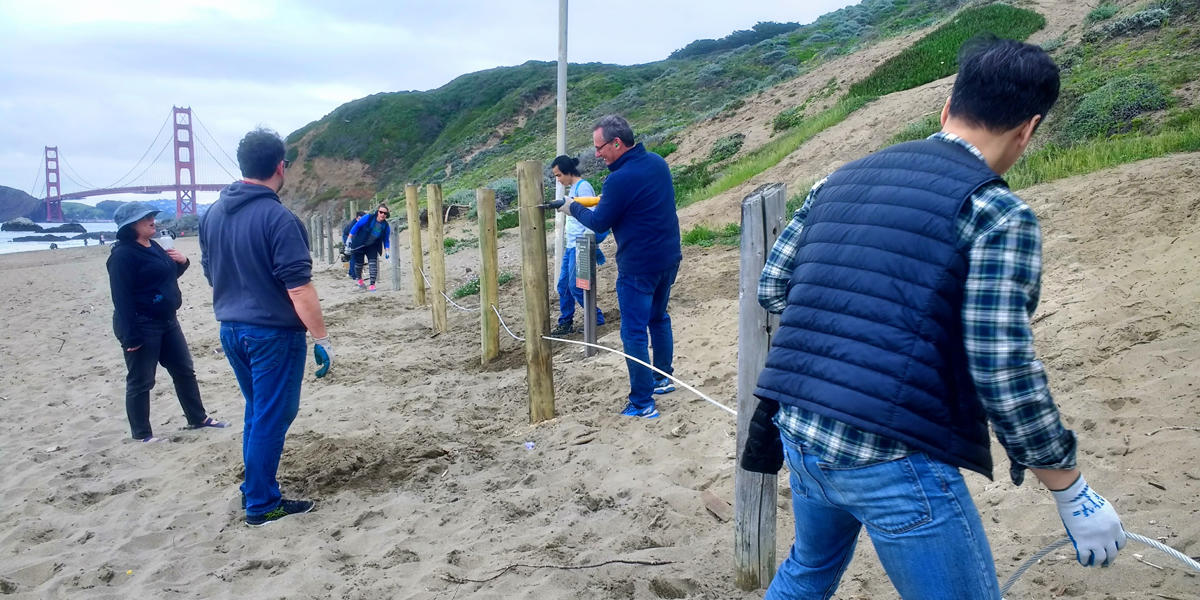 Elizabeth Aldenderfer/Parks Conservancy
By Elizabeth Aldenderfer
Park Stewardship Trail Crew Intern
The Trail Stewardship crew members have been busy bees this past month as the rain was slowly letting up—welcome to spring in the Golden Gate National Parks! Katie and I are so thankful for all the amazing volunteer programs we've been able to lead, and the new and familiar volunteers we've met along the way. Below are some updates on what we've been up to. We hope we see you at one of our programs soon!
Over the course of a month, volunteer programs and the National Park Service (NPS) trail crew retreaded and crowned the entire trail leading to Point Bonita Lighthouse. With the help of Teens on Trails, a drop-in program, and volunteers at Women's Trail Day, we were able to finish over 450 feet of trail. That's over 15 cubic yards of dirt moved by volunteers! The new trail is designed to guide water off the trail, rather than into puddles or dips.
At both Baker Beach and Lands End, groups of intrepid corporate volunteers replaced and reinvigorated post and cable fencing. Though some had it rough—digging into the clay at Lands End and battling the wind at Baker Beach—in the end, around 500 feet of fencing was completed. All this fencing serves to protect dune habitats and natural resources that park users come to see, and protects visitors from walking toward dangerous drops and sliding sand. The volunteer groups were so positive and excited to be working with their hands, some wanted to jump back into work at the end of the program!
Sand constantly shifts in dune habitats, and Fort Funston is no exception. This means stairs and trails are being covered, and every so often that becomes a hassle for the folks wanting to use them. One teen volunteer group took on the challenge of clearing a set of steps that had been all but completely covered by this moving earth. Thirty steps, about 150 feet long, were cleared and made much safer (and flatter) for all to use.
Last but not least, Trail Stewardship and the Conservancy's Projects & Design team were able to work together at Black Point Historic Gardens. If you're unfamiliar with Black Point, it was once a beautiful Victorian-inspired garden maintained by a prominent abolitionist couple. Over many years left forgotten, the area became overgrown. Not to worry—volunteer days are underway to reinvigorate this area back to its original glory overlooking the bay. During the joint program with Projects & Design, volunteers were able to walk some of the paths and pull grasses and poison hemlock that have taken over the area. This site will undergo a huge physical transformation over the next few years, so we hope you can take part in some of the volunteer programs offered!
A huge thank you to all the volunteers (old and new) who have spent time with us, especially over the past few months—we appreciate the dedication and care you show your parks, and we couldn't get it done without you!
 
May 1, 2019