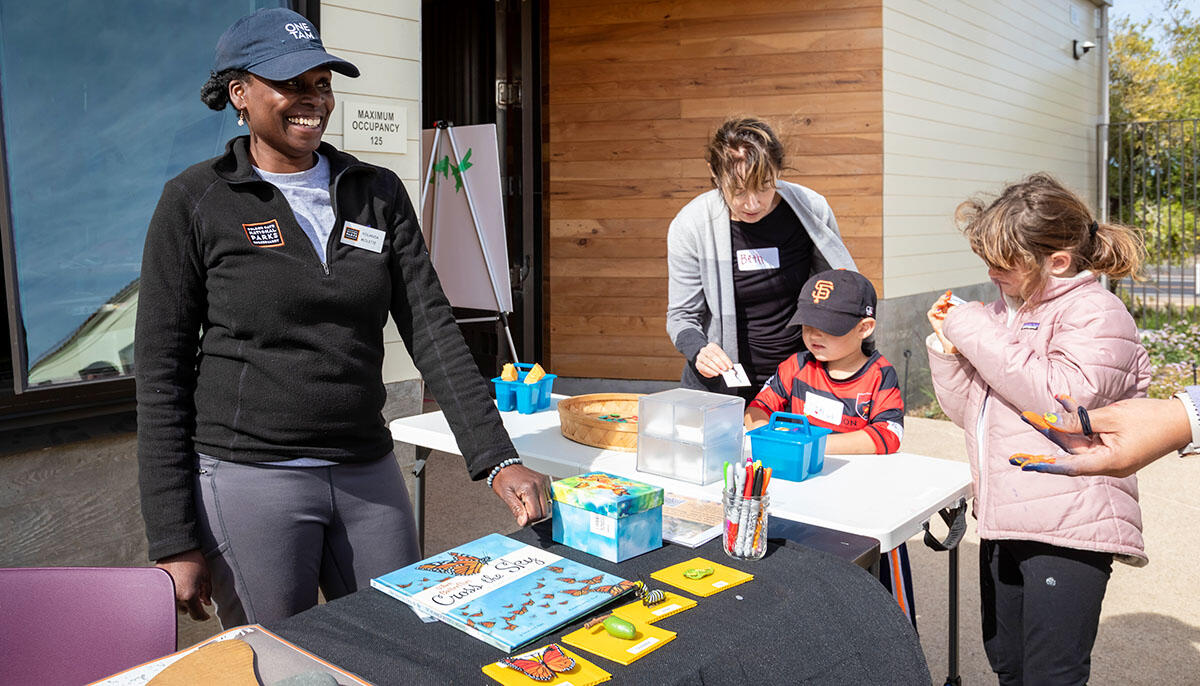 Yolanda Molette, left, connects with participants at a 'Migration is Beautiful' workshop.
Kelly Sullivan / For the Parks Conservancy
Yolanda Molette, a Plant Ecologist with a degree in Ecology, Evolution and Systematics, Concentration in Conservation from San Francisco State University, just likes plants! Originally from Chicago, she is now in her third year at the Parks Conservancy and has been the Director of Conservation & Community Science for 1.5 years, after spending 16.5 years in environmental science compliance planning, permitting and surveying consulting work.  
"I just really enjoyed science experiments, and processes" she says, reflecting on her elementary and high school experience. "I didn't realize it at the time, but my interest was gearing me towards natural science instead of the medical field, which was my original interest." 
During college, she was introduced to ecology through her pre-med biology advisor and took an ecology class during her junior year that was eye-opening for her. 
"There were five of us and the ecology professor worked with us all individually. We did road trips, and I discovered the different habitats of California."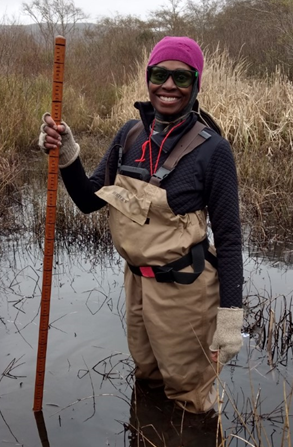 "In college, I became part of the environmental group. We planted trees and started to care for the environment. I developed this care for the environment and learning about the vegetation communities and ecological processes and just having the understanding that our natural world will be more resilient with conserving protecting native species and their habitats," she said. "After college, I worked with the Nature Conservancy and learned how to do GIS—how to use it, how to make a database and how to develop a wildlife corridor map. I moved to Northern California and went to graduate school where I met Janet Klein (current Vice President of Community Connections at the Parks Conservancy) in a City College organic chemistry class and she introduced me to the Golden Gate National Recreation Area and volunteer opportunities in the parks. I needed to learn northern California plants, so I volunteered at Wolfback Ridge for a year."  
Along with volunteering as a co-steward on Wolfback Ridge, Yolanda's history in the parks and outside includes working as a Biological Science Technician and over 16 years of environmental consulting. Now, in her current position, Yolanda works with the Golden Gate Raptor Observatory and One Tam Community Science and Conservation Management groups. 
"I believe in people coming together and offering their voice in decision making," she says. "The fact that we can do science and have the public come and participate in our work is amazing— being able to be passionate about whatever the scientific problem that we're working to resolve together is exciting."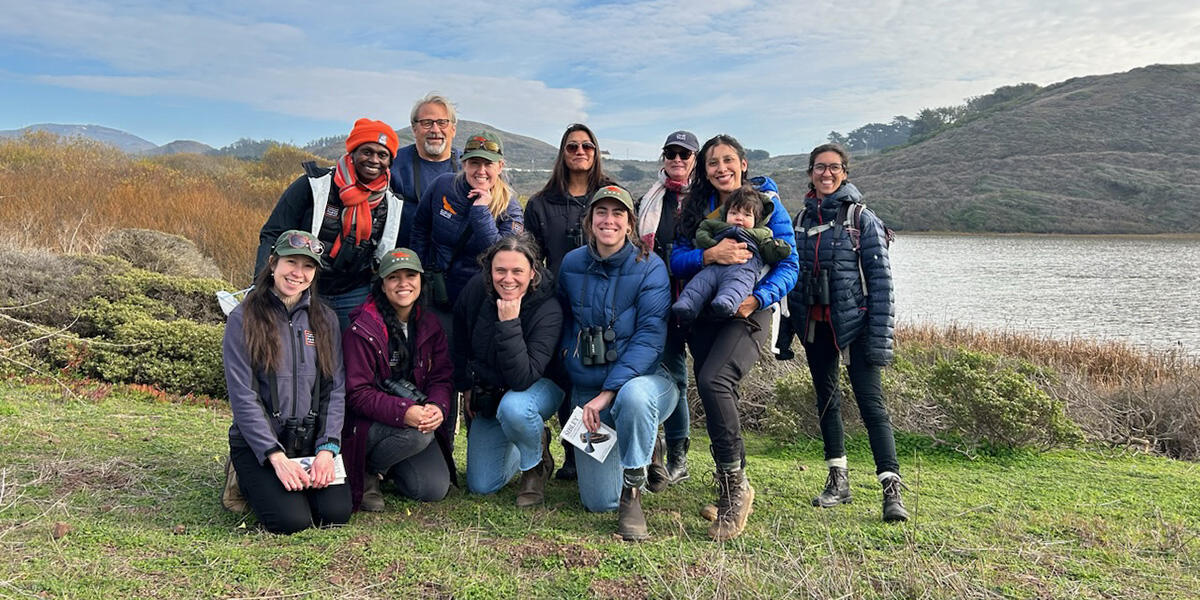 Members of the Parks Conservancy's Conservation and Community Science team at Rodeo Lagoon.
Mellice Hackett / Parks Conservancy

"We're hoping to inspire more conservation and community scientists and normalize an appreciation of our natural environment," she says. 
There is more learning, more science, and more collaboration to come—and everyone is invited to participate. Join in! 
February 10, 2023