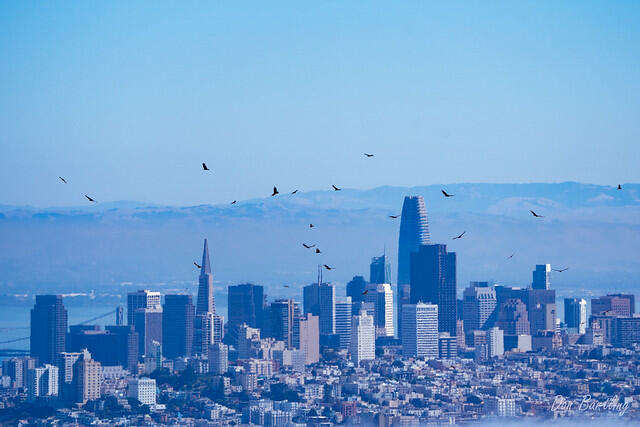 Don Bartling, GGRO Volunteer Hawkwatcher
After three decades of consistently and meticulously tallying the daily fall raptor migration at the Golden Gate, we have a lot of great data, and we have an amazing ability to see a kind of baseline raptor migration story for the 19 species that are seen here annually.
For example, what's the earliest date that you might see a Merlin, a small bird-hungry falcon that doesn't nest in California? What is the greatest number of Red-tailed Hawks that have been seen in a day? And what's the latest Broad-winged Hawk to be seen at the Golden Gate before this little buteo finishes its migration in South America?
Records like these are fun for asking casual questions, (Did I just see a record number of Osprey in one day? Well, you did if it was over 36 sightings.) but they are also key markers for scientific questions about raptor migration. For example, an unusually high count on a peak day can tell us something about population trends for that species. An early start date or peak date for a long-distance migrant like the Osprey may be a clue to a climate-related phenological shift. 
Of course, you can also use these charts for planning your trip to Hawk Hill this fall, so you can figure out which day will maximize your chances of seeing a Golden Eagle. See you on October 6th!
Golden Gate Raptor Observatory
Hawkwatch - DATES & COUNTS, 1992 - 2022
Earliest and Latest Dates of Raptor Sightings
| Raptor | Earliest Day Seen, | From Year(s) | Latest Day Seen, | From Year(s) |
| --- | --- | --- | --- | --- |
| Turkey Vulture | Aug 12 | 2019 | Dec 15 | 1996 |
| Osprey | Aug 13 | 2019 | Dec 13 | 1996, 1998 |
| White-tailed Kite | Aug 13 | 2019 | Dec 11 | 1999 |
| Bald Eagle | Aug 16 | 2017, 2019 | Dec 12 | 1999 |
| Northern Harrier | Aug 12 | 2019 | Dec 15 | 1996 |
| Sharp-shinned Hawk | Aug 13 | 2007 | Dec 13 | 1992, 1996 |
| Cooper's Hawk | Aug 12 | 2019 | Dec 14 | 1996 |
| Northern Goshawk | Sep 22 | 2013 | Nov 27 | 2015 |
| Red-shouldered Hawk | Aug 12 | 2019 | Dec 14 | 1996 |
| Broad-winged Hawk | Aug 27 | 2001 | Nov 24 | 1999 |
| Swainson's Hawk | Aug 17 | 2006 | Dec 06 | 2002 |
| Red-tailed Hawk | Aug 12 | 2019 | Dec 15 | 1996 |
| Ferruginous Hawk | Aug 14 | 2019 | Dec 11 | 1998 |
| Rough-legged Hawk | Oct 12 | 2012 | Dec 12 | 1999 |
| Golden Eagle | Aug 15 | 2019 | Dec 09 | 1994 |
| American Kestrel | Aug 13 | 2007, 2019 | Dec 15 | 1996 |
| Merlin | Aug 21 | 2011 | Dec 15 | 1996 |
| Peregrine Falcon | Aug 14 | 2006 | Dec 15 | 1996 |
| Prairie Falcon | Aug 14 | 2006 | Dec 03 | 2012 |
Highest Daily Counts of Raptors
| Raptor | Highest Count | # Dates | Last Counted on | 2nd Highest | Last Counted on |
| --- | --- | --- | --- | --- | --- |
| Turkey Vulture | 309 | 1 | 2003-10-09 | 268 | 2002-09-19 |
| Osprey | 36 | 1 | 2005-09-10 | 18 | 2006-09-19 |
| White-tailed Kite | 15 | 1 | 2012-10-13 | 13 | 2006-08-30 |
| Bald Eagle | 4 | 2 | 2021-11-21 | 3 | 2020-11-12 |
| Northern Harrier | 50 | 2 | 1999-11-12 | 48 | 2002-10-11 |
| Sharp-shinned Hawk | 712 | 1 | 1999-09-25 | 491 | 1998-09-12 |
| Cooper's Hawk | 284 | 1 | 1996-10-04 | 237 | 1992-09-23 |
| Northern Goshawk | 2 | 3 | 2008-10-10 | 1 | 2021-10-17 |
| Red-shouldered Hawk | 69 | 1 | 2004-10-06 | 62 | 2014-10-12 |
| Broad-winged Hawk | 296 | 1 | 2012-09-27 | 133 | 2012-09-29 |
| Swainson's Hawk | 3 | 5 | 2017-09-26 | 2 | 2021-09-13 |
| Red-tailed Hawk | 477 | 1 | 1999-10-16 | 389 | 2007-11-03 |
| Ferruginous Hawk | 5 | 3 | 2018-09-20 | 4 | 2021-10-03 |
| Rough-legged Hawk | 9 | 1 | 2006-11-10 | 7 | 1999-11-22 |
| Golden Eagle | 6 | 1 | 2007-10-06 | 5 | 2008-10-21 |
| American Kestrel | 40 | 1 | 2006-08-31 | 33 | 1998-10-03 |
| Merlin | 29 | 1 | 2007-10-27 | 28 | 1998-10-29 |
| Peregrine Falcon | 19 | 1 | 2012-11-11 | 18 | 2006-10-07 |
| Prairie Falcon | 6 | 1 | 1992-09-23 | 2 | 2014-11-03 |
GGRO is a program of the Golden Gate National Parks Conservancy and the National Park Service