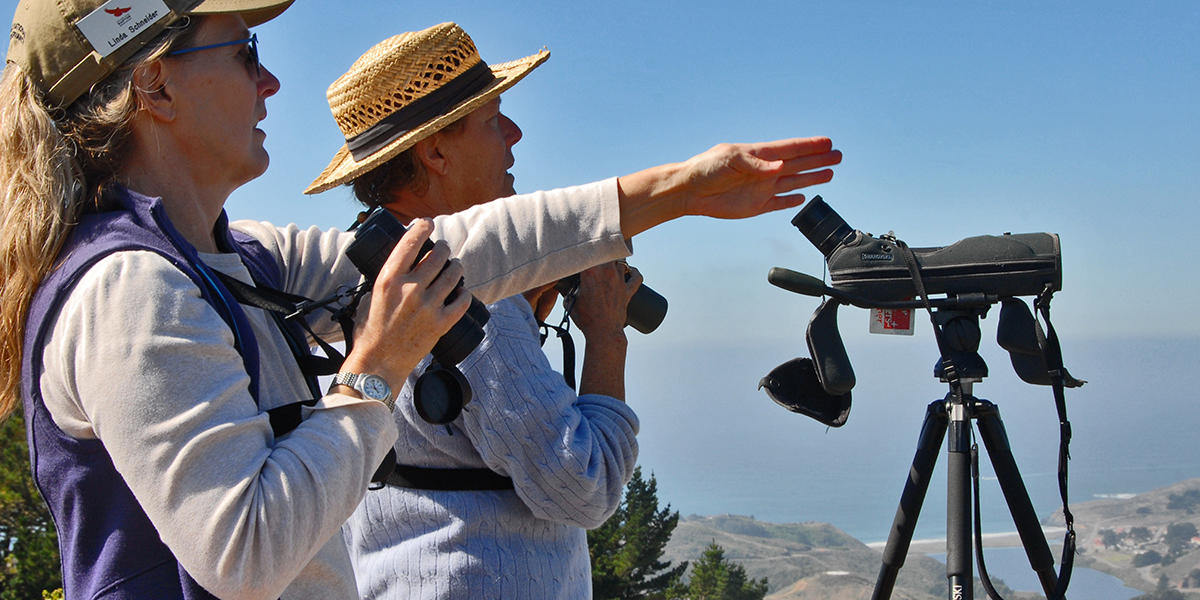 Two hawkwatchers scan the west quadrant
Jessica Weinberg-McClosky/Parks Conservancy
2022 Hawkwatch Program Update
We are still rebuilding our program after 2 years of reduced staffing and budgets, but this year we were finally able to bring on a new cohort of volunteers this season to join our 2022 Fall Migration Hawkwatching team! We are still enforcing COVID-19 safety measures and aren't back to full capacity quite yet but stay tuned for some engagement opportunities out on the hill this fall.  Sign up for our newsletter to stay in the loop!
During the autumn months, our teams of volunteer hawk counters identify and tally 19 species of birds of prey, working under the leadership of an experienced dayleader.
Hawks are counted systematically using a repeatable method, called the Quadrant System, so that data from different years can be compared. The count results help us look for trends and patterns in hawk populations over time.
You can be a GGRO hawkwatcher! We recruit new hawkwatchers every spring, with trainings beginning in July. Volunteers must be able to commit to one regular day every two weeks between mid-August through early December; all training is provided. Volunteer activities take place in the Marin Headlands. Contact us at ggro@parksconservancy.org to find out more.