Training the next generation of raptor scientists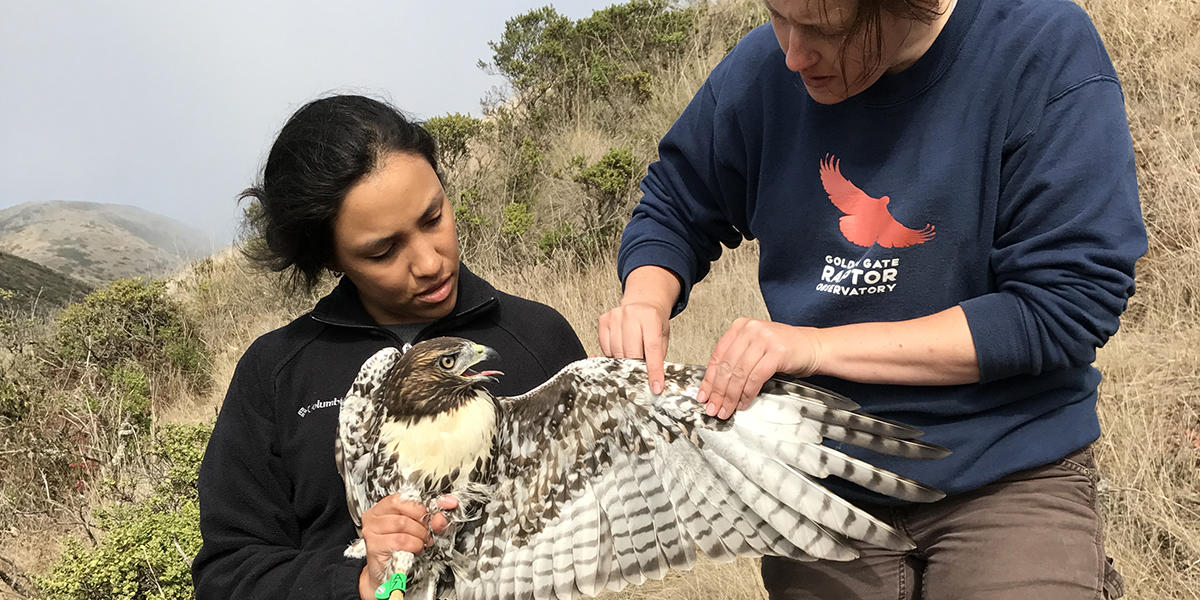 Intern Laura Echavez learning to hold a Red-tailed Hawk
Lara Elmquist/GGRO Intern
Each February, the Golden Gate Raptor Observatory (GGRO) recruits interns to help conduct fall migration hawkwatch and banding studies in the Marin Headlands, near San Francisco, CA. These internships require a full-time commitment of seven months (mid-June to mid-January), a college degree in some biological science, and a passion for learning about raptor migration and research. Housing and a stipend are provided. To be notified when we are looking for new interns, or for more information, email

ggro@parksconservancy.org

. Positions will be posted in early January and applications will be accepted through the first week of February. 
We offer two internship experiences: Field and Outreach.  
Raptor Migration Field Interns split their time evenly between the banding and hawkwatch programs, and can expect to work with a large and dedicated group of volunteer citizen scientists on a daily basis.

Raptor Migration Outreach Interns conduct regular public outreach programs in addition to participating in hawkwatch and banding activities. Read below for more details on what GGRO interns do.
Hawkwatch: All interns will learn to find and identify over 15 species of migratory raptor using binoculars and spotting scopes. They will also become familiar with counting birds using GGRO's unique team based quadrant system. A day of Hawkwatch starts with meeting the team at 8:30AM, counting from 9:30AM-3:30PM, and finishing the day with data entry. Hawkwatch requires a positive attitude, good communication skills, decent eyesight/corrective lenses, and standing for long periods of time in hot, cold, foggy, and windy weather.
Banding: All interns will learn how to trap, band, and take morphometrics on birds of prey that migrate through the Marin Headlands. Banding days vary in length, but generally start at 7:45AM and last till after 6:00PM (depending on bird activity and weather). Banding requires sitting in a blind for 5 hours or more, working with others to make quick decisions, and the ability to run on slopes while avoiding obstacles.
Outreach: Outreach interns are the public face of the GGRO for those who visit Hawk Hill, and give Hawk Talks every weekend during September and October and meet people of all ages. This is an opportunity to engage communities outside the scientific world, particularly schools, to teach the importance of raptors, migration, citizen science, and conservation. While participating in both hawkwatch and banding, outreach interns will also work independently to create curricula and materials for public presentations. Successful interns are enthusiastic, indiscriminately friendly, able to adapt to follow the interests of a group, and self-directed.