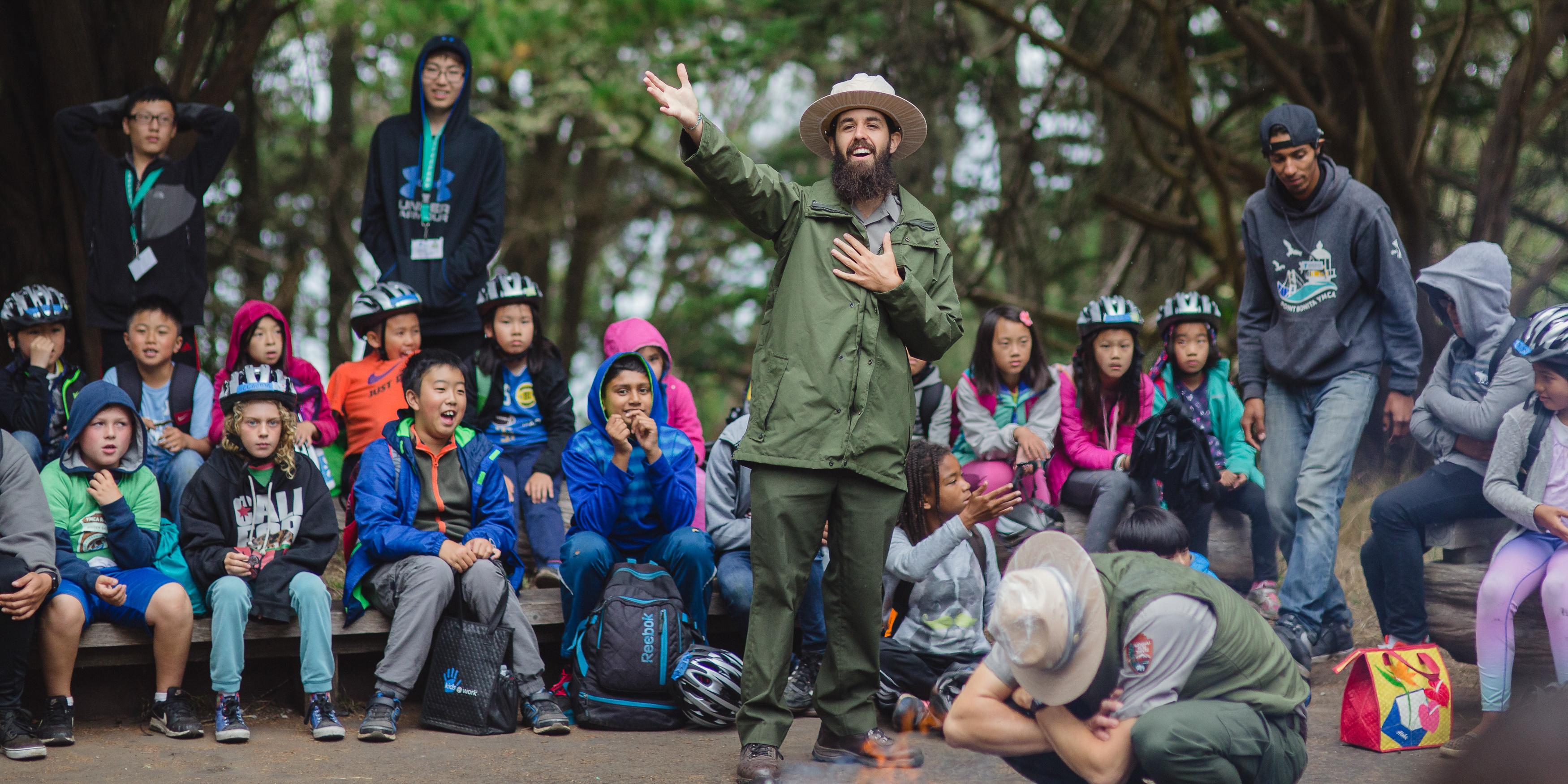 Ranger Rafael Leads Story Time at Rob Hill Campground
Erin Conger/YMCA
The Golden Gate National Parks are extraordinary classrooms for connecting students with our history, culture, and natural environment. In partnership with the National Park Service and other community organizations, the Parks Conservancy offers a variety of resources and programs designed for educators looking for creative ways to expand their curriculums.
Current Offerings
For over three decades, the Golden Gate Raptor Observatory (a program of the Parks Conservancy in cooperation with the National Park Service) has been collecting data on migrating raptors passing through the Golden Gate National Recreation Area in the Marin Headlands during their fall migration.
In Migratory Story, students explore the reasons why raptors migrate, asking themselves "Why do living things move?" Through this program, students learn to draw parallels between raptor migration and human migration. 
Migratory Story staff work closely with teachers from San Francisco Unified School District to ensure the program is aligned with classroom lessons. The program consists of 4 components: 
1. Raptor 101: Classroom teachers are provided with the curriculum to teach their students about raptors.

2. Pre-trip: Migratory Story staff visit each classroom to prepare students for their field trip to the Marin Headlands.

3. Field trip: Students visit Hawk Hill to monitor raptor migration and use binoculars to identify raptors.

4. Post-trip: Migratory Story staff visit each classroom again, this time leading an Erasure Poetry activity where students create poetry about their own migrations and movement.
Jennie Rhine was a volunteer bird bander for the Golden Gate Raptor Observatory for over 20 years. She was a federal court judge who fought for Indigenous rights and against domestic violence. When Jennie passed away, her husband Tom Meyer was inspired to create opportunities for youth to experience what she loved: learning about raptors and viewing them from Hawk Hill. Tom has been funding Migratory Story since its inception in 2014. Migratory Story is staffed by the Golden Gate National Parks Conservancy, the National Park Service, and the Presidio Trust. 
 
Project WISE, Watersheds Inspiring Student Education, is a program in which students experience real world science in the Park. Work with park educators to identify the most relevant environmental science topics for your class to custom a program that works for your students. During the program, youth are able to see their role within and impact on the planet and identify ways in which they can take action to be more socially and scientifically conscious members of their community.
Project WISE primarily engages students from Environmental Science classes at Galileo Academy of Science and Technology and Mission High School, both public high schools in San Francisco. In this year-long, place-based, student-centered program, participants not only learn environmental science concepts, but also get a chance to utilize scientific practice to better understand their parks and communities. 
Much of the learning during Project WISE is done outside, as classroom concepts are applied to sites in the national park and San Francisco communities. Water quality lessons are reinforced by an intensive study of Lobos Creek in the Presidio. The Crissy Field Marsh is used as a case study of wetlands. Air quality is investigated by comparing pollution levels in different communities across San Francisco. During the spring semester, Project WISE students conduct their own scientific explorations and present their findings at an annual symposium to peers, park officials, school district administrators, and members of the community.
 
Parks as Classrooms
Plan A Field Trip with our partners at the National Park Service.
Designed by park staff, classroom teachers, students, and leaders of community organizations, park education programs encourage student achievement through innovative pedagogy and authentic experiences in the park. The goals and principles of the K-12 program confirm Golden Gate's commitment to inclusive and relevant inquiry-based learning linked to school curricula.
San Francisco,
CA
94129
,