What to do for spring break in the Golden Gate National Parks
And check out what our youth leaders are doing for spring break in San Francisco, the Bay Area, and beyond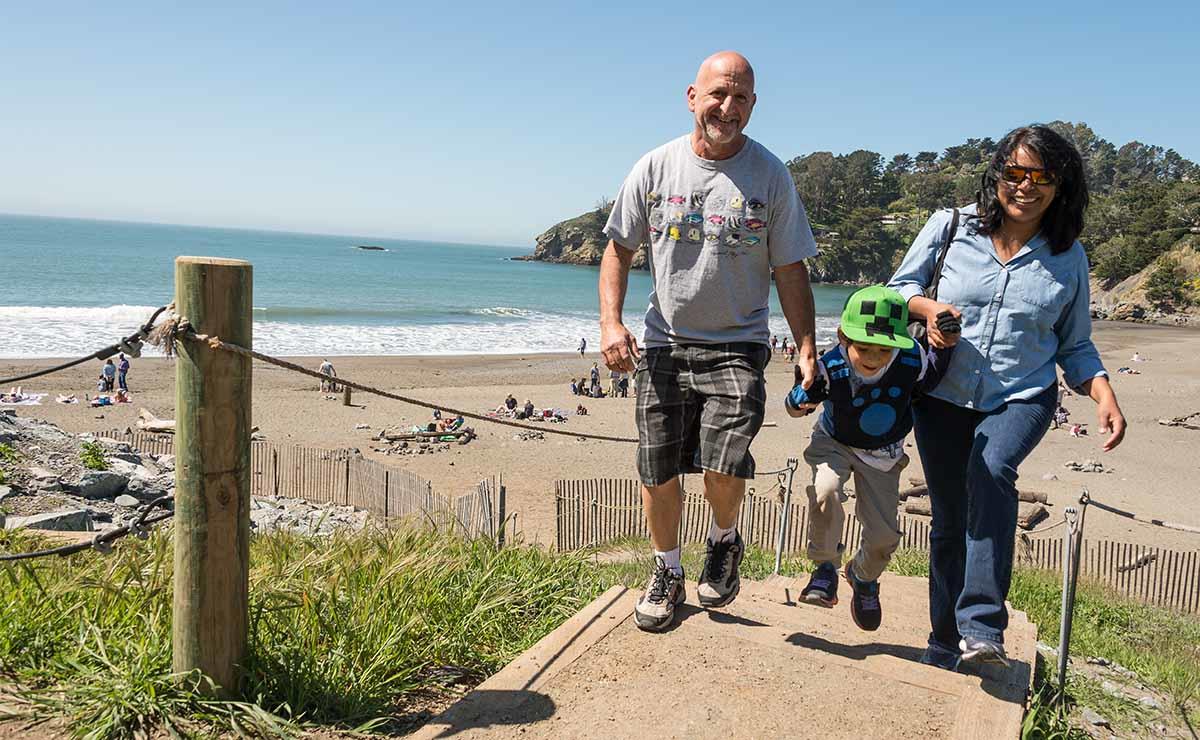 Hanging out at Muir Beach.
Alison Taggart-Barone / Parks Conservancy
For students around the United States, their weeklong spring break ushers in some much desired relief from winter weather and studying. Youth in programs at the Crissy Field Center spend their time off exploring the Golden Gate National Parks and beyond, learning history, discovering new places, and creating lifetime bonds with each other and nature. 
With a focus on engaging people who traditionally have had little—if any—access to national parks, the Center ensures that its participants grow into future park stewards. Spring break is a great opportunity for these young people to venture deeper into their national parks.
Here's a look at some activities you can easily partake in during your spring break, or any weekend this spring. And you can see how you measure up to Crissy Field Center youth by checking out some of their fun plans:
North Bay getaways
What you can do: Fans of the water should head north for beaches, breaks, and birdwatching, plus iconic views and aquatic recreation. Bolinas Lagoon is a 1,100-acre tidal estuary with pristine marshes and water-snaked mud flats that are home to a fascinating diversity of waterfowl. Just down the road you'll find Stinson Beach, where visitors can borrow volleyball nets and balls from the main lifeguard tower in exchange for a driver's license. Further along Highway 1 lies Rocky Point, which grants access to hiking and hot springs along Steep Ravine Trail. Or make a reservation for an overnight stay in one of Steep Ravine's oceanfront cabins or campsites.
What our Crissy Field Center youth are doing: Middle school-aged youth in the Urban Trailblazers program will take a wild coastal adventure for five days and four nights, trekking through Point Reyes National Seashore with a focus on leadership. In partnership with the Camping at the Presidio (CAP) program, youth will learn and practice Leave No Trace principles and discuss what leadership looks like both in the outdoors and in their own lives. Young people develop skills in backpacking, shelter making, and endurance as they train and complete the multi-day journey on foot with gear from the CAP program, traversing some of the 70 miles of trails to several hike-in campgrounds. Learn more about Urban Trailblazers here.
Peninsula mountains and oceanside strolls
What you can do: South of San Francisco are a few urban locations experiencing extensive restoration, bringing with it thriving parklands and the return of natural wonders. Mori Point offers visitors hiking trails varying from a level and easy 0.5-mile stroll to a steep and challenging 1.5-mile hike. Wildflower blooms and red-legged frogs await you at this rugged coastal promontory in San Mateo County.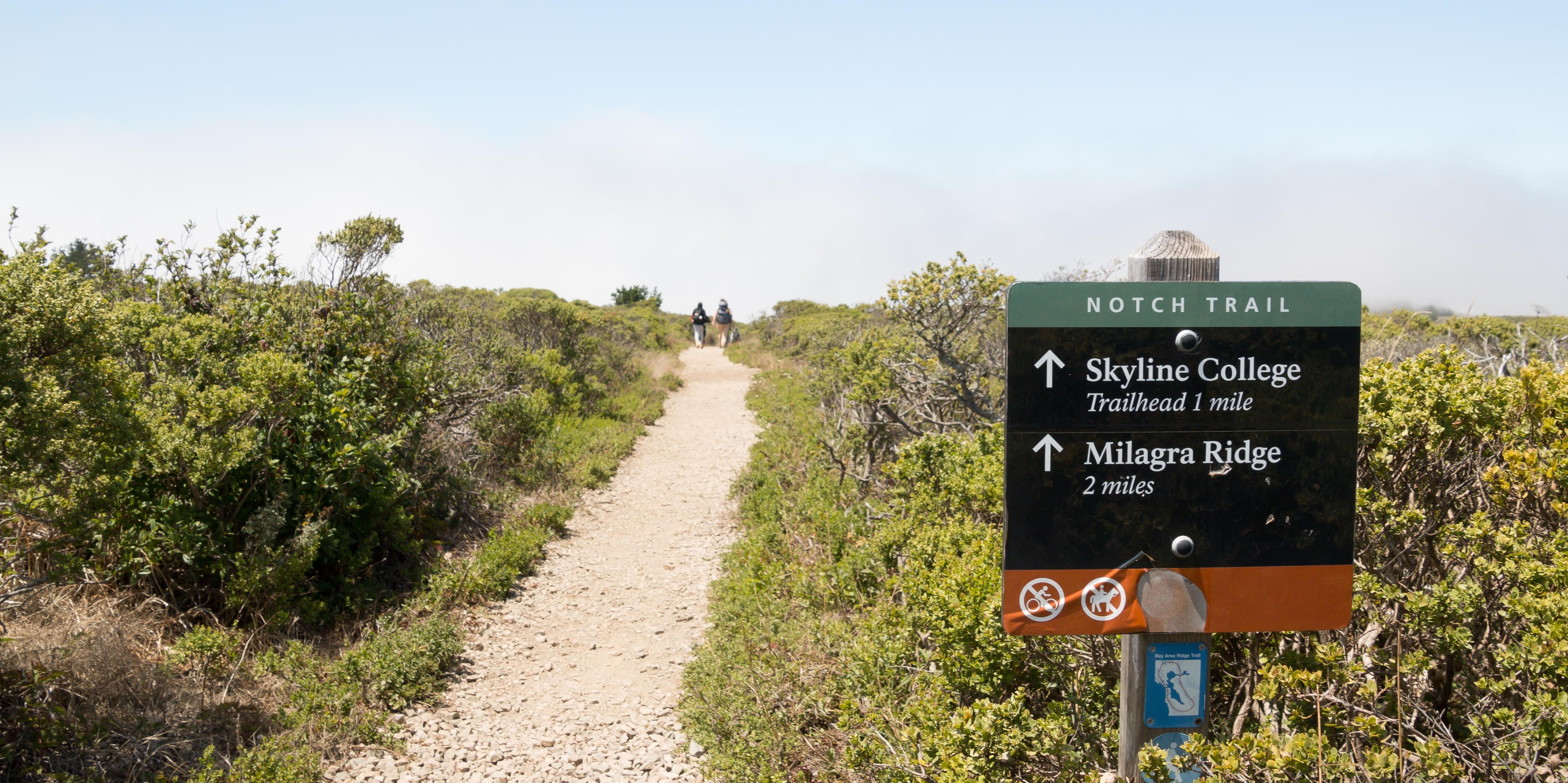 Sweeney Ridge (pictured above) is a hilly hiking area of ridges and ravines between San Bruno and Pacifica located less than 30 minutes driving time from San Francisco. Hawk watching, deer spotting, and wildflower gazing offer avenues to sandy adventures along the wind-protected valley of Thornton State Beach. Red-tailed Hawks and the endangered Mission blue butterfly call Milagra Ridge home, benefiting greatly from restoration work and volunteer efforts organized by the Conservancy's Park Stewardship program. 
What our Crissy Field Center youth are doing: The Crissy Field Center organizes a "Female Backpacking" trip to Big Basin Redwoods State Park. Female-identifying youth will journey to Big Basin for a three-day, two-night backpacking trip. As a group they'll learn valuable backcountry skills, discuss gender identity, and form strong bonds with each other and nature. 
Paths above and beyond
What you can do: If you're a trail blazer at heart, head south for walks and vistas relatively new to the Golden Gate National Parks. Rancho Corral de Tierra and Phleger Estate are home to miles of trails, wildlife, and watersheds. These areas have not experienced as extensive of restoration like some other park sites, plan your visit and prepare accordingly. 
What our Crissy Field Center youth are doing: High school age youth in Project WISE spend their spring break in Yosemite National Park. An extension of their classroom studies, Project WISE provides teens with hands-on experiences that complement their advanced placement biology courses. The Yosemite Spring Break trip focuses on their relationship with nature and the outdoors through immersion into a locale showcasing geological wonders and impressive biological diversity.    
What you can do: Tools, trails, and training
For those looking to give back during their break, volunteer opportunities are available almost every day in March and April. Our Park Events section has an extensive schedule featuring opportunities to grow and care for native plants, protect endangered species, and restore sensitive habitats throughout the Golden Gate National Recreation Area. The page filters let you close in on events that fit your style, age group, and availability. 
Before or after volunteering in your national park, explore nearby areas for trails, beaches, and activities.
If you head out to Tennessee Valley with the Habitat Restoration Team, you can take the trail through rolling hills down to the Pacific Ocean. Much of the partially paved trail is wheelchair accessible and offers a leisurely bicycle ride, with bike racks provided halfway down the valley and at the cove. The trails also connect with Sausalito and Tiburon bike paths and local roads. 
If you plan on getting digital with your break and contribute to the Marin Wildlife Picture Index Project, you can spend some time exploring Mount Tamalpais. This 2,500-foot high mountain in Marin boasts 360-degree views from the San Francisco Bay to the Pacific, while miles and miles of trails traverse redwood valleys, creeks, waterfalls, and wide-open grasslands. The workshop is free but limited space means the event fills up fast, so register early. 
Beach fans will enjoy restoring critical habitat for several endangered species at Muir Beach with the Park Stewardship team. This quiet cove, beach, and lagoon is tucked into the coastline just three miles west of Muir Woods. Multiple trails in the area offer breathtaking views of the Pacific Ocean and Marin coastline, scenic explorations of Coyote Ridge, or southern coastal hikes. Don't forget to visit the Muir Beach Overlook for a one-of-a-kind view of the ocean where your photos will give any social network friends fomo. 
What our youth are doing: Park Hop
For five consecutive days, 15 youth from Civic Center Secondary School and Downtown High School visit and learn about four different national park sites in the Bay Area. African-American National Park Service (NPS) rangers connect youth to African-American history that seldom makes it into classroom lessons in traditional education settings. The Center staff help orient the students and create a safe space before leading students in artistic development through the creation of zines, small easily replicable magazines that can be distributed to inform and educate. In this way, the experience doesn't just stay with the group but can be easily disseminated to others.
"It's important to create an experience where students feel confident with each other to share and grow," said Ranger Lucien Sonder, who helps coordinate the Park Hop program. "The Center staff help create a space where people feel comfortable sharing with each other."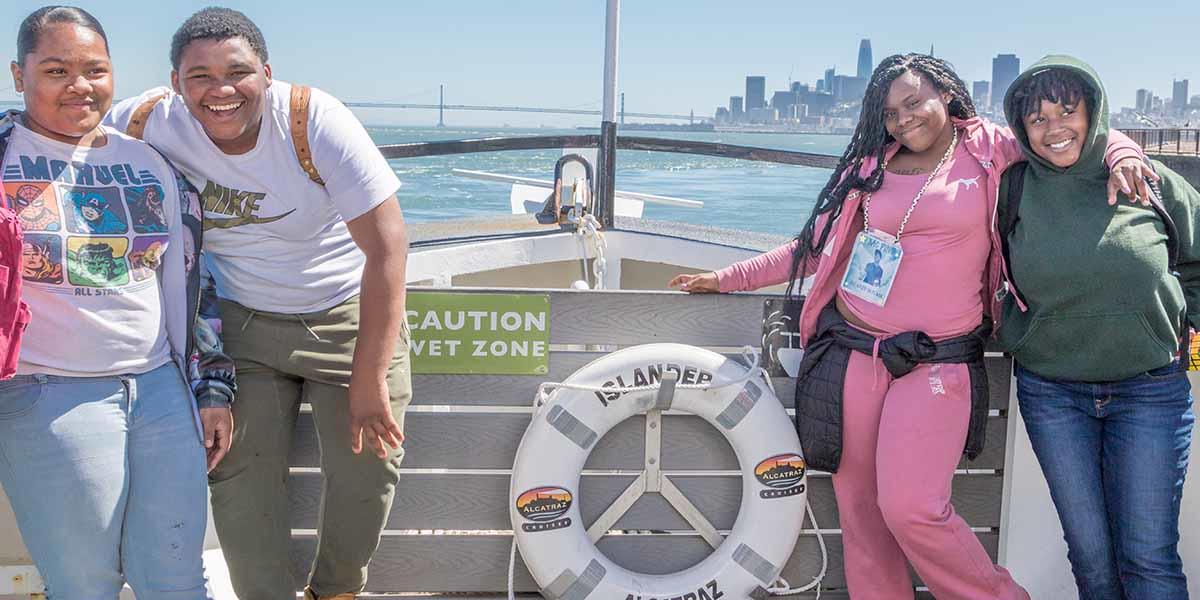 Youth on their way to Alcatraz for Park Hop in 2018.
Kirke Wrench / National Park Service

The trip presents an opportunity for youth to learn and express themselves as they grow from the experience, connecting with the stories and broadening their idea of what parks are and their own individual place in history. Trips like this help park staff determine what is relevant and meaningful to youth. The Center also pays students a stipend, which offers positive time and incentive to continue learning and growing.
"I felt it valuable that we actually got a chance to get out of the school for that spring break and not go to a school and learn about these things," said Dimitri, a Downtown High School student and 2018 Park Hop participant. "We actually visited these places and talked to these people who actually work there hands on, not just out of a book or something like that."
Downtown High School Assistant Principal Todd Williams encourages students to apply and participate in the Park Hop program. He understands that most of his students live in the city and infrequently visit national parks or spend time outdoors, an experience that he feels is fundamental to personal and human development. He said, "we believe educationally that people learn more through experience."
Beginning at the Presidio stables, students learn about the Buffalo Soldier cavalry regiments who used them for short periods on their rotations to and from the Philippines. The stables are currently used by the mounted officers of the U.S. Park Police, who meet with students and describe pathways to working for the department.
The following day, a visit to Alcatraz Island holds lessons about African-American prisoners who are lesser known than some of the island's more infamous inmates. Young people will also experience Future IDs, a yearlong project, exhibition, and series of monthly public programs that's open through October in the New Industries Building. The installation features ID-inspired artworks created by and with individuals who have conviction histories as they conceive and develop a vision for a future self. 
A visit to the Rosie the Riveter WWII Home Front National Historical Park introduces youth to Betty Reid Soskin, the oldest National Park Ranger in the United States at age 97. Ranger Betty recounts her experiences as a young African-American woman during WWII, the broader experiences of people of color during the time, and how they contrasted with the nostalgic perceptions of populations not identifying as people of color. Chief of Interpretation Ranger Kelli English tells the history of the Port Chicago disaster, a munitions explosion that occurred on July 17, 1944, at the Port Chicago Naval Magazine in Port Chicago, Calif. The incident revealed how the racially segregated military's treatment of African-American sailors led to the devastating moment. 
Park Hop spends a day touring the San Francisco Maritime National Historical Park with Ranger NoeMesha Williams, who initially conceived of the Park Hop program. She guides them through the Maritime Museum, which houses art by Sargent Claude Johnson, a prominent black sculptor, ceramicist, painter, and lithographer.
Lastly, students return to the Presidio for an overnight at Rob Hill Campground, experiencing a memorable evening in the outdoors within the boundaries of San Francisco. The trip ends with an in-school presentation to other students, where trip participants are able to share their experiences and lessons with others and expand the history of these people and park sites. It serves as an outreach mechanism as told by youth to other youth.  
"These are young people who are taking their leisure time to explore and connect with history and nature. We serve both sides of young people who are hungry for knowledge and connection. They also want to have fun and be youthful," said Ernesto Pepito, Associate Director for Youth Leadership at the Crissy Field Center. 
Find Your Park
Planning your spring break? The Golden Gate National Recreation and surrounding Bay Area parks have adventures in multiple sizes. Planning your visit is easy with our "Find Your Park" page, your gateway to over 80,000 acres of trails, shorelines, and wilderness along the Pacific. Use the filters to search by county, activity, or service and Find Your Park.
March 11, 2019