Click on the pins below to learn more about the new park site or download this map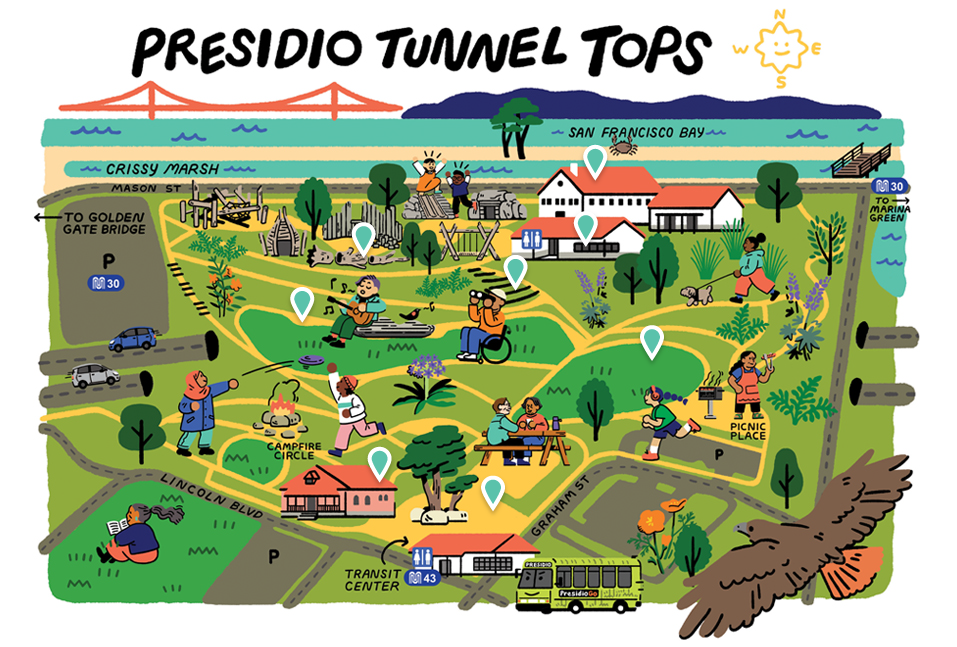 Click on the map pins to learn more about the new park site or download the Tunnel Tops map in a PDF format.
The Presidio Tunnel Tops Discovery Guide, designed with illustrator Jean Wei, offers fun ideas for exploring this unique park site on your own. Download a copy of the Presidio Tunnel Tops map or pick one up at Presidio Visitor Center or the Field Station.
Presidio Tunnel Tops Activities
1. Outpost
Balance, swing, and climb on huge structures inspired by Presidio nature and history. 
Relax and bask in the views of the Outpost, Bay, and beyond.
3. Cliff Walk
Stroll on the edge--it's like being on top of the world!
Get the Presidio's official national park stamp.
Meet up, hang out, and enjoy nearby picnic tables!
6. Big Lawns
Find your special spot on the grassy meadows.
Bring all your senses to explore and discover real things from the Presidio.
Presidio Tunnel Tops is a stunning and welcoming national park space, completely free and accessible to all!