Beer with a view of the Golden Gate Bridge
These are the best spots to kick back with a beer in our Golden Gate National Parks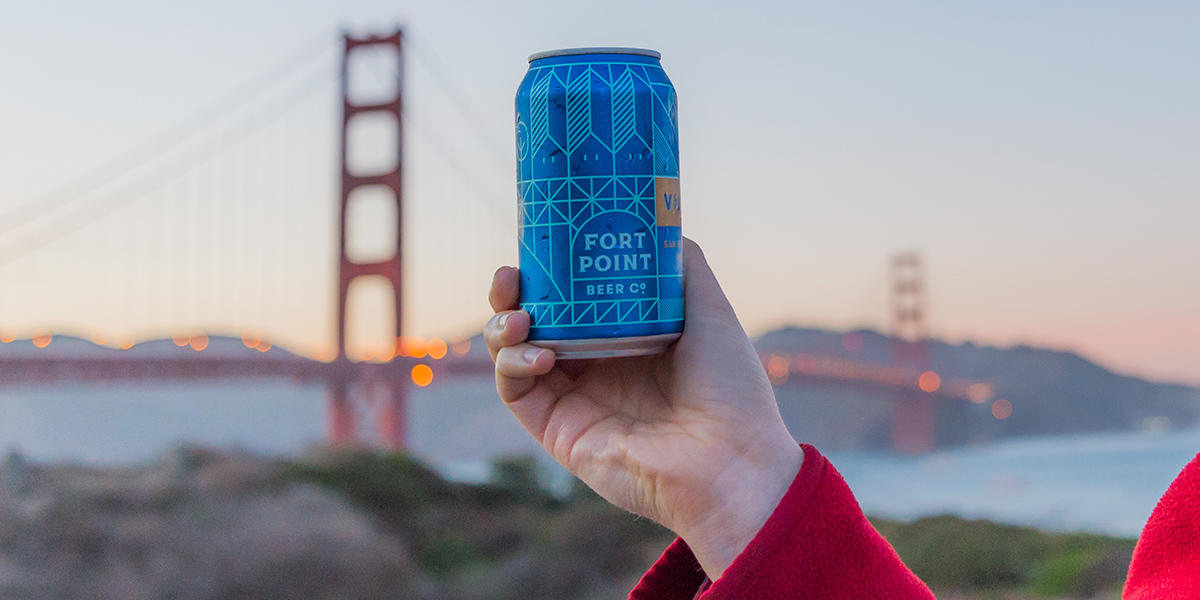 A participant in a Trail Mixer event enjoys a Fort Point Beer at the Golden Gate Bridge
Alison Taggart-Barone/Parks Conservancy
You may have heard the buzz about Radhaus, the Bavarian beer hall at Fort Mason by Matt and Aaron Hulme, the twins behind Biergarten and Suppenküche in San Francisco's Hayes Valley. Come for the German beer, the modern California-Bavarian bites, and most of all, the stunning views of the Golden Gate Bridge.
Radhaus sits in Landmark Building A at the western edge of Fort Mason, and its enormous picture windows take full advantage of one of the world's best views.
But Radhaus isn't the only spot in the Golden Gate National Parks to grab a beer and soak in the bridge view. Check out some of our picks for the best spots to enjoy the happiest of hours in our local national parks.
The Warming Hut and TRANSIT
It doesn't get much closer to the bridge than the Warming Hut! New in recent months, the beloved Crissy Field outpost is serving local beer and wine along with its usual fare of sandwiches, salads, coffee, and the best Golden Gate National Parks gear to share with all your friends. Also, TRANSIT Cafe at the Presidio Transit Center is offering a happy hour with beer and wine, and bridge views, from 4-6 p.m. on weekdays.
Sessions at the Presidio
With a 100-beer menu, 24 taps with rotating selections (many of them rare beers), and a menu to hold up to all that beer, Sessions in the Letterman Digital Arts Center is beer-nerd nirvana. Throw in an outdoor patio with a peekaboo view of the bridge, a large well-appointed interior, and did we mention 100 beers?
Murray Circle at Cavallo Point
Fort Baker's crown jewel is known for its legendary wine list (more than 2,000 wines are offered), but has some beer chops too. If the porch and its bridge views get too cold, you can retire inside, cozy up to Farley Bar's fireplace and try one of several renowned craft cocktails or beers from Fort Point and other local craft brewers.
Presidio Picnic and Twilight
The Presidio's food truck party has a beer and wine tent offering local selections; Make sure to get there early to snag a giant red chair to catch a view of the international orange bridge and all the action of the Picnic. Or if you've been to a Picnic already, try a Thursday night Twilight, which layers in fire pits, cabanas and live music at the parade grounds. Check the Presidio Trust sites on the Picnic and Twilight for the dates of these popular events.
Trail Mixers and NightHowl
Ahhwoooo! The best beer is complimentary beer! That's what you'll get at Trail Mixer happy hours from the Golden Gate National Parks Conservancy. Each Trail Mixer has a fun theme, a new and surely gorgeous setting, and bites and libations included in the ticket price. 
Or, if a big bash for a good cause is more your scene, check out our annual fall NightHowl event. Break out your best trail chic outfit, enjoy some s'mores and unlimited small bites and craft cocktails, and dance the night away. While you're partying, you'll know your support helped benefit the magnificent trails, programs, and projects of the Golden Gate National Parks. Become a member or check our events page for the latest updates on Trail Mixers and NightHowl.
We'll see you out in the parks!
October 10, 2018