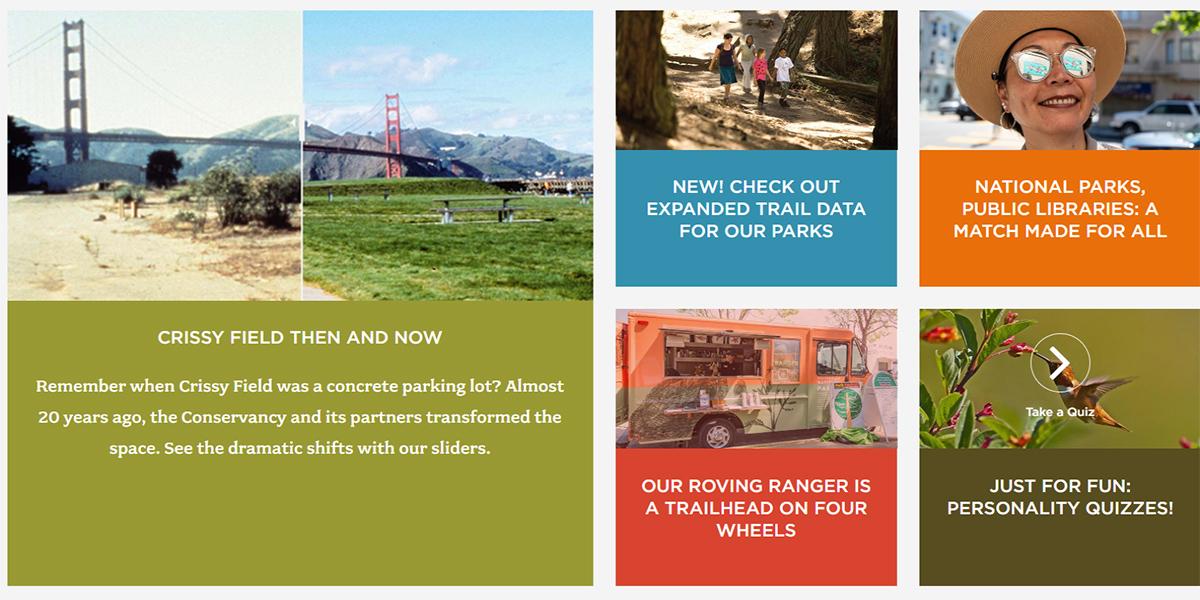 The new ParksConservancy.org has a new look, more info, and a responsive design to help you connect to the parks from anywhere.
We've climbed the mountain, and after months of hard work, we're excited to present the new ParksConservancy.org. This site is all about connecting you to our Golden Gate National Parks, from robust park pages to new calendar listings, trail data, and more. There's lots of new stuff to explore. 
First, check out our new and colorful design. Reflecting the range of colors we see in our parks, from International Orange to Muir Woods green, this new design makes for easier navigation to the things you love the most in the parks. And speaking of easier navigation, our new site is responsive to a wide range of screen sizes and devices, especially mobile devices, so you can check out key park info from anywhere. 
If you're looking to get out and go, first hit the "Today" button on the homepage. There you'll find weather info and upcoming events throughout our parks. Then check out the new Explore Our Parks section, which has all the info you need about our 80,000 acres of parklands.
We've got some new ways to engage with the popular events in our parks. Check out the new and improved event listings and you'll find new ways to sort events, see them on a calendar, and interact in ways you couldn't before, so you find the right event that speaks to you. Looking to lend a hand? Find out all the ways it's possible to make a difference with our new volunteer page.
Our parks wouldn't be possible without our people. So thank you for all you do, and we'll highlight our amazing people on our new Park Stories portal. You'll find more about our inspiring youth leaders on the Our Work page, where you can also get information on programs for youth of all ages.
Like our parks, this new website will continue to get better and better. To submit feedback on the site, please email webmanager@parksconservancy.org
Hopefully, this new site will help you get out into our park sites! We'll see you out in the parks.
November 15, 2018