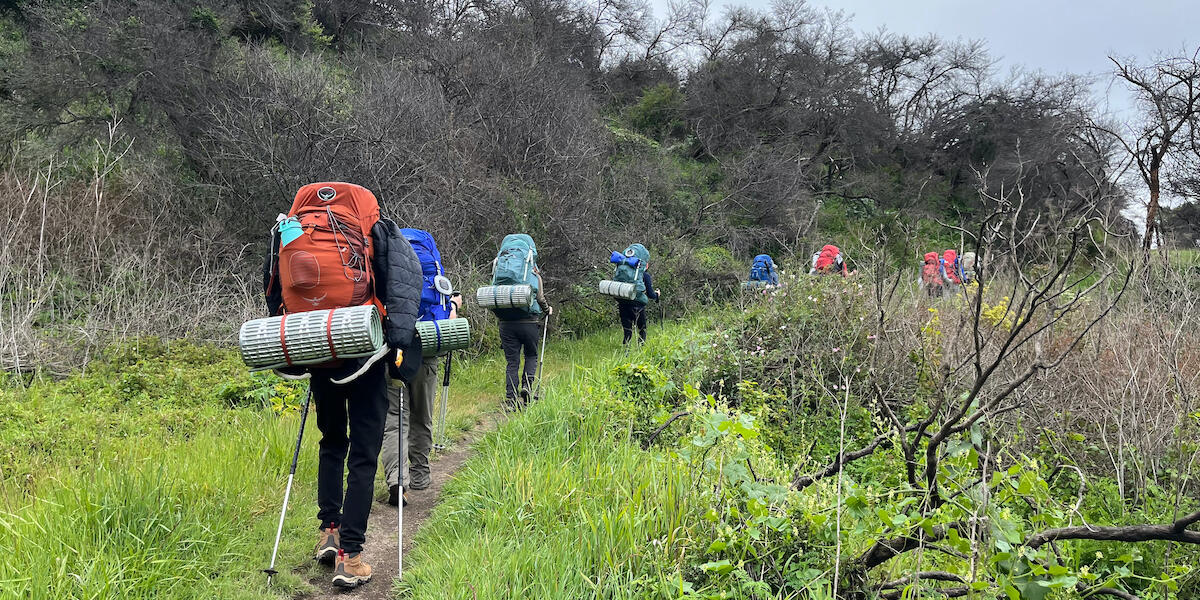 Youth backpacking in Point Reyes.
Aimes Tam / Parks Conservancy
Queer Belonging Backpacking Adventure is a paid outdoor program from June 14th to June 30th. This program is for high school aged youth who identify as Queer, Trans, Black Indigenous and People of Color. During the program, we will explore the themes of Queer belonging through community building, discussions, art, and outdoor adventures including backpacking, camping, and learning in nature. Participants will develop a deep sense of belonging within the affinity group and a connection to natural spaces. This program helps to create a safe space in which youth can connect on what it means to be QTBIPOC and learn how to advocate for more welcoming and inclusive spaces for all. 
Schedule & Time Commitments: June 14th - June 30th
Orientations day(s) 3 days: June 14-16
Backpacking: June 22-June 27 (6 days) 
Front country camping: June 27 (1 day/night)
Day off/Rest night: June 28
Culmination/Graduation Day: June 30
Location 
Meet at the Crissy Field Center (603 Mason St., Presidio San Francisco CA 94129) 
Backpacking in the foothills of the Sierra Nevada mountains or Coastal landscapes 
This Summer program is for you if 
You are currently in high school. 
You qualify for free or reduced lunch 
You identify as a Black, Indigenous, People of Color, Queer, Trans, and Gender Non-binary folx. (Inclusion of folx who identify as mixed, you are still whole!) 
You are interested in building skills and comfort in outdoor adventures. (You do not need to have experience camping or backpacking) 
You are interested in discussions of what it means to find belonging in the outdoors. 
You are interested in cultivating connection to people and natural spaces through hands-on learning with art, journaling, reading, and investigation.  
Next Steps 
Fill out an application here with detailed responses by Tuesday, May 30
We ask that you do your best to express yourself authentically. Please provide detailed, specific responses with at least 5 sentences. If you would prefer to submit responses in a different way (ex: audio/video responses to questions or art expressions of these), please email Aimes Tam: atam@parksconservancy.org with other suggestions. 
Our Commitment 
As a nonprofit parks group, we seek to create positive and transformative experiences for all in our parks and open spaces. We believe everyone deserves the freedom, joy, and peace to be respected exactly as they are no matter where they are. We also see the power of nature, public lands, our collective history and times of resistance to inspire and educate. We honor, celebrate, and stand with trans, nonbinary, and LGBTQIA communities.