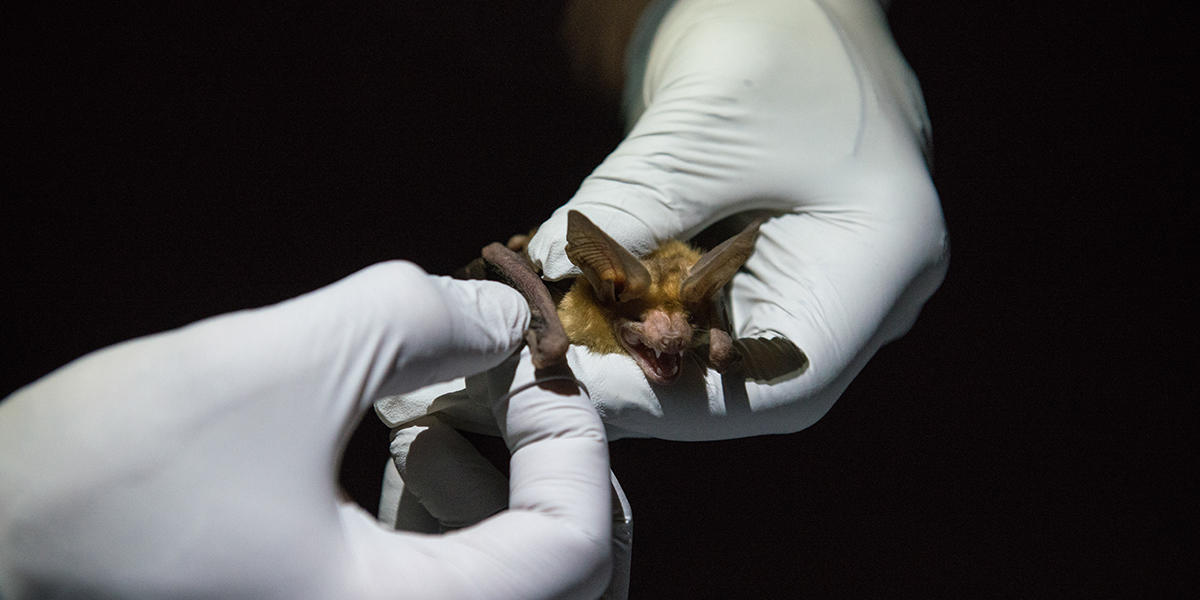 In Marin County, researchers have recently started studying populations and colonies of these nocturnal, winged animal
Paul Myers/Parks Conservancy
For most, bats are merely synonymous with Halloween and things that go bump in the night. A symbol of a hero hellbent on keeping the streets of fictional Gotham City safe from evildoers. However, for some, bats are much more than a spooky and superhero symbol: They're a seldom-studied species that are important to the overall health of an ecosystem.
In Marin County, researchers have recently started studying populations and colonies of these nocturnal, winged animal.
The partners of One Tam—the community initiative of the Tamalpais Lands Collaborative—have launched a three-phased, three-year scientific research project. The first—and recently concluded—phase in this research project was to acoustically monitor bats on Mt. Tam by recording and identifying species through their calls.
The next phase—currently underway—is to capture the bats using a technique called mist-netting (basically using a finely strung volleyball net to snag the flying mammal). Rounding out the study is radio telemetry, which entails equipping bat with a radio transmitter to track its movements and flight patterns. 
Before we get to radio transmitters, however, researchers still need to sift through the audio from phase one to ID the bats that their bat-identifying software couldn't. To verify the bats featured on the recording, the United States Geological Survey (USGS) sent in their own "Batman"—Gabe Reyes, a bat biologist.
"After we recorded them all [bats at randomly placed locations across Marin open spaces] and run them through the classifier, I have to manually check them so that it accurately identifies species," Reyes says. "The preliminary results show we've detected all 13 species [known to be native to the region]."
So now that they know which bats are in the area, it's time to get up-close and personal with the flying mammals to get data that audio recordings could not capture. Mist nets are used by ornithologists and biologists to briefly capture winged animals, such as birds and bats, for research purposes. In some instances, Reyes and the team of researchers stack three of these nets on top of one another to make a towering, bat-catching webbing.
"Catching bats by hand is one of the only ways to get data on the reproductive status of bats in the area," Reyes explains.
Reyes and a team of One Tam partners and researchers trek into remote parts of Marin County, from the secluded trails of Samuel P. Taylor State Park to Point Reyes National Seashore, and from Cascade Canyon to Muir Woods. They always go around sundown, and they often—but not always—choose a site with a water feature (a creek, a stream, or a pond) that they string the nets over.
Over the course of four hours, they will check the net every 15 minutes. If there are any bats in the nets, Gabe and the team brings them back to their "processing station." When they process the bats, Reyes and company are measuring "morphometric features" (weight, forearm length, etc.) and taking genetic or hair samples.
An inspection for the plague-like white-nose syndrome is also performed at this processing station. Though not yet in California, this disease has been killing millions of bats in the northeastern United States, and has recently been detected in Washington State, so biologists are monitoring for it as a precaution.
"We're checking to make sure the wings look healthy, and if the bats have signs of fungal disease," Reyes says.
After the data is collected, the bats are released and they soon resume, snapping up insects from the air with surgical precision.
As with handling any species, extreme caution and preparedness are of the utmost importance. Reyes trains his team and volunteers to minimize the stress on the animal.
"Once they [the bats] figure out you're not going to eat them, they relax a little bit," Reyes says.
Some bats don't want to leave the warmth of their capturer, which is fine by Reyes. After all, as he readily admits, "they're quite cute." But he also admits that he has nothing but respect for this sometimes reviled species
To better protect local bat populations from other threats—even a disease epidemic—ecologists simply need more information. So Reyes and the team of researchers press onward, slowly acquiring more data to more fully understand the bat populations of Marin County.
After the mist-netting phase wraps up in winter 2018, the radio transmitter phase will begin. And each new study brings the biologists all that much closer to fulfilling the overall goal: The long-term sustainability of bat populations across the continent.
November 1, 2017