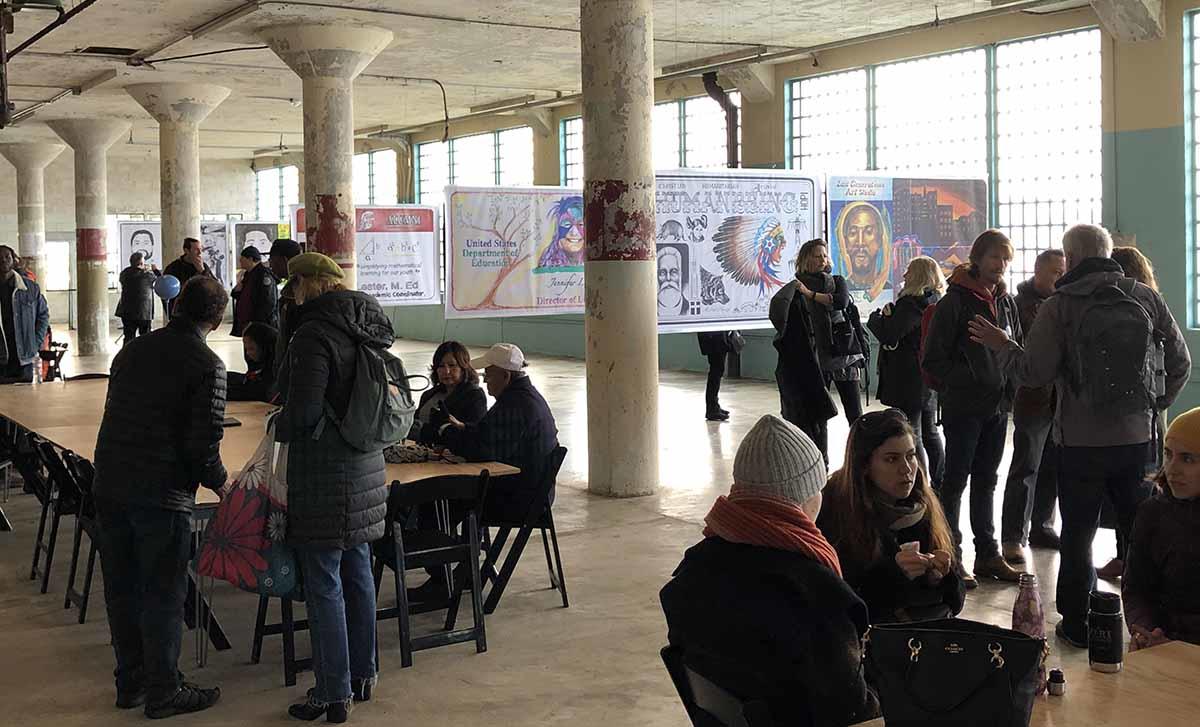 Participants at the Future IDs at Alcatraz 'Day of Public Programs' on Feb. 16, 2019, at the New Industries Building on Alcatraz Island.
Peter Hockaday / Parks Conservancy
Overview
The Golden Gate National Parks Conservancy is looking for enthusiastic individuals who have a passion for art, an interest in supporting those impacted by the prisons system, and a desire to share stories and raise awareness of the reentry process through the Future IDs at Alcatraz exhibition.
About Future IDs at Alcatraz
Future IDs at Alcatraz is a yearlong project, exhibition, and series of monthly public programs opening February 16, 2019 in the New Industries Building on Alcatraz Island. Since November 2018, the exhibition space has been functioning as an artist studio open to Alcatraz visitors. The installation features artworks created by and with individuals who have conviction histories as they conceive and develop a vision for a future self. In stark contrast to prison-issued IDs, these artworks, inspired by identification cards, represent individual stories of transformation.
Social practice artist Gregory Sale leads a team that translates criminal justice reform efforts into a visual language to shift thinking about rehabilitation, reentry, and reintegration. Working closely with Dr. Luis Garcia, Kirn Kim, Ryan Lo, Aaron Mercado, LaVell Baylor, Dominique Bell, and Sabrina Reid, Sale and many collaborators led artmaking workshops and programs across California, both inside prisons and in communities.
This project on Alcatraz is presented in partnership with the National Park Service and the Golden Gate National Parks Conservancy through the Art in the Parks program. It engages Alcatraz's layered history as an iconic federal prison, birthplace of the American Indian Red Power Movement, national park, and International Site of Conscience. Together, the exhibition and public programs function as a platform for conversation through performances and civic dialogue experiments that are co-curated with community partners.
About the Volunteer Art Guide Position
Future IDs Art Guide volunteers will be responsible for providing all aspects of visitor service to exhibition visitors at the historic New Industries Building on Alcatraz Island. Art Guides will orient and interact with visitors, explain the artworks, provide information about the project contributors and the conceptual themes at work in the exhibition (such as identity, reentry, and transformation) and their relevance to the Alcatraz as a historic federal penitentiary. They will also answer visitor questions, participate in the social media program, and monitor for security, visitor flow, and art maintenance.
Art Guides are encouraged to dress warmly in layers and wear comfortable shoes.
Commitment
All volunteers will participate in mandatory training. Multiple training times will be offered to accommodate different schedules. Volunteers must commit to at least two shifts (2-3 hours) per week for two consecutive weeks for the duration of the exhibit. Volunteers are needed every day of the week, however shift schedule will be based on volunteer availability. 
Knowledge, Skills, and Abilities
Interest in and/or experience with art exhibitions
Demonstrated strong verbal communication skills
Enthusiastic team who pitches in and works well with people of diverse backgrounds
Ability to work comfortably engaging and communicating with large numbers of people in a public setting
Physical Requirements and Works Environment
Work is performed in outdoor park settings and in historic sites with limited heating
Work is performed standing or walking
Must be able to walk up a flight of stairs.
Location and Parking Information
Location: Pier 33 Alcatraz Landing is located at the south anchorage of the Golden Gate Bridge at the end of Marine Drive on the Presidio of San Francisco.
Parking: There is limited paid parking near Pier 33 Alcatraz Landing. Metered street parking and private parking garages and lots are available along the Embarcadero at Francisco St, Bay St, and North Point St.
Public transportation: Public transportation is highly recommended. The following SF Municipal Railway (MUNI) bus lines stop within three blocks of Pier 33 Alcatraz Landing: F Line Historic Streetcar (Bay Street stop), #8 Bayshore (Kearny Street & North Point Stree stop), #82x Levi Plaza Express (Levi Plaza, Sansome & Filbert Street stop). 
Why Apply?
Opportunity to expand your knowledge of your national parks in the Bay Area through active roles and public interaction
Opportunity to meet and interact with a variety of park and arts institution professionals and learn about public art installations
To apply, please send resume or bio and cover letter to FIDS.Alcatraz.@gmail.com.
About Art in the Parks
The Art in the Park initiative is a partnership program of the National Park Service Golden Gate National Recreation Area (GGNRA), the Golden Gate National Parks Conservancy and the Headlands Center for the Arts. The program mission of Arts in the Parks is to provide programs to connect our visitors with creative experiences in the park that are transformative, unexpected, and inspirational. Previous Art in the Parks exhibitions include @Large: Ai Weiwei on Alcatraz, Home Land Security in the Presidio, and the Portal at Crissy Field East Beach. Since the program's inception, over 280 artists have participated in 27 art projects across 19 different park sites.
About the Golden Gate National Parks Conservancy
The Golden Gate National Parks Conservancy is the nonprofit membership organization that supports the Golden Gate National Parks—one of the most visited units in the national park system. Since 1981, the Parks Conservancy has provided more than $500 million in support for site transformations, habitat restorations, research and conservation, volunteer and youth engagement, and interpretive and educational programs. The Parks Conservancy's work is made possible through the dedication of its members and donors; contributions from foundations, businesses, public agencies, and generous individuals, as well as earned income from the operation of park stores, cafes, and tours. Learn more at parksconservancy.org.
 
Application Dates
April 4, 2019

-

October 19, 2019
Job Type