Program Production and Outreach Coordinator for Future IDs at Alcatraz
Part-time Contractor Position, 6 months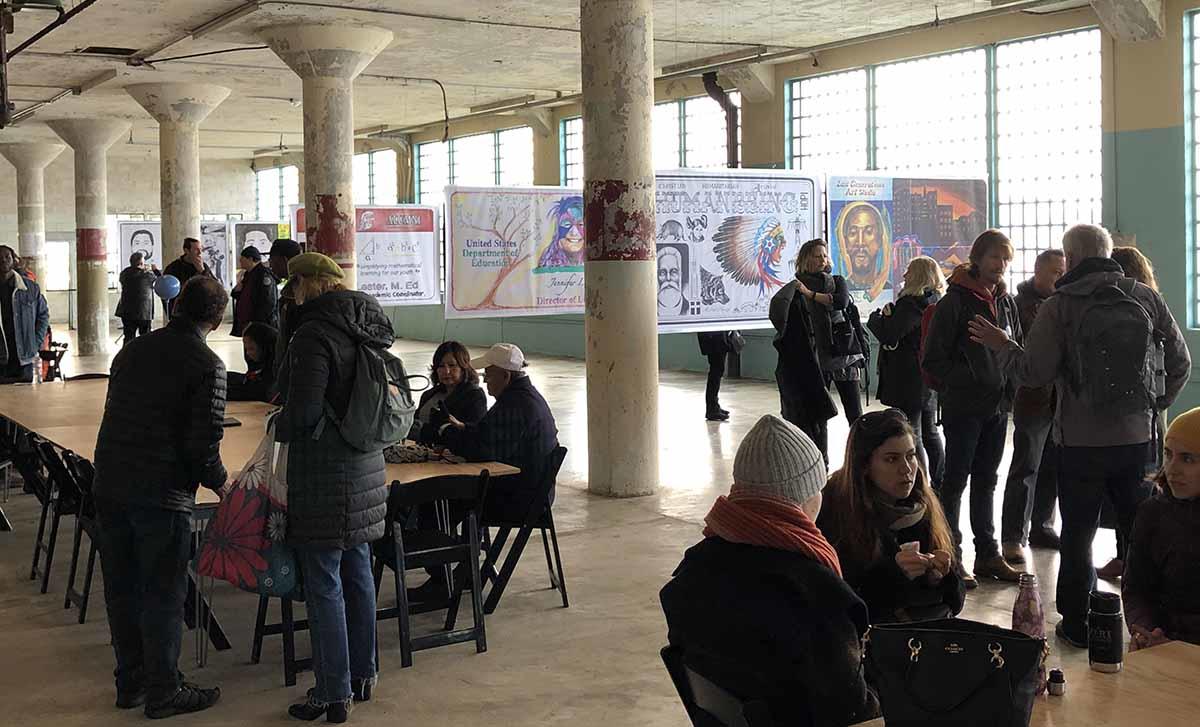 Participants at the Future IDs at Alcatraz 'Day of Public Programs' on Feb. 16, 2019, at the New Industries Building on Alcatraz Island.
Peter Hockaday / Parks Conservancy
Contractor Position Overview:
The Program Production and Outreach Manager for Future IDs at Alcatraz will be responsible for working with the project team, including lead artist and presenting partners, to:
Coordinate and implement monthly public programs for the exhibition.
Help develop new or maintain existing partnerships with participating community organizations.
Coordinate training and scheduling for Future IDs volunteers and interns. 
Support overall community organizing and outreach.
The Contractor hired for this position will work closely and collaborate with the Future IDs team and lead artist Gregory Sale, the Parks Conservancy Community Engagement team and National Park Service staff on Alcatraz Island to implement meaningful programs and engage with systems-impacted communities throughout the duration of the exhibition. Contractor will serve as a liaison between the project's partners on and off Alcatraz Island.
Alcatraz is a National Park and an island. All staff take the ferry to and from the island to work. Appropriate clothing (layers) and comfortable, safe footwear is necessary for the working environment. This position requires physical activities such as standing and walking for extended periods. There are a variety of wildlife and marine bird populations that inhabit the island. There are different levels of engagement with the monthly programs; some will be private or closed events, others will be open to the public. Knowledge of the site, as well as the artworks, is required and will help provide optimum engagement and understanding of the exhibition's needs.
About Future IDs at Alcatraz
Future IDs at Alcatraz is a yearlong project, exhibition, and series of monthly public programs in the New Industries Building on Alcatraz Island, February 2019 – October 2019. The installation features ID-inspired artworks created by and with individuals who have conviction histories as they conceive and develop a vision for a future self. In stark contrast to prison-issued IDs, these artworks represent individual stories of transformation. Social practice artist Gregory Sale and a team of collaborators have translated criminal justice reform efforts into a visual language to shift thinking about rehabilitation, reentry, and reintegration. Sale, Dr. Luis Garcia, Kirn Kim, Sabrina Reid, Jessica Tully and many others have designed the project to function as a platform for conversation through performances, workshops, and civic dialogue experiments that are co-curated with community partners.
This project on Alcatraz is presented in partnership with the National Park Service and the Golden Gate National Parks Conservancy through the Art in the Parks program. It engages Alcatraz's layered history as an iconic federal prison, birthplace of the Native American Red Power Movement, national park, and International Site of Conscience. Together, the exhibition and public programs function as a platform for conversation through performances and civic dialogue experiments that are co-curated with community partners. Visit parksconservancy.org/futureids to learn more.
Key Contractor Duties and Responsibilities:
The Outreach and Operations Coordinator will:
Possess or develop a working knowledge of Alcatraz history and operations, National Park Service visitor service basics, the Future IDs at Alcatraz project, and the participating Future IDs artists.
Co-manage and co-produce five-eight program days throughout the duration of the exhibition including:
Coordinating and attending exhibition and program related meetings on and off Alcatraz Island.
Coordinate with program partners in overall planning and development in collaboration with park staff.
Ticketing processes and community outreach, in collaboration with program partners and park staff.
Day-of logistics.
Welcoming guests, guiding groups to the exhibition space, and answering questions about the island and the exhibition.
Monitor and adjust visitor flow to assure the highest level of visitor comfort and safety.
Support with exhibit volunteer and intern outreach and scheduling in collaboration with park staff and the Future IDs team.
Visitor experience in the exhibition and related programs:
Engage general Alcatraz visitors in the exhibition, answering questions, providing information on Alcatraz history and the artworks and the project's themes, asking guests to sign the guestbook.
Monitor appearance and cleanliness of exhibition space and artworks when on Island.
Assist with management of visitor flow and visitor counting.
Opening and closing exhibition space as needed when on Island.
Serve as a liaison between the Future IDs team and the Alcatraz Island staff to communicate maintenance reports, staffing issues, and other exhibition related communication.
Coordinate documentation of the exhibition and related programs, collecting photos and videos and sharable content (quotes, descriptions, etc.) to be shared with project partners to post on social media and/or website(s).
Knowledge, Skills, and Abilities:
Exhibit confidence in self and others; inspire and motivate others to perform well; effectively influence actions and opinions of others.

Demonstrate attention to detail, accuracy, timeliness and thoroughness.

Problem solving: identifies and resolves problems in a timely manner; works with others to solve complex issues.
Visitor Service: possess and promote the highest possible level of visitor service to Alcatraz visitors.
Interpersonal skills: considers and responds appropriately to the needs and capabilities of different people in different situations; is tactful and treats others with respect; relates effectively to others when encountering difficult situations.
Develops strategies to achieve exhibition goals; identifies external issues and opportunities; adapts strategy to changing conditions.
Speaks clearly and effectively, is thoughtful, persuasive; writes clearly and informatively; varies writing style to meet needs.
Pitches in and contributes to achieving group goals; supports everyone's efforts to succeed; balances team and individual responsibilities.
Completes tasks on time; takes responsibility for own actions; can be relied upon
Attendance/Punctuality is important.
Education and Experience:
College Degree, Art, Justice Studies, Hospitality, History, or other related fields, preferred.

2-5 years' experience in public program production, exhibition coordination, community organizing, and visitor services and interpretation preferred.
Demonstrated interest or experience in art, justice, and/or history.
Lived experience and/or Demonstrated interest in amplifying the voices of individuals with conviction histories.
Ability to work comfortably engaging and communicating with large numbers of people in a public setting.
Supervision:
Certifications or Licenses:
Computer Skills:
Familiarity and fluency in social media including Facebook, Twitter and Instagram preferred.

Proficiency in Microsoft Word, Xcel, Google Docs.
Familiarity or ability to learn to operate Eventbrite ticketing services.
Physical Requirements and Work Environments:
Work is performed in part on Alcatraz as well as Fort Mason in San Francisco. Alcatraz is a remote location requiring transportation to and from work on a boat. Employees on Alcatraz are routinely exposed to a variety of weather conditions on the way to and from their work locations. Work will also be performed at Pier 33 greeting and coordinating exhibition groups.

Work requires a significant amount of standing or walking outdoors and on concrete floors and coordinating operations in heavily populated and/or restricted areas.

Work requires squatting and kneeling.
Requires regular time at a computer for coordinating purposes. Contractor is expected to provide his or her own computer.
Frequently lifts, carries and positions objects weighing up to 30 pounds.
Requires adherence to the Parks Conservancy dress standards for public venues.
All art locations are on Alcatraz Island. Buildings are unheated, the physical environment is rustic.
Exhibition requires to work during peak visitor hours, which will likely include one weekend day, and possible holiday shifts.
Work hours and days:
Contractor is not to exceed 24 hours (3 days) a week. Workweek may include at least one weekend day. Contractor must be available the following public program dates:  
Saturday, May 18, 2019
Saturday, June 15, 2019
Saturday, July 20, 2019
Saturday, August 17, 2019
Saturday, September 21, 2019
Saturday, October 19, 2019
How to apply:
Applications for this contractor position are due by April 22. To apply, please submit the following materials to FIDS.Alcatraz@gmail.com:
Resume.
Letter of Intent.
Two (2) references. Please provide names and contact information.
Schedule of Availability.
Application Dates
April 5, 2019

-

April 22, 2019
Job Type
Galleries