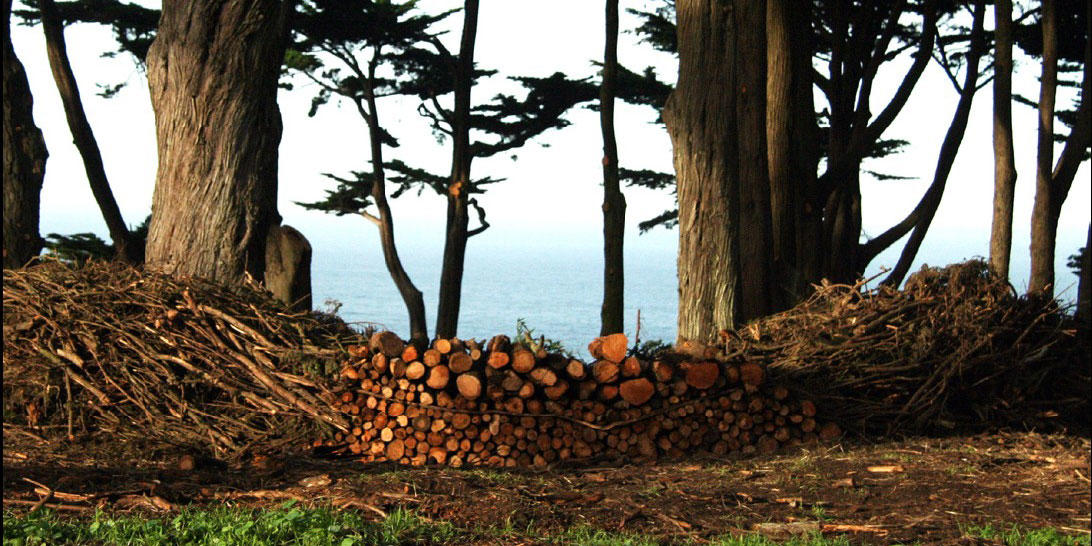 Brush Pile Sculpture by Dee Hibbert Jones
Parks Conservancy
2006 | sculpture
As Lands End underwent dramatic renovation between 2006 and 2009, ground cover was removed and habitats and trails were being restored. The National Park Service and the Golden Gate National Parks Conservancy created new trails to join the historic paths already in place at the park site. The resulting debris was required to be left along the trails for the animals to use. To prevent the debris from becoming a hindrance to visitors, and to enhance the head of the new trail, artist Dee Hibbert-Jones, with the assistance of UC Santa Cruz students, created a 172 foot brush sculpture. In addition to serving as a natural habitat, the sculpture helps prevent trailblazing off the path. The careful placement of the brush caused visitors to look twice. The arrangement of the stacked branches, logs, and twigs suddenly allowed one to see the color variations, patterns, and shapes of the landscape.
To learn more about the artist and her work as an Associate Professor of art UC Santa Cruz, please visit: art.ucsc.edu/faculty/dee-hibbert-jones. 
Brush Pile Sculpture was created through the partnership of the Audubon Society, the National Park Service, the Golden Gate National Parks Conservancy, and the Goldman Foundation.