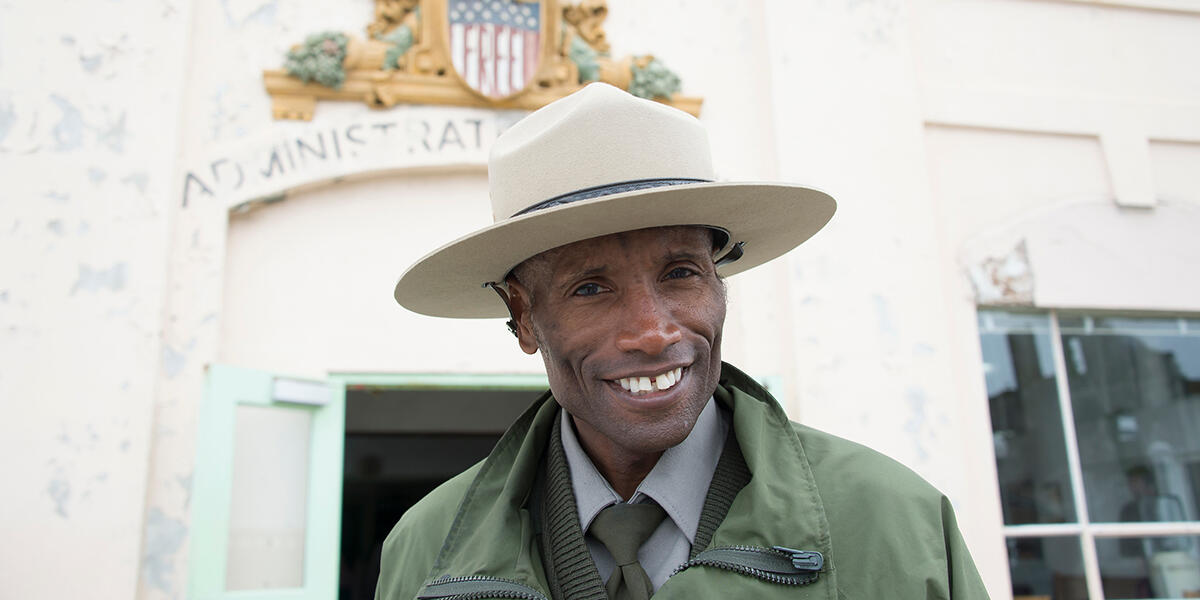 Ranger Benny Batom at Alcatraz
Alison Taggart-Barone
For nearly 30 years, Ranger Benny Batom has uncovered Alcatraz Island's lesser-known history to bring untold stories to visiting students. He works to facilitate dialogue addressing contemporary issues around incarceration and justice. We sat down with Ranger Benny to ask him about his history and this moment.
Why were you inspired to become a ranger?
I worked in Yosemite in the visitor center there. I've always been an outdoor person. As a kid my dad would take us fishing places like that. I got interested there because I like the outdoors and letting folks know what the best hike was in a busy place. I was able to get a position back here in the Bay Area in 1992 and I became the Education Program Manager for Alcatraz.  
How has Alcatraz changed over the years?
I think the main thing is how we tell the stories. Not only what stories we tell but how we tell them. We're looking at being more intentional with [asking] questions of people's own experiences rather than questions that require an answer, like a quiz. The only right answer comes from your own lived experiences.
What untold stories and themes do you discuss with students?
We use Alcatraz as a platform to talk about mass incarceration with students and visitors and make connections with events that happened throughout history. We have a program called 'Unlocking Alcatraz' that looks at stories like Robert Lipscomb, who was there in 1954 and fought for equal rights within the prison system, Robert Simmons, who was a conscientious objector during World War I, and the 1969 Occupation of Alcatraz by the Indians of All Tribes. We need to talk about these stories, which are about protest and people making their voices heard. You can find a direct line to people making change today. I think it's so important to tell these stories because we don't often hear from people of color, we don't often hear from these voices. It's important for the site to have people realize it's more than the stories that are so celebrated over the years through the media and the television and Hollywood.
What is something about being a ranger on Alcatraz that really inspires you?
I work with an amazing group of folks from our education program and interpretive staff and I'm always inspired by what they do and how they tell a story and how they work with students. We have learned so much from each other on how to make interpretation on the island relevant. That's where I get a lot of my passion, from working with our education program and my colleagues there.
What's the most meaningful place to you on the island?
For me it's the west side of the island called West Road, looking out toward the Golden Gate Bridge. On a cold windy day, sometimes there's a little spot around there just below the recreation yard—the birds are out there and you look out over the Bay and it's quiet.
What are your hopes for Alcatraz moving forward?
We have a platform, we have people on the island and now I think it's important to engage in a conversation that's more impactful. That they'll walk away with something that they can take with them that might bring about change. Especially right now. We have an opportunity for them to be part of a bigger, broader conversation beyond what's happened on the island. 
October 22, 2020