Trails Forever Intern, Projects & Design
Full-time Internship, 6-12 months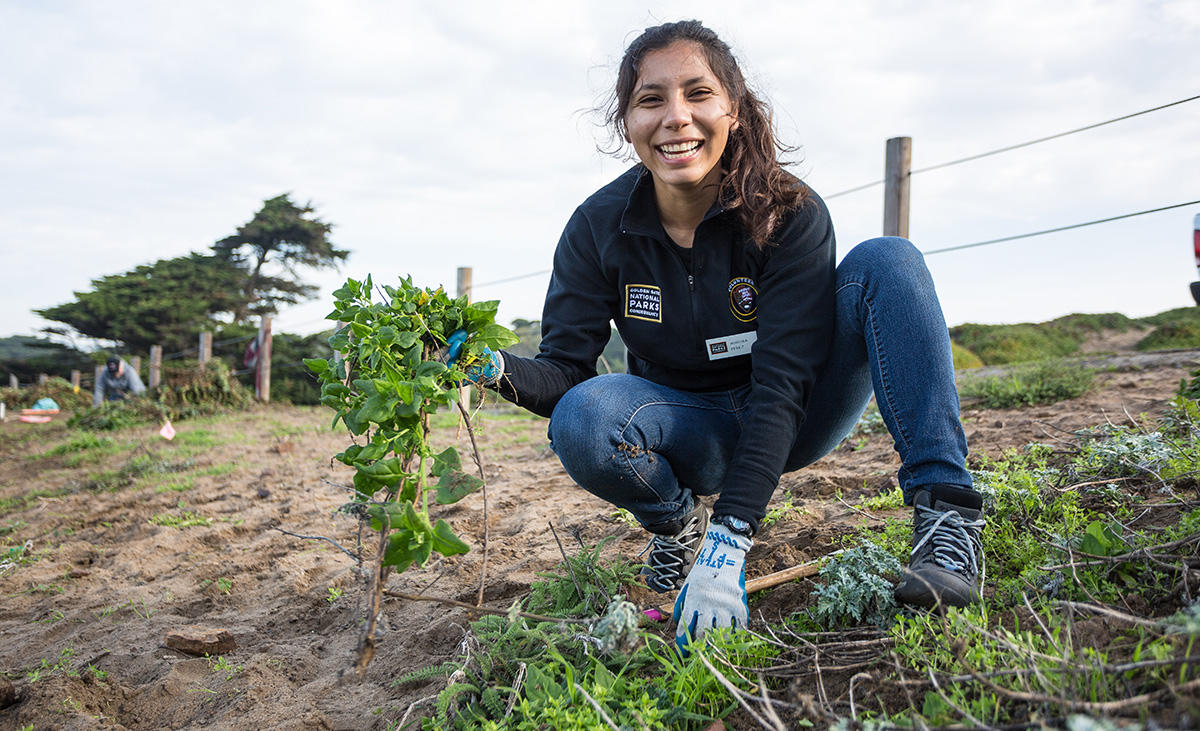 Aurora Perez.
Maria Durana / Parks Conservancy
Are you interested in park planning and design in urban environments? Are you excited to have hands-on expeirence planning for future trails and park improvements in the Bay Area?
  The Golden Gate National Parks Conservancy's Projects & Design team is looking for two year-long Trails Forever interns to join our team!   The Parks Conservancy is the non-profit support partner to six of the Bay Area's open space management agencies, incuding the National Park Service and the Presidio Trust. The Projects & Design team works to preserve and restore habitat and historic resources, improve facilities for park visitors, protect wildlife, and plan and design parks for the future with the community. Through our Trails Forever initiative we work closely with agency partners to rehabilitate trails and engage the community to build and maintain a world-class trail system.   We believe in creating a team representative of local communities, providing just and fair access to opportunities, and building a team culture that engages and empowers each person to achieve our core values.
Description of Duties
Research
The intern will assist with project planning by compiling and reviewing project literature, studies, and reports; identifying and researching precedent project case studies; and conducting interviews with park staff, stakeholders, or other experts.
Training includes how to: Navigate park libraries and archives, review and interpret technical studies and documents; identify information gaps and how/where to obtain additional information.
Site Analysis
After existing research has been reviewed the intern will assist with evaluating what additional information neeeds to be gathered to inform the planning process. They will assist with developing a scope for site analysis and creating tools to collect additional data.
Training includes how to: determine topics and criteria for a site, develop a strategy and plan for site analysis; develop a timeline; set up site visits; create visitor use surveys or other in-field studies; take and organize digital images; coordinate and collaborate with a wide range of people. 
Design Studies
From the site analysis and research findings the intern will assist with developing diagrams, maps, and other graphic studies to explore potential design concepts for the project site. This will be an opportunity for the intern to grow their design skills and apply them to real projects while building their design portfolio.
Presentation & Report Preparation
The intern will assist with compiling and summarizing the planning effort by developing presentation material.
Training includes how to: develop a report outline, draft report content, design and layout a report, prepare presentation slides.
Applications will be evaluated based on:
Interest in park planning and design: relevant experience or education, such as a prior experience or a college degree in planning, architecture, landscape architecture, environmental science, or related field.
Research and organizational skills: able to locate information and resources. Can accurately record information and data. Can self-check work.
Design skills and graphic communication: Basic understanding of how to read and create design drawings (plans, sections, evaluations, perspectives). Basic understanding of graphic design. Can use design programs including Adobe Creative Suite, drafting and 3D modeling programs is a plus. Learns new applications quickly.
Written and verbal communication: ability to communicate clearly and effectively via email/writing, phone, and in-person. Edits and proofreads documents. Can use MS Office or Google Suite to prepare documents and presentations.
Work ethic and interpersonal skills: able to work in a focused manner, whether alone or in a team. After initial guidance and training, can work on projects independently. Willing to ask for support when needed.
Physical Requirements and Work Conditions
Work is performed in an office setting, intern will regularly sit at a computer workstation and operate electronic equipment 6-8 hours per day.
Office is in Fort Mason, San Francisco.
Terms
A taxable stipend of $75/day OR a taxable stipend of $45/daywith park housing (for applicants more than 50 miles away from San Francisco).

Housing is a single-occupancy dormitory style building in the Marin Headlands or the Presidio. Basic accommodations include a furnished private room, shared kitchen, and common areas. Interns must sign a housing contract, abide by housing rules, and help maintain the household. Housing does not accommodate partners, family members, or pets. Eligibility of this option is limited: please inquire if interested.

Internship starts approximately June 1, 2019
Special access to Park Academy

classes 

Length of position: 6-12 month commitment through December 2019 or January 2020.
Intern must have a Social Security Number or an Individual Taxpayer Identification Number to receive stipend. Stipend is a taxable event.
Schedule: 5 days per week, Monday - Friday schedule. Vacation and sick time available. 
To Apply
Please email a resume and thoughtful cover letter including relevant personal and professional experience to ctando@parksconservancy.org with the position titile in the subject line.
Please also send portfolio samples of design and graphic work, if available. Include special skills, personal background, and unique perspectives youw ould bring to the position (ex., GIS, photography, art, multilingual abilities, etc.)
We are accepting applications until May 1, 2019.
The Golden Gate National Parks Conservancy and National Park Service strive to engage a workforce reflective of the community it serves. All qualified applicants are encouraged to apply.