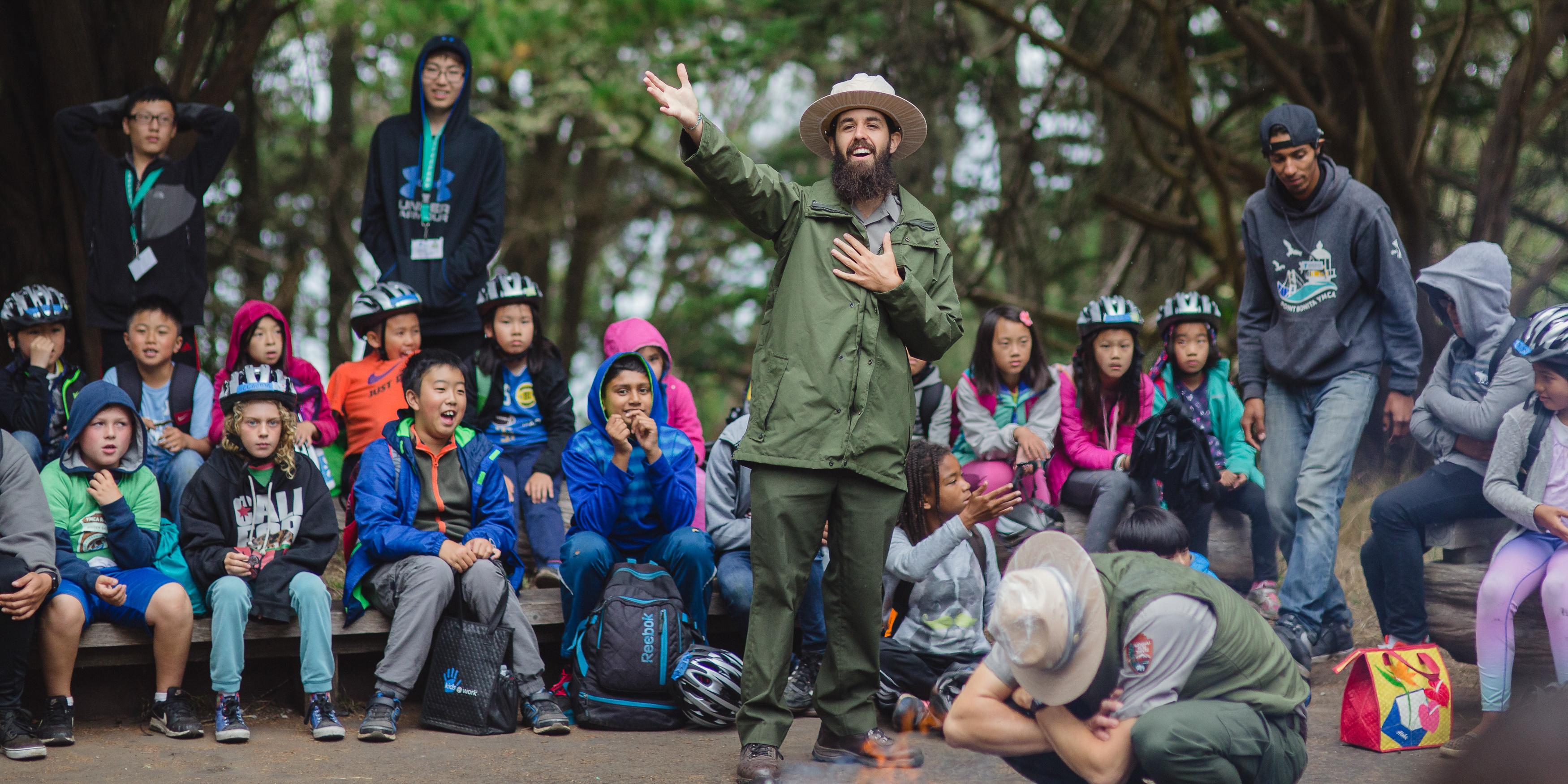 Ranger Rafael Leads Story Time at Rob Hill Campground
Erin Conger/YMCA
Interested in working with K-12 students? Fascinated by the geology at your feet? Want to know more about the magic of the ancient redwood forest? Provoked by the possibilities of archaeological investigation? Do historic forts fascinate you? The Golden Gate National Recreation Area is looking for Education Volunteers! You will work side-by-side with National Park Service Rangers to deliver K-12 education programs that involve students in personally meaningful and engaging learning in the sciences and social studies. Learn more about the education programs at the GGNRA here. 
Apply to be an Education Volunteer! 
As an Education Volunteer with the National Park Service, you will: 
Facilitate field programs with other park staff and interns  
Help create lessons and field activities for outdoor programs 
To enroll as a volunteer: 
Attend virtual orientation on September 10, 2022, from 10:30-11:30am 
Attend 3 hour in person training on September 17, 2022 (Timing and location TBA) 
Shadow 1 education program in October 2022 

Please reserve your spot for orientation by Friday, August 27, 2022, spots are limited.  
Time Committment: 
Preferred commitment from October 1- December 21 and January 18 - June 2 
1 day a week required (more days welcomed): 5–7-hour shifts on Tuesdays, Wednesdays, Thursdays, or Fridays 
Qualifications
Good communications skills  
Organizational skills 
Bi-lingual skills welcomed, especially Spanish and Chinese (or other language) 
Professional demeanor while working with visitors and colleagues  
Interest in working with Title I schools in the Bay Area 
Interest in student-centered learning, culturally relevant pedagogy, and curriculum-based education.
Enjoy teaching and working with people, including youth
Work Environment
The Golden Gate National Recreation Area (GGNRA), with sites such as Muir Woods, Alcatraz Island, Marin Headlands, Fort Point National Historic Site, and Presidio of San Francisco, offers a dynamic outdoor classroom.  Volunteers will be working on their feet and must have the ability to hike park trails and traverse steep terrain.