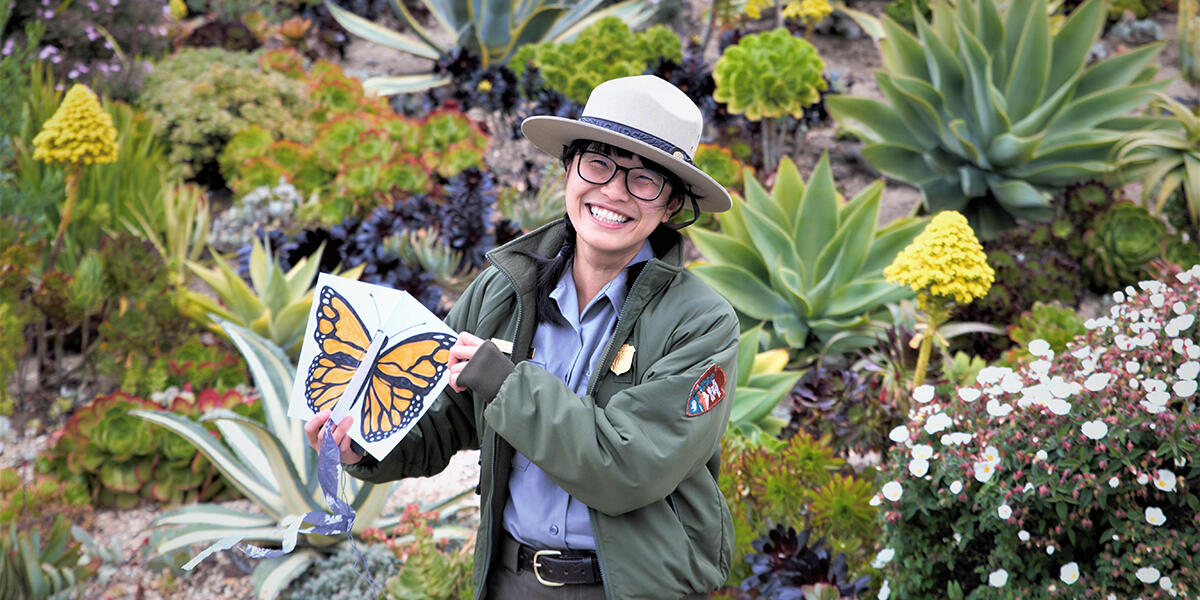 Ranger Rebecca Au
Alex Sobiloff/NPS
Volunteers can assist the National Park Service in many ways including visitor center operations, resource management projects, research work, historic and natural history program, clerical assistance, historic restoration, park maintenance, and more. Become a volunteer today!
Review the position description below and APPLY HERE. First training is on Thursday, March 10th, 2022! 
 
---
Presidio Visitor Center Interpretive Volunteer
Description
Interpretive Volunteers assist rangers in front-line visitor experiences in a variety of ways. Responsibilities include:
Staff the Visitor Center and provide efficient, accurate, courteous services and helpful information to the public
Rove the Main Post and Tunnel Tops to provide park visitors with information on the history of the area
Support park rangers in general site operations
Gain knowledge of park resources and 21st Century interpretive skills and techniques
Develop, and present formal interpretive programs to the public; Outlines are submitted to VIP Coordinator
Share diverse history and culture related to the park such as Buffalo Soldiers, Spanish-Mexican era and Nisei servicemen
Use interpretive techniques to help visitors find emotional and intellectual connections to park resources
Assist with special events and special projects
Record same-day visitor contacts and occurrences
Attend trainings and lectures to facilitate continuing education
Learn and operate NPS radio for park communication
Other duties as assigned such as littler pick up
If applicable, operate a government vehicle to report to site locations
Skills Needed / Preferred
Enjoy working with a diverse public • Desire to sharpen communication skills while sharing information and providing good customer service • Remain patient, calm and courteous during days of high visitation, especially in emergency situations • Communicate effectively with the public and with park personnel (park rangers, park police, partner organizations) • Knowledge of local area and resources • State ID or driver's license • Bilingual skills helpful • Desire to learn and try new things.
Benefits to Volunteers
Receive training in NPS mission and policies • Sharpen coordination skills in a fast-paced, ever-changing environment • Communicate with people of diverse cultures • Personal enrichment and experience working with park staff in a national park setting • Opportunity to get to know the park site intimately • Accrual of knowledge and skills necessary to perform 21st Century interpretive functions • Join a community of volunteers who care for and share historic resources with the public • Receive a Volunteer Pass for one year of free entry to public lands upon reaching 250 volunteer hours.
Additional Details
Number of Volunteers Needed: 6-10
Age Requirement: 16 years or older
Starting Date: Thursday, March 10, 2022
Minimum Commitment: Volunteer a minimum of 4 hours per month
Location of Position: Presidio Visitor Center, GGNRA
Supervisor: James Osborne
Phone: (415) 561-4959
Safety
Safety concerns pertaining to the Covid-19 pandemic are an utmost priority and precautions have been taken to ensure our active volunteers remain as safe as possible when interacting with the public.