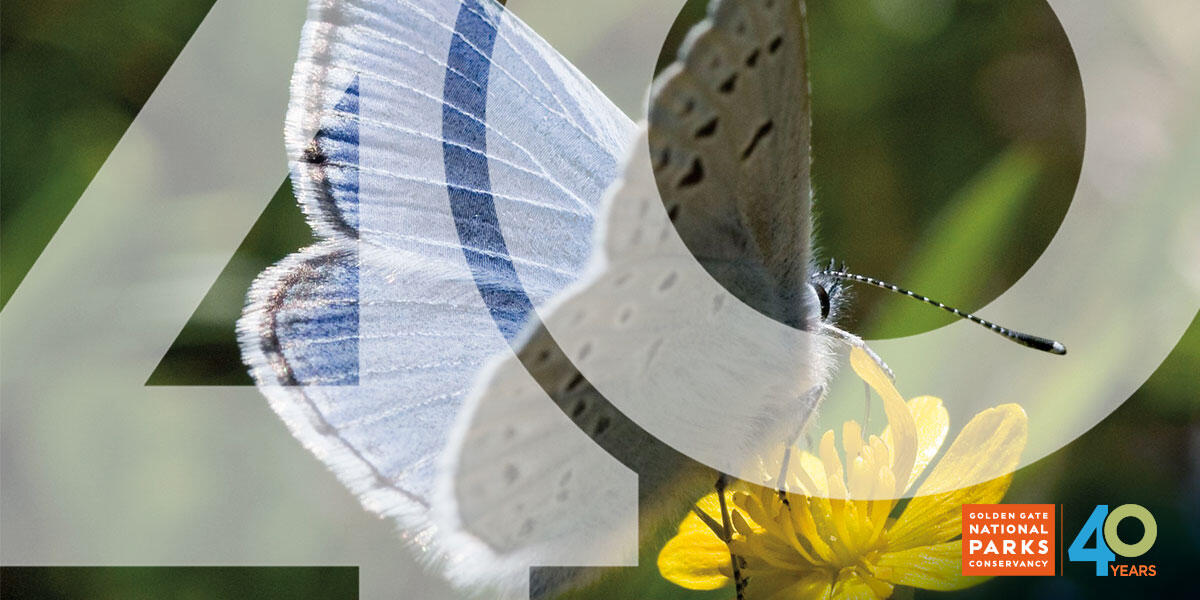 The Parks Conservancy has been protecting endangered species like the Mission blue butterfly for more than 40 years.
Parks Conservancy
Wow, 40! It's eye-popping to think of all we've accomplished together in four decades since the Golden Gate National Parks Conservancy was formed on Aug. 11, 1981. 
Together with our members, donors, the National Park Service (NPS), the Presidio Trust, and other cherished partners, we've helped transform these parks into destinations for all.  
We've helped convert the Presidio and Fort Baker from US Army posts to park sites, and rebuilt habitat for endangered species like the Mission blue butterfly and San Francisco garter snake. We've transformed Crissy Field from a concrete parking lot into an iconic San Francisco park. And we've built opportunities for people from around the Bay Area to discover parks through free youth programs, community outreach, and more. 
In that first year, we raised $9,000 to help support the GGNRA. Since then, the Parks Conservancy has contributed a grand total of $624 million to improve parks and park connections. The parks thank you! Not a member yet? Join us today!
Over these 40 years, we've remained dedicated to parks and people. So we wanted to look back at some of the people, park sites, and memorable moments that have made the biggest impact on the Parks Conservancy and the Golden Gate National Recreation Area (GGNRA) over our 40 years. 
What will the next 40 years bring? Public parks are becoming even more vital, catalysts for positive change in society and the environment. The Parks Conservancy plans to be at the forefront of that change, and we're excited to build the next chapter of these parks with you. 
It's been an incredible 40 years in the parks. Make sure to check back to this page, each quarter over the next year we'll be adding 10 items to this list, until we get all the way to 40!
40 for 40
Amy Meyer 
There wouldn't be a GGNRA without Amy Meyer. She formed the People for a Golden Gate National Recreation Area in 1971, and her advocacy, along with that of other other park champions like Ed Wayburn and Congressman Phillip Burton, led to the formation of the GGNRA in 1972. Amy has been a fixture in the parks ever since.  
"We have to keep watching out and working all the time to protect these natural and cultural treasures," Amy said. Read more about Amy and other women of the parks.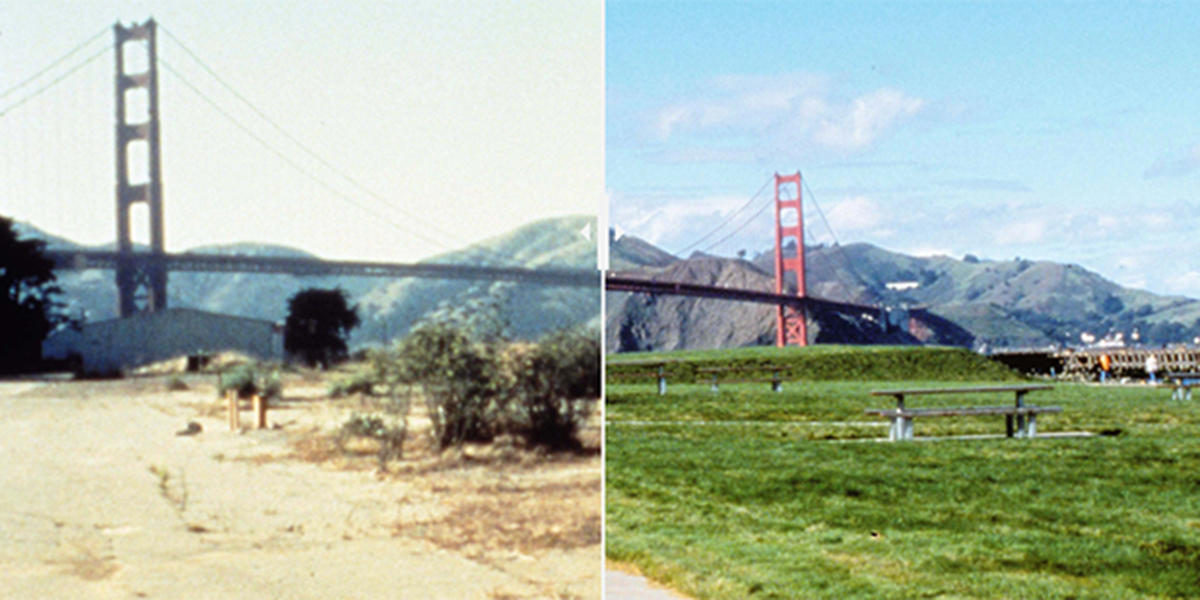 Crissy Field transformation 
On May 6, 2001, the NPS and Parks Conservancy unveiled the revitalized Crissy Field, reshaping San Francisco's northern waterfront. Thanks to thousands of community volunteers, donors, and the vision and generosity of the Evelyn and Walter Haas, Jr. Fund, Crissy Field has become a launch spot for fun. Check out then-and-now interactive sliders to see the transformation.
Fort Baker 
In 2002, the Parks Conservancy and NPS kicked off the revitalization of this former US Army base, which reopened in 2008 with the gorgeous Cavallo Point lodge. 
Crissy Field Center 
In 20 years, we've reached more than 720,000 participants through youth programming at the Crissy Field Center. Soon, our youth programs will come back to their renovated home at Presidio Tunnel Tops, part of expanded offerings for youth and the community. 
Ryan Jones 
Ryan became involved in the parks as a high schooler and went on to lead and teach hundreds of students in the Bay Area with his infectious enthusiasm, deep knowledge, and beautiful sketches of wildlife. After he was tragically struck and killed by a suspected drunk driver on the Bay Bridge, the Parks Conservancy established the Ryan Jones Youth Program Fund in his honor, and the wildlife illustrations adorning our Roving Ranger mobile trailhead were made by Ryan. 
Mission blue butterfly 
The Parks Conservancy has helped restore habitat for the federally endangered Mission blues at several locations, including Milagra Ridge in San Mateo County, and Wolfback Ridge, Hawk Hill, and Oakwood Valley in Marin County. A recent multi-year translocation project has yielded promising results!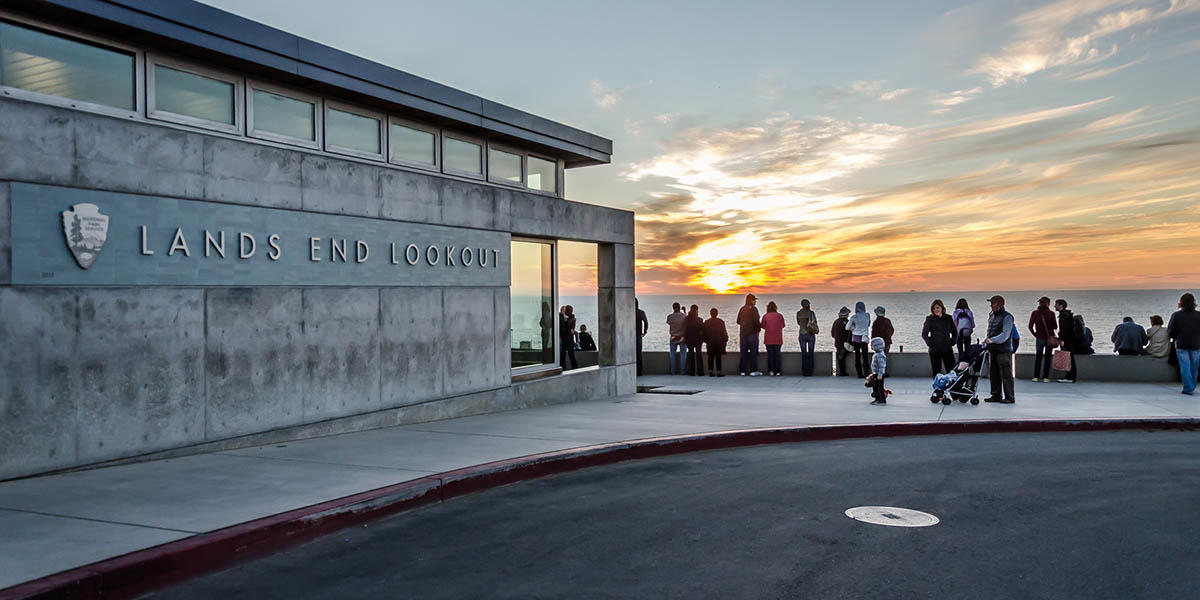 Sunset at Lands End Lookout
Alison Taggart-Barone/Parks Conservancy
Lands End 
In 2012 we unveiled the new Lands End Lookout, later named the best new public building of the 2010s by the San Francisco Chronicle. The Parks Conservancy has been dedicated to improving Lands End with regular volunteer events, StoryWalks, and more. 
One Tam 
In 2014 we helped launch the One Tam partnership, which mobilizes the resources of the NPS, California State Parks, The Marin Municipal Water District, Marin County Parks and the Parks Conservancy to ensure a vibrant future for Mt. Tamalpais. The partnership has been a model for land management agencies working together for a common good. 
Golden Gate Bridge 75th anniversary 
It was quite the celebration, finished off with a bang. The Parks Conservancy worked closely with our partners to produce a year of events commemorating the bridge, culminating in a massive fireworks show on May 27, 2012.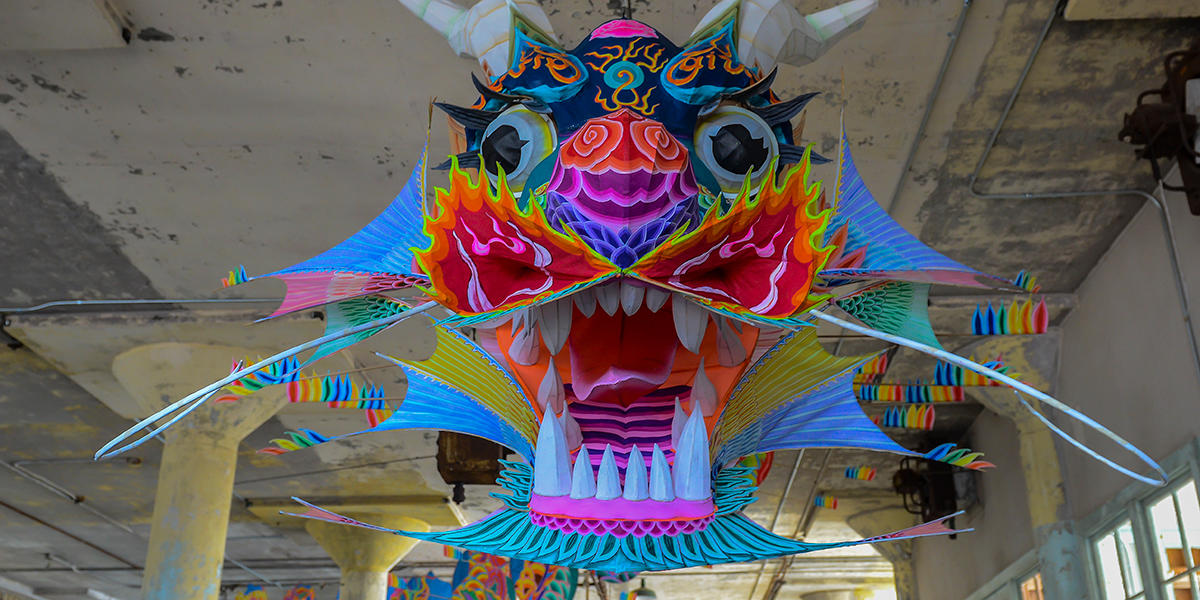 Ai Weiwei Art Installation at Alcatraz
Curran White/Parks Conservancy
Ai Weiwei ON ALCATRAZ  
Chinese artist and activist Ai Weiwei brought his works to Alcatraz Island in 2014 and 2015, thanks to the FOR-SITE Foundation, in partnership with NPS and the Parks Conservancy. Ai's works raise urgent questions about human rights and freedom of expression, and he found compelling new context in this exhibition of works created specifically for Alcatraz. 
Alcatraz Cellhouse Audio Tour  
In 1987, the Parks Conservancy first introduced the Alcatraz Cellhouse Audio Tour, an award-winning model for immersive visitation experiences at national parks. Millions of visitors have since taken this fascinating tour, which features interviews with those formerly incarcerated and correctional officers. 
Chris Lehnertz and Greg Moore  
In 2019, the Parks Conservancy entered a new era of leadership, welcoming Chris Lehnertz as President & CEO after 33 years with Greg Moore at the helm. It was a time to celebrate Greg's incredible impact on parks while looking to the future with Chris. Her passion for making parks relevant and accessible to all communities has helped the Parks Conservancy launch into its next era, building on our work to connect people with parks for the next 40 years and beyond. 
Presidio: Post to park 
The Parks Conservancy and our partners celebrated the transfer of the Presidio from military post to national park in 1994, and we've supported many Presidio projects since. From El Polin Spring to the Presidio Visitor Center and the new Presidio Tunnel Tops, the Parks Conservancy, Presidio Trust and NPS have transformed the Presidio into a park cherished by everyone today. 
Park Stewardship Intern and Volunteer
Maria Durana/Parks Conservancy
Volunteers  
As part of a cooperative program of the NPS, Parks Conservancy, and Presidio Trust, our volunteers have gifted millions of hours of their time to the parks over the years, and we couldn't be more grateful. You've given your hands, your hearts, your Thursdays and your Saturdays. And you often get to see your hard work pay off, when you traverse that trail you improved or see a new space like Black Point Historic Gardens reopen thanks to your hard work. Thank you volunteers!  
Trails Forever  
Brought to our parks by late Superintendent Brian O'Neill in 2002, and modeled after its sister program in Acadia National Park, the Trails Forever initiative has led to the creation of more than 125 miles of trail and restoration of over 1,000 acres of habitat. Join us at our annual Trails Forever dinner to make your impact on parks! 
Brian O'Neill  
As General Superintendent of the GGNRA, Brian O'Neill was renowned throughout our community and around the world for his work with parks, conservation, and youth. He inspired many young people to pursue careers in public service and conservation, and upon his untimely death in 2009, the Parks Conservancy created the Brian O'Neill Youth Leaders Fund to honor his legacy. 
Muir Woods Visitor Center  
The Parks Conservancy has helped fund several projects at Muir Woods National Monument through the years, including the construction of the Muir Woods Visitor Center in 1990. Visitors can find park gifts, maps, and more before starting your experience at the iconic entrance sign.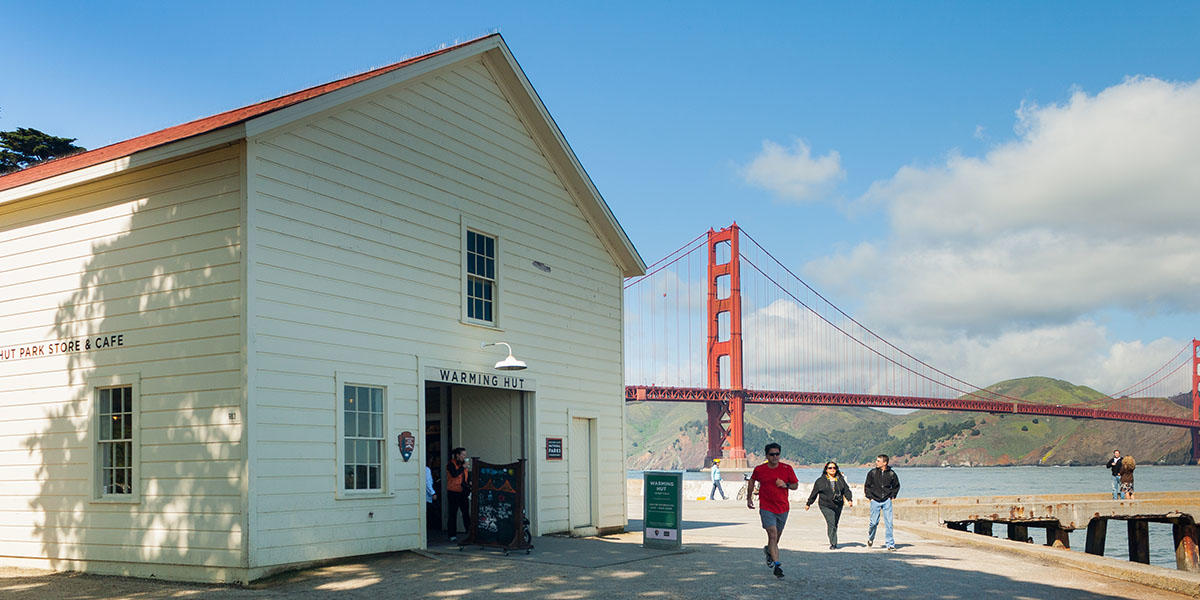 Visitors to the Warming Hut at Crissy Field are seen in a file photo.
Kirke Wrench / National Park Service
The Warming Hut 
Crissy Field wouldn't be the same without the beloved Warming Hut! A popular destination at the end of the Crissy Field Promenade Trail, the Warming Hut has recently been refreshed and is serving Equator Coffees, snacks from local and California producers, and locally designed gifts to delight your loved ones. 
Native Plant Nurseries  
Through the years our Native Plant Nurseries, run in cooperation with NPS and the Presidio Trust, have grown millions of plants for projects throughout the Golden Gate National Parks. Our nurseries engage the community in unique ways, like the Oceana High School Nursery in Pacifica, which invites students to learn about plants and the environment around them. 
Redwood Creek and Muir Beach 
In 2009, the Parks Conservancy and NPS launched a multi-year project to repair decades of damage and re-create a self-sustaining system in Redwood Creek at Muir Beach. Completed in 2014, the 46-acre project improved habitat for endangered coho salmon and threatened steelhead trout, established breeding habitats for threatened California red-legged frogs, decreased flooding on nearby roads, and made several improvements to visitor access and interpretive experiences.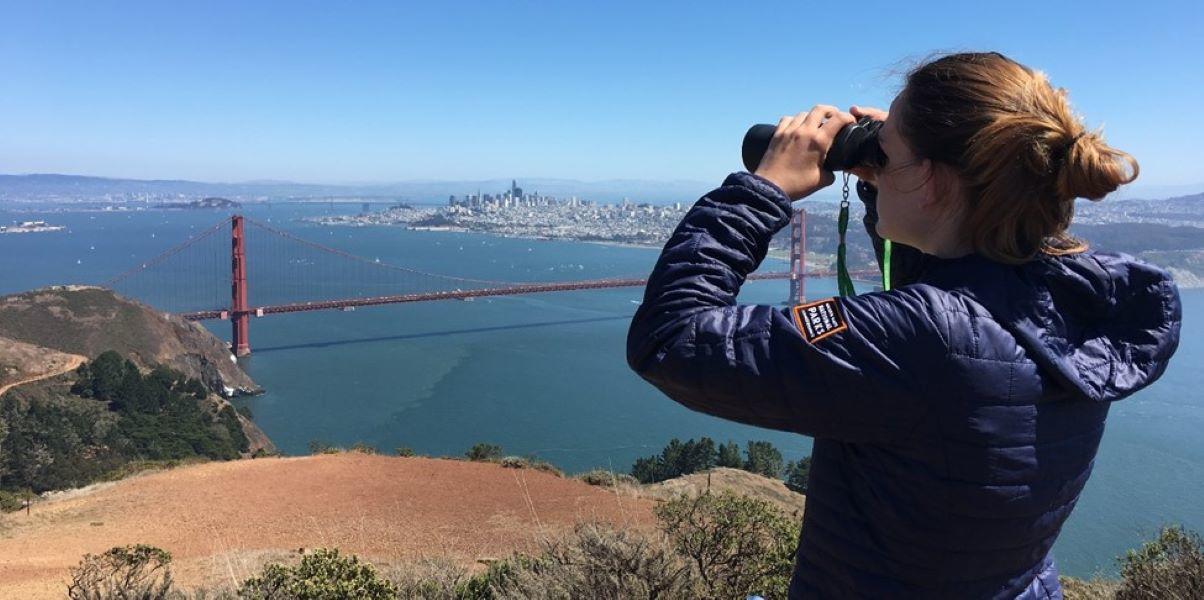 2019 GGRO Intern Paula Eberle scans the skyline from Hawk Hill
Emma Regnier/Parks Conservancy
GGRO and Hawk Hill 
For nearly 40 years, our dedicated staff and volunteers have been counting and banding hawks and other raptors at Hawk Hill through the Golden Gate Raptor Observatory (GGRO). Recent rounds of improvements at Hawk Hill, including a trail and habitat overhaul completed in 2017, have made this high point a stunning destination for birders and non-birders alike. 
Alcatraz Occupation Anniversary 
On Nov. 20, 1969, Native American activists started the 19-month Occupation of Alcatraz Island, a key moment in the Native American rights movement. In 2019, the NPS, Parks Conservancy, and Indians of All Tribes commemorated the 50th anniversary, welcoming original Occupiers to the island for special events and the launch of an exhibit featuring photos and items from the Occupation. 
Phil Burton and Ed Wayburn 
While Amy Meyer is known as the "Mother of the GGNRA," Congressman Philip Burton and Sierra Club president Edgar Wayburn also had key roles in the formation of the new park in the 1970s. Wayburn helped Meyer form the People for a Golden Gate National Recreation Area, and advocated for a larger park than originally proposed. Burton introduced the bill that resulted in the eventual formation of the GGNRA in 1972. 
Presidio Visitor Center 
In 2017, the Parks Conservancy, NPS, and Presidio Trust unveiled the dynamic William Penn Mott, Jr. Presidio Visitor Center. This Presidio destination has engaging video exhibits and products to help visitors learn about the Presidio and enjoy their time in the park. 
NPS Centennial 
In 2016, we celebrated 100 years of the National Park Service with a Junior Ranger Jamboree, a "Packing the Parks" backpack trip, and the launch of our multi-year partnership with San Francisco Public Library, which is still going strong!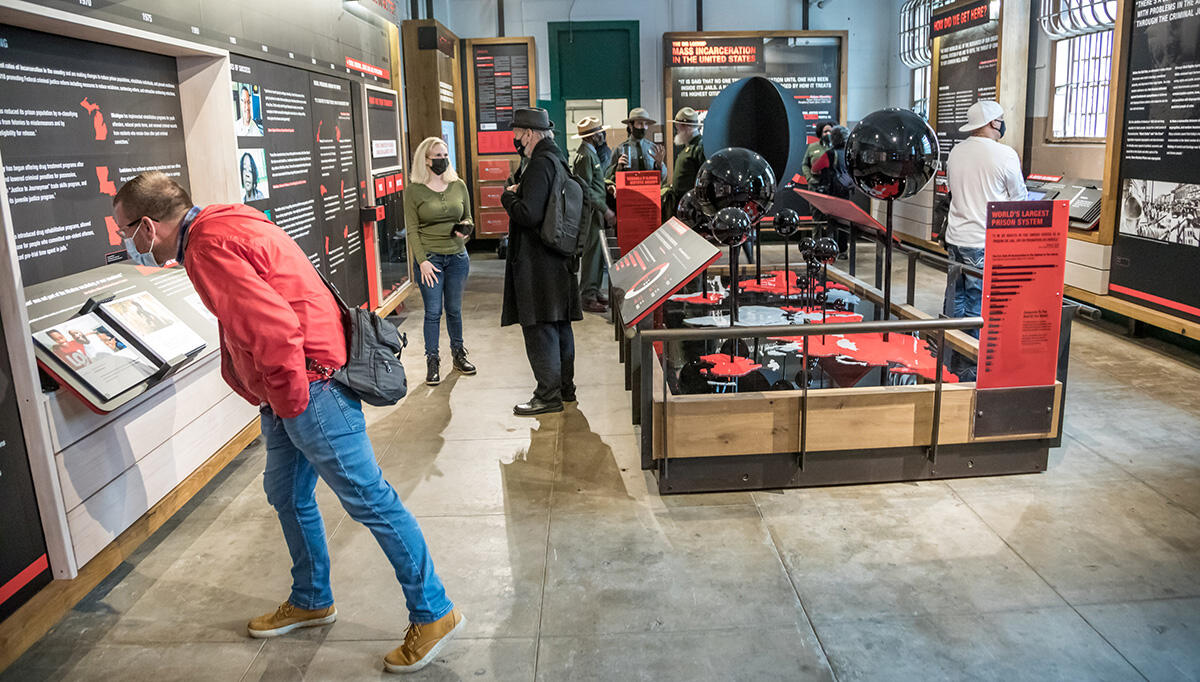 'The Big Lockup' exhibit seen on Alcatraz Island.
Will Elder / NPS
Alcatraz Island improvements 
The Parks Conservancy and NPS have worked through the years to preserve and interpret Alcatraz Island's unique history. Together we unveiled critical renovations in 2007, and in 2021 opened "The Big Lockup" to tell the story of the U.S. prison system through the voices and experiences of those formerly incarcerated, scholars, and criminal justice advocates. 
The Board of Trustees 
We're grateful to have a dedicated group of Trustees, whose vision and care has ensured that our parks have become welcoming destinations to all. You can meet our full Board of Trustees here. 
Black Point historic gardens 
For this one, we got help from some grazing goats! In 2017, the Parks Conservancy and NPS began a years-long rehabilitation of Black Point historic gardens in Fort Mason. Decades of overgrown vegetation and over 2,000 pounds of trash were removed with the help of community volunteers, contractors, and staff (and goats!). The hillside reopened to the public in 2021. 
Golden Gate Bridge Welcome Plaza 
As part of the celebrations for the 75th anniversary of the Golden Gate Bridge in 2012, the Parks Conservancy worked with the Golden Gate Bridge District, NPS, Presidio Trust, and City of San Francisco to transform the Welcome Plaza and surrounding trails, including the new and inviting Golden Gate Bridge Welcome Center. 
Academic interns collect native plant seeds on the bluffs of Mori Point.
Paul Myers / Parks Conservancy

Mori Point renovation and habitat protection 
Mori Point had many lives, hosting a speakeasy and a dirt-bike track, among other things, before being transferred to the NPS in 2002. The Parks Conservancy helped lead restoration efforts that have greatly benefitted endangered species and the community of dedicated park users. 
Michael Schwab 
Many people have connected to the GGNRA thanks to the iconic park images created by designer Michael Schwab. Available as prints, sweatshirts, and many other items in our park stores, the images unify the parks, while still highlighting the individual beauty of each site. The series started in 1995 with the famous Golden Gate Bridge image and now includes 21 park sites, the most recent being Ocean Beach, released in 2018.  
Roving Ranger 
Our friendly Roving Ranger truck can be spotted out in the parks, dispending information and stickers! Since its 2013 debut, this "mobile trailhead" has attended hundreds of community events, welcomed thousands of visitors to our national parks, helped recruit academic interns on college campuses, and become a staple in several annual parades. 
Tennessee Hollow Watershed renovation 
An extensive effort has been underway since the late 1990s to fully restore this historic watershed, running from El Polín Spring in the heart of the Presidio to Crissy Marsh and the Bay. One of the final links in the chain was the restoration of Quartermaster Reach, which was unveiled in late 2020. 
Carola Ashford and Alcatraz Historic Gardens 
The Alcatraz Historic Gardens are thriving today thanks to the groundwork laid by Carola and the Garden Conservancy. Carola came to Alcatraz in 2004 on a fellowship and stayed on as project manager for the Alcatraz Gardens Project, bringing these gardens, once tended by incarcerated people, back to life. Today, people can contribute to the Carola Ashford Alcatraz Gardens Fund to honor her legacy. 
Coho salmon and Redwood Renewal 
We're hoping small changes at Muir Woods will make a big impact for federally endangered coho salmon and the resiliency of the historically critical redwood grove. Redwood Renewal includes improving habitat in Redwood Creek for salmon and steelhead, replacing aging bridges, and making improvements to the water system and roads around the woods.  
Western snowy plover 
Speaking of endangered species, the small but mighty snowy plover is close to our hearts. We help NPS monitor snowy plovers at Ocean Beach and Crissy Field, where the plovers returned after the restoration of the beach and marsh more than 20 years ago. 
Art in the parks 
Ai Weiwei was the headliner, but the parks have hosted many inspiring art projects through the years, from Andy Goldsworthy's natural art in the Presidio to "Home Land Security" at multiple coastal batteries. Crissy Field's broad canvas has been home to projects like Mark di Suvero's giant sculptures and the Monterey Bay Aquarium's life-sized blue whale made from recycled plastic panels.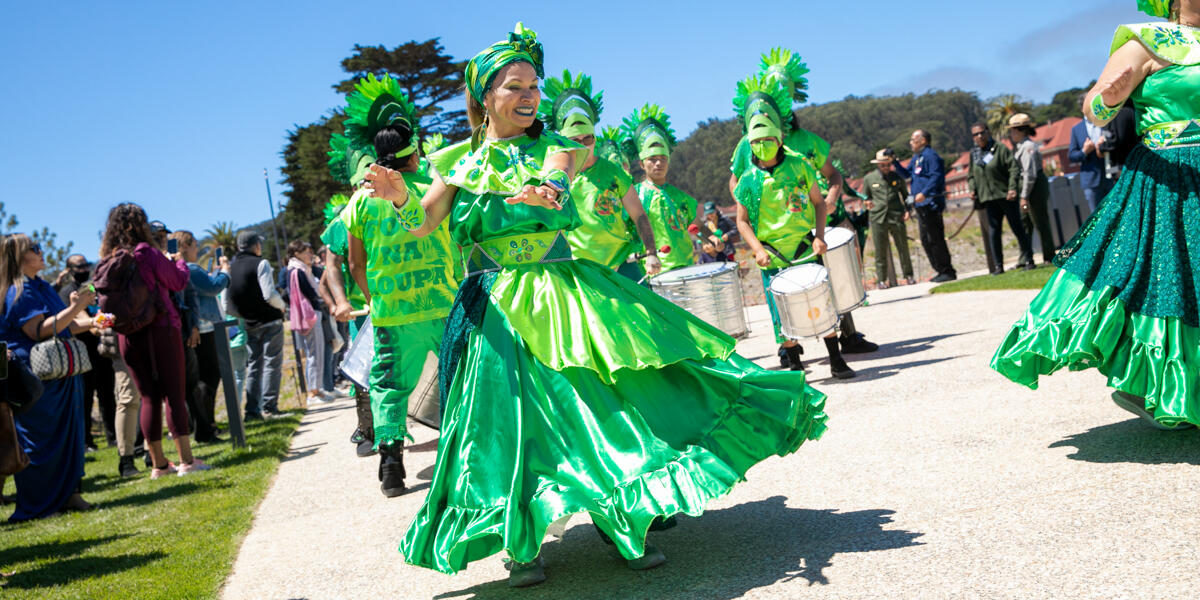 Fogo Na Roupa dancing and parading throughout the Presidio Tunnel Tops during the opening day.
Moanalani Jeffrey / Partnership for the Presidio

Presidio Tunnel Tops 
Making its debut in 2022, Presidio Tunnel Tops received universal acclaim upon its arrival. Designed by the same team behind New York's High Line and built by the community, for the community, Presidio Tunnel Tops offers spectacular views and a link from the Main Post of the Presidio to Crissy Field and the rest of the GGNRA. The Parks Conservancy helped lead the Presidio Tunnel Tops Campaign, which raised $98 million to help bring this vision to life. 
GGNRA 50th anniversary 
After our 40th anniversary, we hand the baton to our partners at the National Park Service as they celebrate 50 years of the GGNRA! On Oct. 27, 1972, a collection of former military, private, and public lands across the Bay Area was united and officially designated as public parklands for all. A big THANK YOU to everybody who has helped preserve, enhance, and share the legacy of these parks since they joined the landscape of the Bay Area.
YOU! 
Thank you for your support that has made the last 40 years possible, and we're looking forward to the next 40 years with you in these parks! 
August 9, 2021